Looking for a detailed 'women travel packing list'? I've been packing bags and cases since I was 19 years old and this guide was created after a 17-month travel trip around the Americas and Europe. This is now the fourth edition of my travel packing list, I've whittled down my original oversized travel wardrobe and I now think I've nailed it! I've taken short trips and backpacked around extremely hot countries, very rainy climates, freezing snow for skiing and cities with a nip in the air. Hi, I'm Gemma, that's me in the picture below.
Going away for a while? Check out my guide on how to create a long-term travel itinerary. Taking a short-term break? Here is how I plan a trip. Now let's dive into my recommended travel essentials for women.
For ease, most recommended products are available on Amazon Prime. Check out their free 30-day trial here for US Prime or here for UK.

Female Packing List Items
Long-Term Travel Backpack Or Case
Before you start purchasing your sunnies and sandals, it's probably wise to think about where you are going to put them! So let's talk about luggage.
Are you a backpack or a suitcase kind of girl?
For a long-term trip, I would advise considering a backpack. Why? Because there will be times that you are walking through cities and hopping on public transport.
Being able to throw a pack on your back makes moving much easier.
We previously used the Vango packs but now that I've spent years researching travel gear I would go for the Mercedes of all bags, the Osprey Farpoint 55l US / UK, if you can pack small, or the bigger Osprey Farpoint 70l US/ UK if you are me.
So what's so great about Osprey?
Osprey only focuses on bags and bag-related products so they are known as the king or queen of backpacking luggage.
They also have a returns policy if the bag stops functioning the way it should.
The Farpoint is ideal because it opens up like a suitcase which makes access to clothes much easier.
Try getting something out of the 'old style' top access backpacks while nine other people doze off in a dorm, this is how to not make friends while you travel!
Respect the hostel dorm etiquette.
It also has a detachable day pack which you unzip and wear on your front when you have your pack on your back. It actually balances the weight very well.
If you just can't see yourself with a backpack what about a hybrid? Hybrid backpacks fuse the best of both worlds – it takes the wheels from a suitcase and the straps from a backpack to create a rolling backpack.
The downside to backpacks with wheels is that they add more weight on to overall backpack as it has to take a structured back and wheel casing into consideration.
I've written about wheeled backpacks in detail.
You can read my comparison guide here. The main issue with taking a traditional suitcase on a worldwide/long-term trip is that most cases just aren't durable enough.
Enter the Eagle Creek range.
Eagle Creek luggage is made for off-road which means you can pound the cobbles of Europe and pull the case through the sandy streets of Colombia.
I have been using the Eagle Creek Expanse 78l US / UK for trips over two weeks.
It comes with backpack facilities but it's heavy, I use it like a suitcase. It is the studiest case I've had at this size.
Luggage For Short Trips
If you are going away for a shorter trip, say under a month, depending on how you pack you could get away with a much smaller bag or case.
I can't recommend the Eagle Creek Expanse Carry-On US / UK enough.
It's smooth, good-looking and like its bigger version, strong.
If you prefer an attractive hybrid check out the CabinMax One.
Or for an easy, no fuss 44L backpack, see the CabinZero. Here's my guide to carry-on luggage.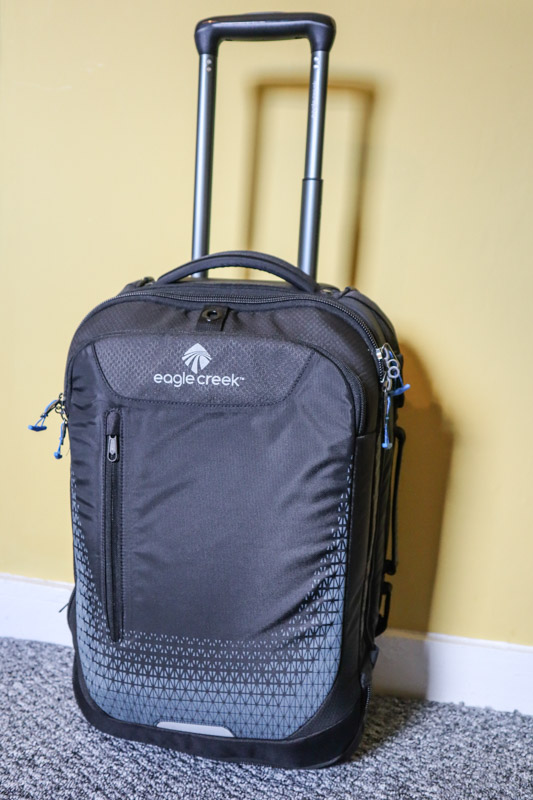 Other Travel Baggage
While on the move, I usually have a cloth tote bag with my electronics in it for easy access on buses, planes and trains.
I do carry a safe net with me. It is made by Pacsafe US / UK and has protected my belongings well – I was not robbed while travelling!
In accommodation, I put my day bag into the net and secure it around a radiator or bed frame then close it with a padlock. I then cover with a coat etc.
Definitely buy an Osprey bag cover US / UK to protect your day bag and electronics inside.
Honestly, my camera stopped working after an Asian downpour in Vietnam back in 2013, so did my heart. Don't risk it.
PacSafe net to deter theft
How to Pack for Long-Term Travel + Short-Term Trips
Packing for long-term travel differs slightly to short-term trips because you have to consider what you can't get on the road.
It is also likely you are on a budget if going away for a length of time so you don't want to waste money and have to spend too much on unnecessary travel items for women.
I detail what I replenished and bought at the end of the guide. Other readers have found it useful to see the reality of travel!
For short-term trips, you may be restricted by space and also size.
If you are taking carry-on only, you won't be able to take anything bigger than 100ml liquids so consider this when shopping for travel toiletry items.
My best tip for packing is to roll your clothes, as opposed to folding, as this creates more space and fewer wrinkles.
Pack similar clothes in separate bags.
Packing Cubes and Alternatives
During my big trip, I didn't use packing cubes opting for large sandwich bags from an army store as they were super cheap.
Now I do use packing cubes. I like that they come in a variety of sizes and zip around the items.
You can pack a lot in and they place neatly in your luggage, stacking on top of each other. The grab handles on each cube are handy for pulling out from your bag or case.
I also carry cute makeup bags which I pack my underwear and swimwear into.
You can see the contents of my backpack in the image below.
I read that Primark packing cubes now exist so may be worth a dig for future trips.
Long-Term Female Travel Packing List + Short Term 'Pic n Mix'
Please factor into your budget that it is highly likely that you will replenish some of your long-term female travel packing list at some point.
Washing machines and launderettes in the likes of Vietnam, Peru, etc are pretty harsh on your clothes ruining those travel essentials for women.
White clothing quickly becomes gross yellow colour! Suntan lotion, curry, alcohol stains can't always be avoided (if it was a good night!)
Things get stolen, yes, annoying but opportunists carry a backpack too. Seriously think about investing in the PacSafe net if you carry expensive electronics with you.
We managed to avoid any theft using it.
Travel Clothes for Women
Travel Tops
Tops – this is where packing starts to get difficult for me because although I am practical, I still like to look nice.
3 x day vest tops – mixed colours
1 x night vest top – lacey, black
1 x hoody – ditched when reached warmer climates
1 x thin top
2 x cardigans – 1 x black / 1 x yellow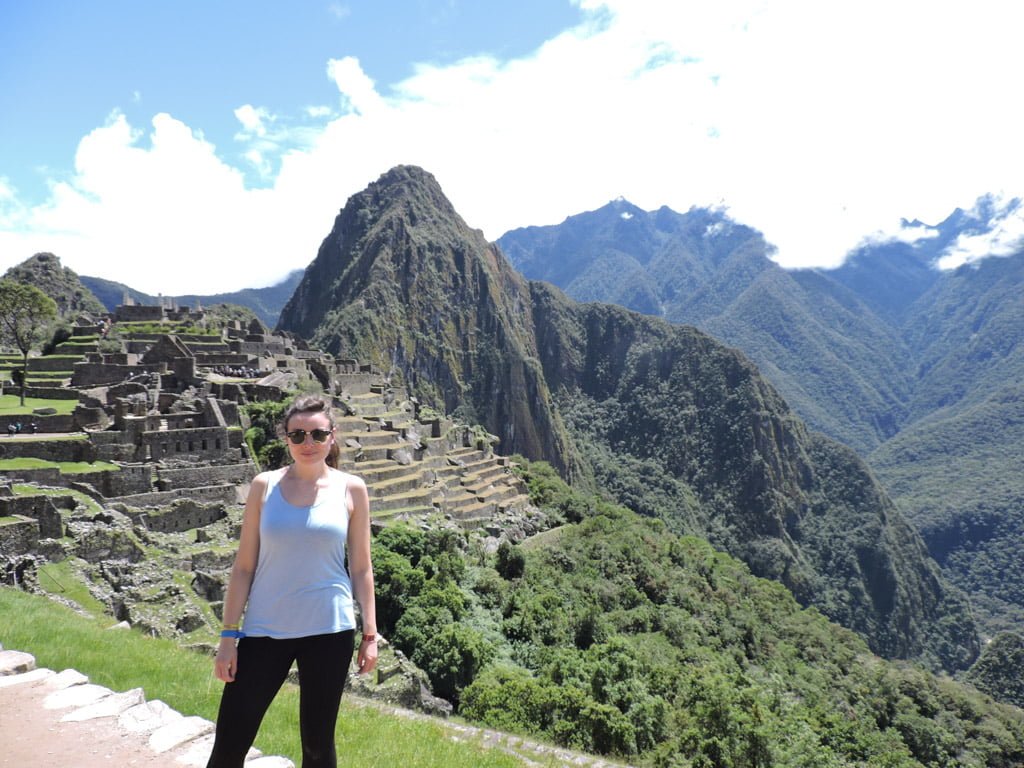 International travel packing list: vesties are besties – easy to pack for trips to Machu Picchu, Peru
Travel Dresses and Skirts
I love dresses!
If you choose the right type of material (avoid denim and wool), they roll down very small.
Perfect for hot days, party nights, and Instagram photos!
Also ideal for a road trip packing list since they are so versatile.
1 x fancy summer dress – black
1 x black wrap-around – LBD for travel, top tip for

female packing list South America, samba in style

1 x yellow – my fave colour
1x playsuit
Tip: I tend to avoid patterns – easier to dress up, dress down, to keep looking new.
If you're going somewhere with cultural differences consider length of dresses and skirts.
For example, here is our guide on what to wear in Dubai.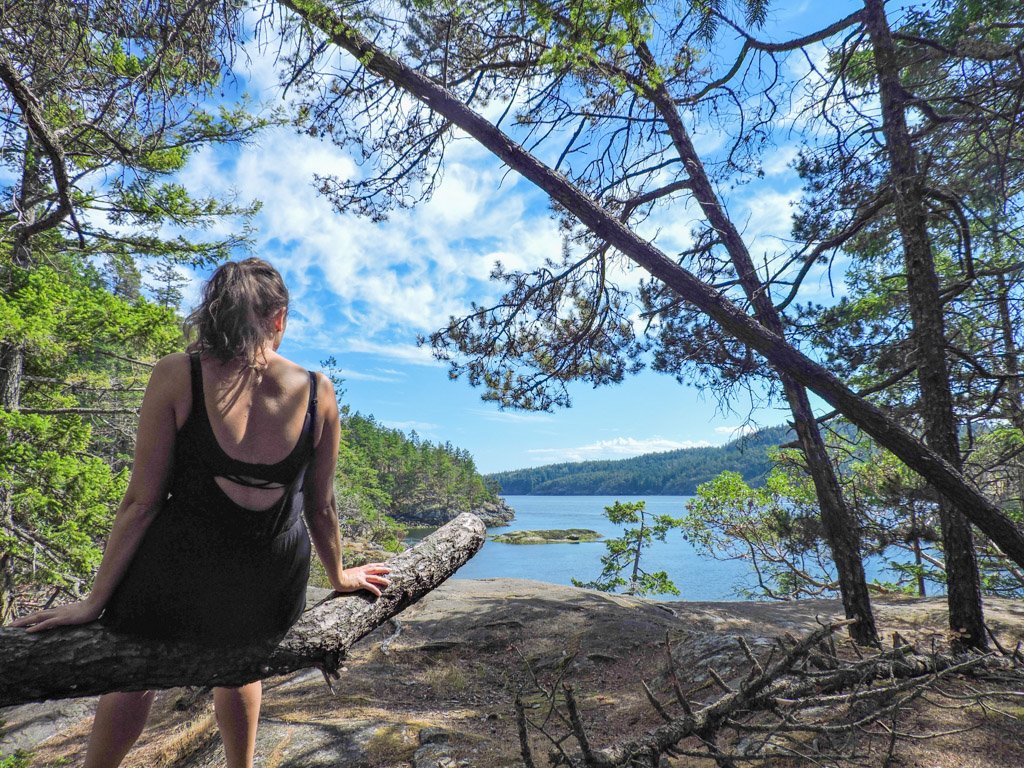 Travel Trousers / Bottoms
I'm not the biggest fan of trousers or shorts.
My dumpy 5'2 1/2 body does not look good in denim shorts, praise be to the chicas who can rock that look.
For those who do look cool in hot pants, you could replace some items in the bottoms list.
1 x black culottes – 4 years old, love them
1 x khaki shorts – hiking
1 x plain skirt
1 x denim skirt – probably don't need this as heavy but I like it
1 x black long gym trousers – doubles up as disco pants
1 x waterproofs – thin/light, pull on top of gym trousers for hikes and skiing
My friend Laura has a great review on travel pants (trousers to us Brits!), they actually look nice!
Mosquitos. The little horrors love me!
All guides tell you to wear light, floaty clothes but that look is just not me so I compromise with wearing the disco pants after dusk in areas which are very prone to them.
Take malaria tablets in malaria zones and be wary of Zika, especially if trying to get pregnant.
We did carry mosquito nets by Lifesystems for the first year but did not use them, definitely times where we should have.
Check if the countries you are visiting have a malaria warning.
For the first year we used mosquito repellent with DEET called OFF but then decided that since it was making no difference we'd use a DEET free alternative called Avon Skin So Soft US / UK.
DEET melts plastic, I'll just leave you thinking about that.
Underwear/Garments
This aspect of the long-term travel packing list for women is really a personal choice.
I would always go for the higher number of underwear as I'm a clean freak.
Yes, you can hand-wash (and you will) but it is often not warm enough from hand-washing to dry, especially when moving on every couple of days.
Tired of moving? It happens, consider the benefits of slow travel!
5-7 pairs of pants/panties/knickers
4 pairs of trainers/sneaker socks
1 – 2 pairs of longer socks – traditional / 'normal' – better for hiking
2 x bras
1 x sports bra
PJs – 1 x vest / 1 x shorts
Underwear storage: Cute makeup bag with zip or packing cube.
Swimwear
1 x black bikini top
1 x blue bikini top – one halter / one straps is ideal
3 x bikini bottoms
Storage: a stripy makeup bag or packing cube.
Travel Shoes
Walk your way to packing success by learning from my mistakes…
I used to carry way too many shoes!
This was pointed out to me when I posted a photo of packing list version three on Two Scots Abroad Facebook page!
Here are my long-term footwear essentials.
1x day trainers – black
1x walking boots/shoes – Salomon Ellipse trek shoes US / UK which I trekked with to Machu Picchu, lighter than boots but still waterproof, quite attractive as boots go
1 x fancy sandals -black
1 x sports trainers – if your day trainers can double up, great, but remember they will smell pretty quickly, especially if in warm and then rainy climates. My gym Nikes squashed down really neatly so I didn't mind carrying them.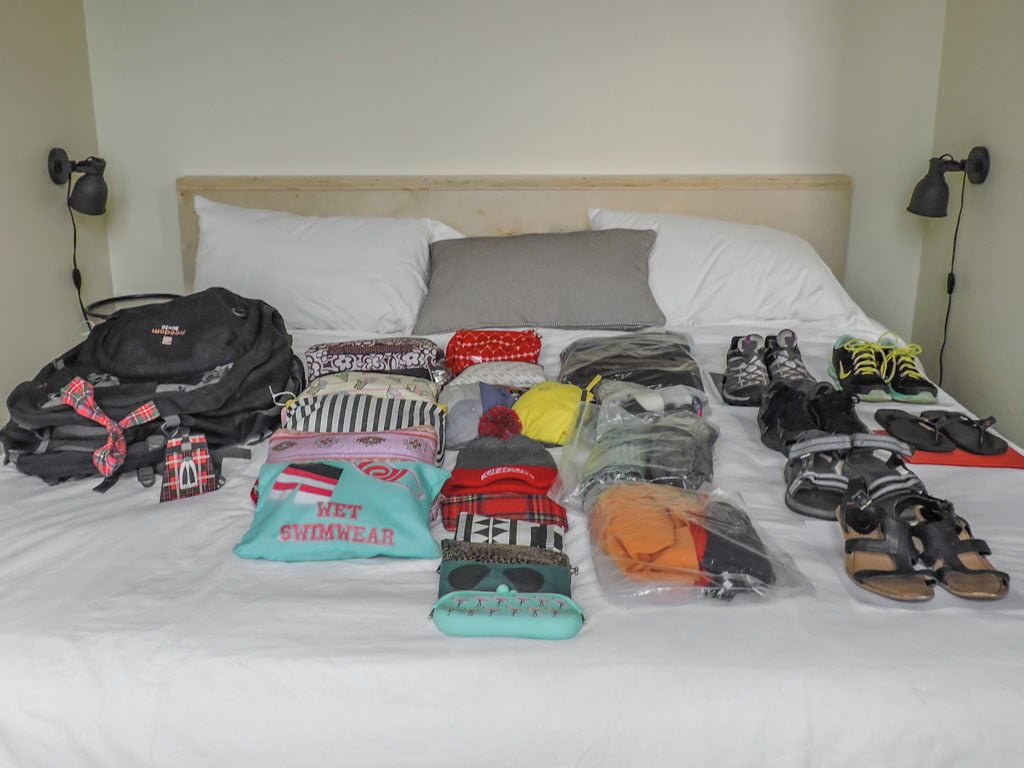 Exercising While Travelling
I packed a sports bra so when we moved to Canada for six months I began exercising again.
I bought cheap gym trousers from a charity shop and used a downgraded vest top.
Sports bra
Gym trousers
Downgraded vest top
Nike trainers (mentioned in travel shoe section)
Bling, Rings, and Other Accessories
2 x sunglasses – lose / break / replace
1 x large scarf – multi-use: cover-up, beach towel, create a den around your dorm bed for privacy
2 x headscarf – hides day 2 hair
Jewellery – leave the expensive bling at home, this means engagement/wedding rings – most insurance policies will not pay back the full amount and obviously the sentimental heartbreak of losing them is not worth it
Watch – phone battery won't always be charged!
Documents wallet
Small money purse
Handbag? I bought a cheap one in Vancouver as we moved there for 4 months
Cloth bag – beachwear / picnics / electronics
Drawstring bag – great for putting wet clothes in / or lunch on travel days as it attaches to clips on day bag
If you are planning beach trips also check out our dedicated beach packing list.
Travel Toiletries List & Makeup
In all honesty, I rarely wear make when in super-hot climates like Nicaragua but I wore a full face on nights out in Austin, Texas so this will change with your own personal routine.
Face – Avoid Ageing Skin
Cream lotion wash – with re-usable makeup cloths
Exfoliating wash – I am prone to acne
Travel Hair
Solid shampoo – this stuff is genius, no liquid so no spill!
Lush solid conditioner too avocado – lovely
Bobbles
Kirby grips/bobby pins
Hairspray
Dry shampoo – I dropped this from list
My normal routine is washed hair worn down but watch for sunburn in your parting.
Day two hair is worn up.
I like quiffs and buns to pull my hair back.
I found head scarfs a nice way to hide greasy hair too.
Body Talk
Toothpaste – I love the Lush tablet version, Craig hates it
Soap
Body wash – I've cut this out
Deodorant – I tried the chemical-free stuff, not suitable for sweaty climates like Cuba!
Razor
Factor 50 suntan lotion – always
We did not bother taking a towel.
I hate those quick-dry microfibre travel towels!
They just move the water around your skin. Personal choice to hire instead.
If travelling as a couple and booking private rooms you'll find that towels are often included. Oh, the privilege!
Makeup – The Slap
Light foundation
Urban Decay palette
Liquid eyeliner
Lipstick for party nights
Real Techniques brushes – comes with a case
No nail varnish – exploded twice, luckily packed in sealed Tupperware!
Nail file
Nail clippers
Tweezers
Luminous face paint for a festival!
I know some of you will not bother with make-up at all and high five to you but I've been plagued with acne since I was 19 so like to have something to cover up the scars (the sun helps!)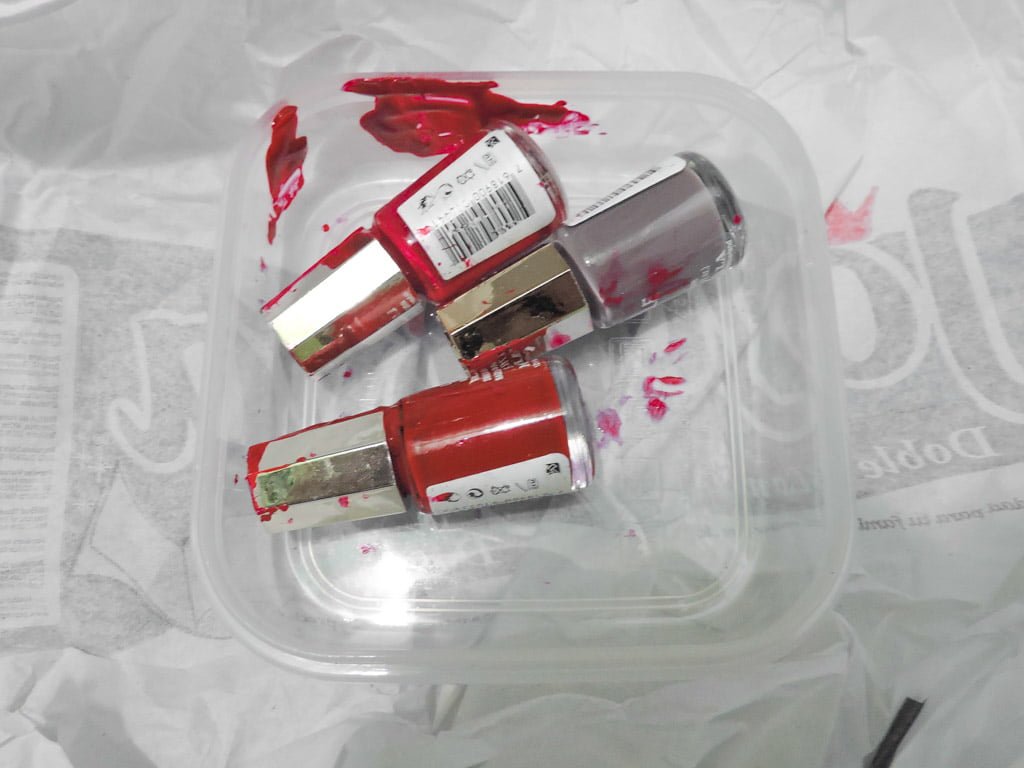 Delhi Belly – Long-Term Travel Medical Kit
This covers every day normal pills to deathbed essentials.
Contraceptive pill (photocopy proof of prescriptions)
Paracetamol
Aspirin
Tablets for constipation
Tablets for diarrhoea
Malaria tablets
Anti-histamine tablets
Anti-bacterial cream for bites
Plasters
Blister pads
Tubigrip support
First aid kit – including needles
Filter and purifying bottle – like DrinkSafe Travel Tap (read review) or Water to Go (quote TSA15 for 15% off at checkout)
Tampons! A reader pointed out in the comments that you may struggle to get them on the road, so true! I had to get my mum and mother in law to bring packs over for me on two occasions. Stock up!
I now pack a menstrual cup or period pants. I've tried both and prefer the latter.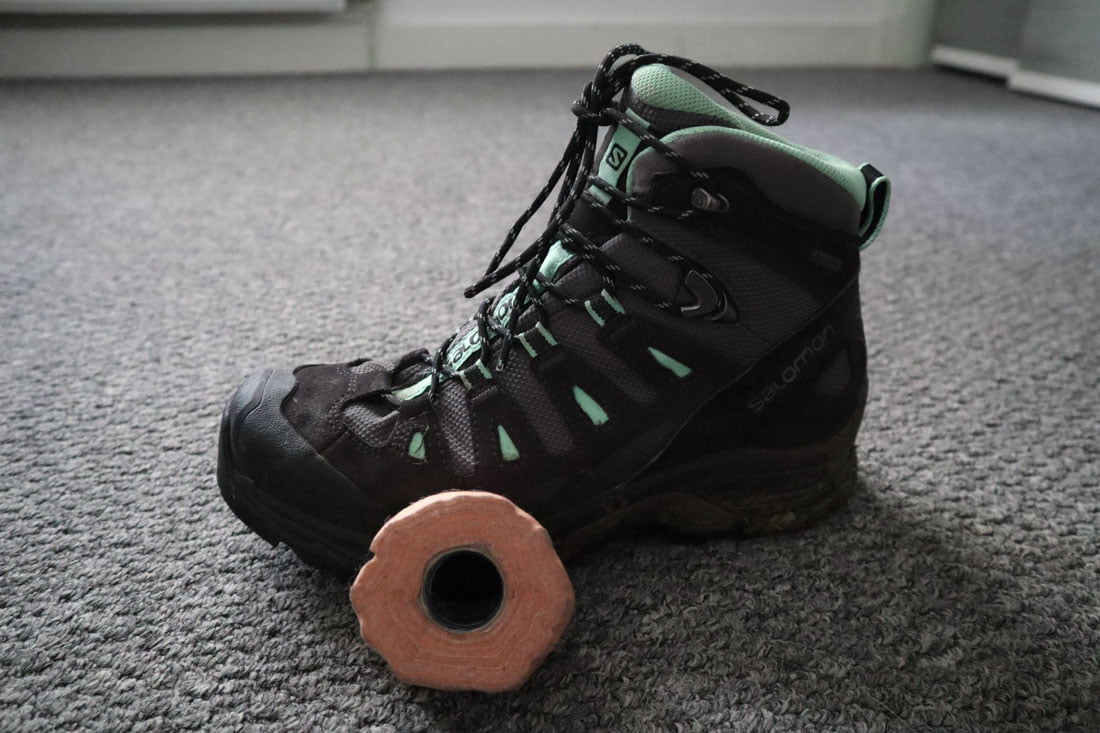 Travel Insurance
Don't travel without it, it's not worth the risk.
Us Brits have the luxury of socialised medical health care through the National Health Service so don't quite understand that the cost of using health care systems in countries which charge.
My friend, Kaci, went over her ankle at the Grand Canyon and was charged $500 for a visit to the doctor and an X-ray. Luckily she had travel insurance and good friends (me!) to hold her hand all morning (while others were out hiking…)
I've shopped around, extensively (that's how I roll, you can probably tell from the length of this article) and settled on True Traveller because they could insure hiking at high altitude (Lares Trek to Machu Picchu) as well as skiing at Whistler.
I claimed in Vancouver; I had to visit the GP and physiotherapist (I had ear crystals which were making me feel dizzy!) and they paid out speedily.
They also answered my stupid amount of questions before I bought, I really do wish I could be as cool and laid back as Craig sometimes! Get a travel quote for your trip from their site here.
World Nomads is one of the other popular travel insurances.
Travel Electronics
Blogging, watching Netflix, taking snaps – here are the essential travel electronics which I travel with:
MacBook Air – maybe not essential for non-bloggers
I used to use a WD My Passport 1TB external hard drive
Camera – then Nikon Coolpix, moved to Sony A6000, now Canon M50
SD cards – I never delete images, another form of backup. Do not buy from eBay, I did and they were fake and lost my images, when compared to the real deal it was obvious they were fake. Learn from my mistake
Phone
Earphones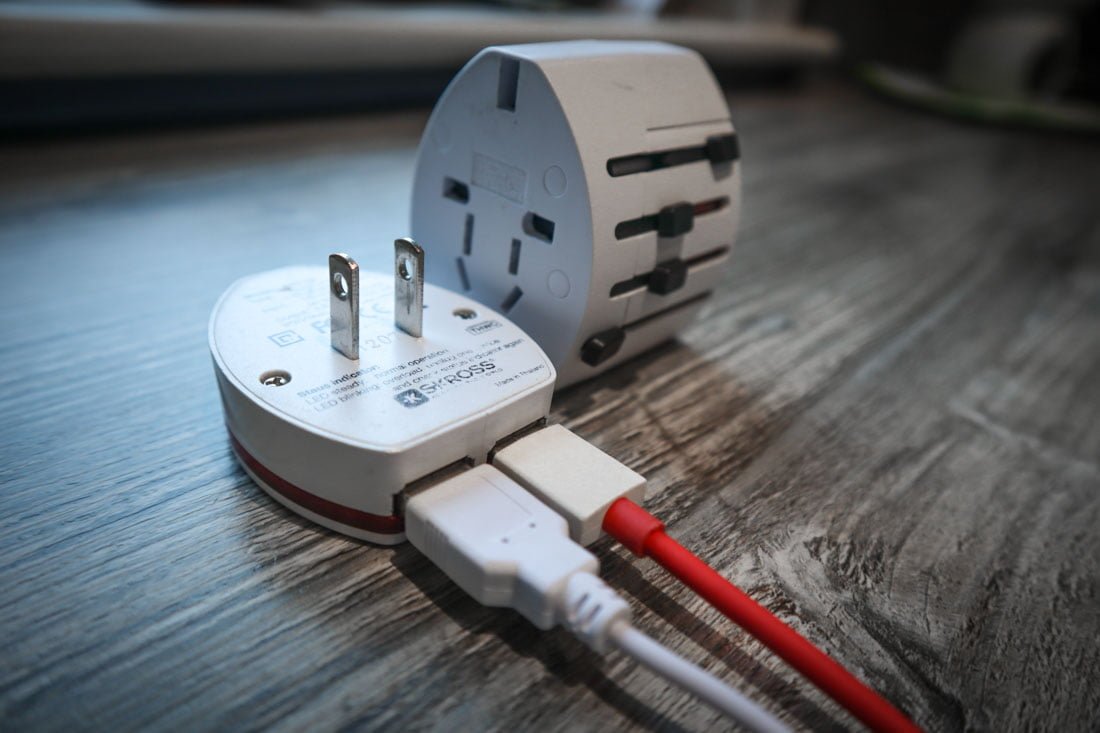 Before I knew how to take photos
Female Backpacking List –

Replenishing Clothes

How do you guys look so suave all the time on the road?! I'd love a blog post about that! Seriously!!

– Facebook follower.

Quick answer – we are vain!

Craig and I have purchased additional items to meet needs and replenished our clothes when required for the likes of moving to a different climate.

I usually shop in charity shops but with the exception of Canada this wasn't really an option so had to settle for H&M.\

Peru (April)
1 x scarf from a market in Cusco
1 x fake North Face puffy jacket – below
1 x Peruvian handbag – fell apart by June!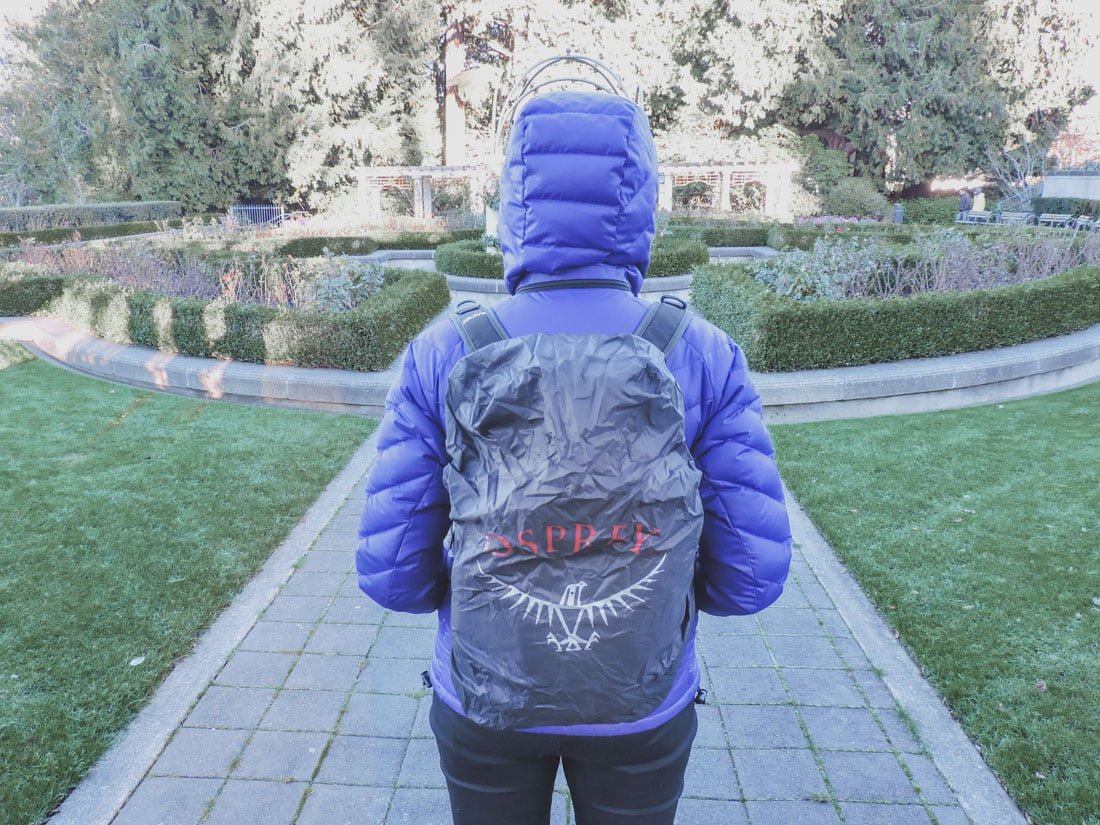 Canada (September)
New brogue shoes
Sunglasses
Denim skirt
Dress
Handbag
Tights
Socks
My friend brought over Marks and Spencer knickers and a Topshop dress
Splurged on 4 items for $12 CAD / £6 at the Salvation Army
New vintage raincoat – sent home (yellow)
Ski gloves – should have bought liners too at the hardware store. I've now upgraded to Hestra gloves US / UK which are really flipping expensive but I did not feel the cold once during our ski week in Austria this year
Grey winter hat for snowshoeing – Toronto Kensington Market
Winter hat – Vancouver souvenir…
… and a vintage wedding dress, but I don't expect everyone has 'eloping to Austin' on their long-term travel plan
Portland, Oregon (January)
New vest tops as moving to Nicaragua – 35 degrees heat!
Austin, Texas (March)
Wedding shoes / bag / jewellery / underwear
Budapest, Hungary (May) Gearing up for warmer weather.
Three new dresses
1 x vest tops
1 x cardigan
1 x bikini bottoms
Socks
Sandals
Lisbon, Portugal (July)
1 x new dress for a festival, I was feeling pretty gross about clothes at this time
1 x sunglasses
Our family kindly gave us money throughout the trip for birthdays, the Vancouver engagement, the wedding, and out of feeling sorry for us! This helped fund Project Replenish.
Packing List for Women Overview
When we returned home after travelling for 17 months it felt so good piling up the contents of the rucksack and burning them. Jokes! I'm pretty certain the culottes, Salomon shoes, and Marmot raincoat will be going on our next trip to Iceland too. Want more? Check out this crazily extensive packing lists directory!
I hope this packing guide for females has been of use. I have created a pin to accompany this long-term planning list for women – please feel free to save and share (pin to Pinterest packing board!)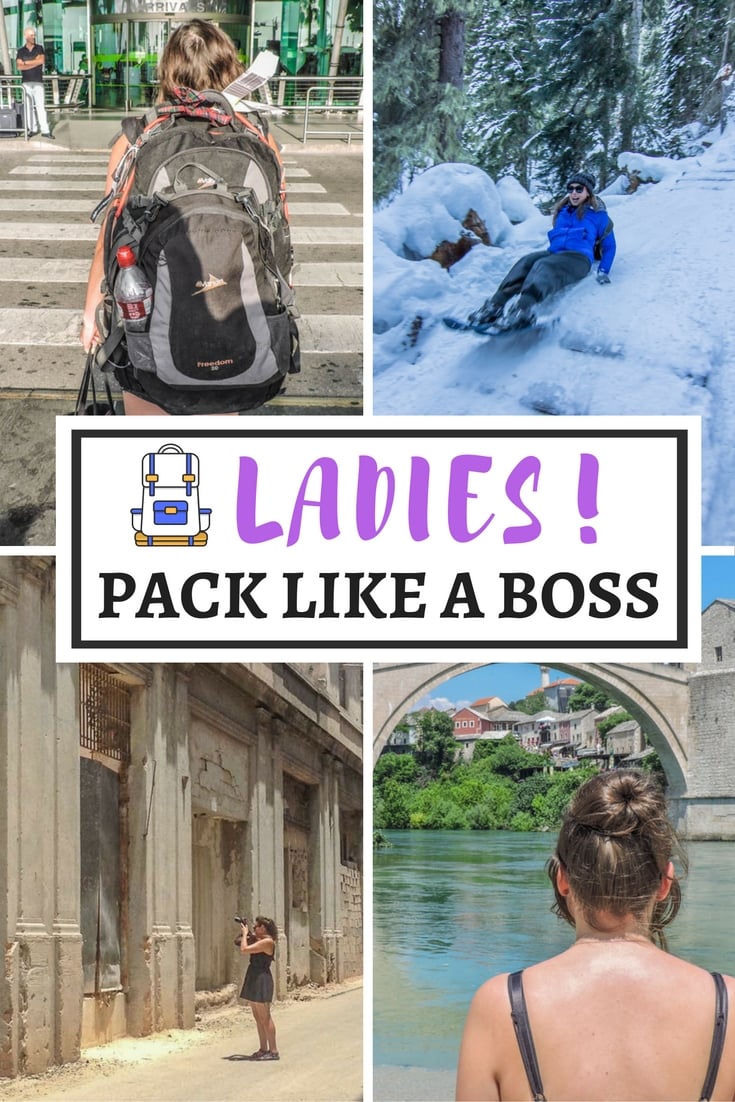 So what do you think? Have I nailed the ultimate packing list? What can't you travel without?
---
» Read next: our hiking packing list – what to pack and what to leave
---