This article has links to products and services we love, which we may make commission from.

When you think of road trips in Scotland your mind automatically goes to North Coast 500 or the classic route to the Isle of Skye, right? Well, what if I told you there is a corner of the country that's untapped and untamed and has road trippers who want to avoid the crowds name on it? This guide details an itinerary for South West Scotland which we have personally driven in our camper, Dita Van Tease. It takes in parts of the official South West Scotland 300 route and shares our personal tips and experience.
Disclaimer: This South West Scotland travel guide has been created over several trips. We continue to update it whenever we visit the south. The Dumfries and Marthrown of Mabie section was commissioned by our partners, Scottish Hostels. As always, the ridiculously useful information has been created by Two Scots Abroad Travel Guides and any opinions expressed are our own.
---
You may also like | How to plan a Scotland road trip
---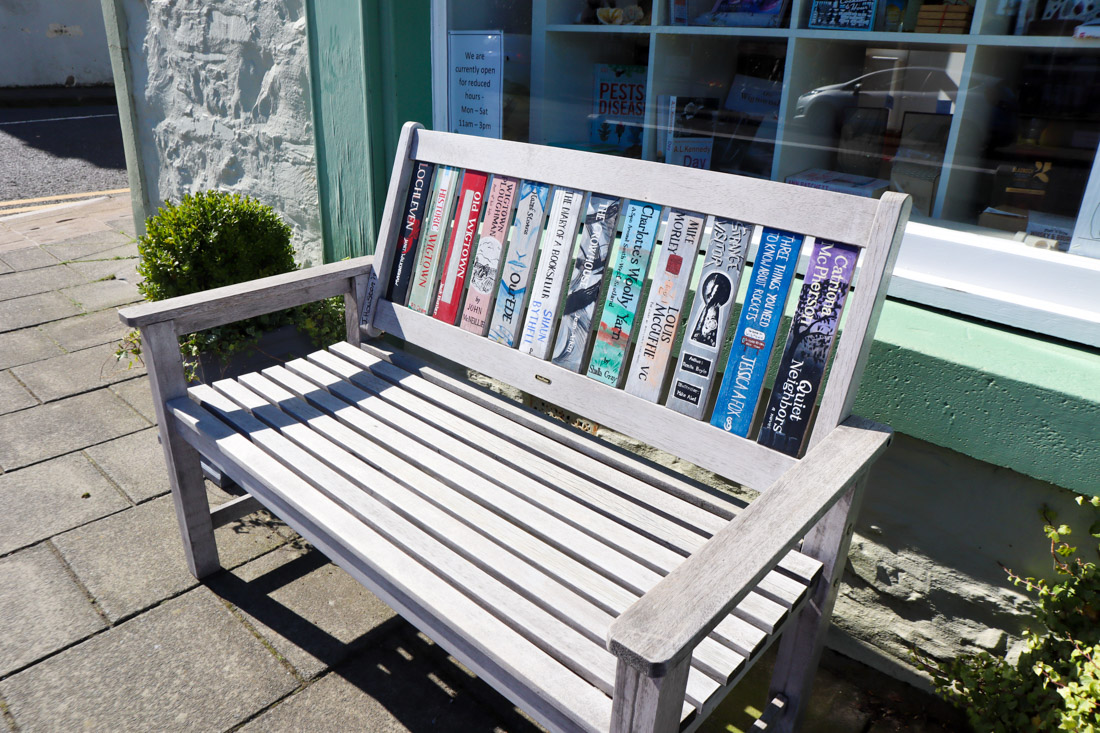 South West Scotland Itinerary
This itinerary will follow the stops and attractions on this map.
Edinburgh or Glasgow to Dumfries and Marthrown of Mabie (80/77 miles)
The first leg of the journey takes you from Scotland's biggest city, Glasgow, to the market town and former royal burgh, Dumfries, then to a very unique accommodation in a forest, Marthrown of Mabie.
Since this is a road trip, you will want to add the scenic route via Grey Mare's Tail Nature Reserve to your journey so you can drive through rolling hills and visit one of the UK's highest waterfall's viewpoints.
Remember cash for parking.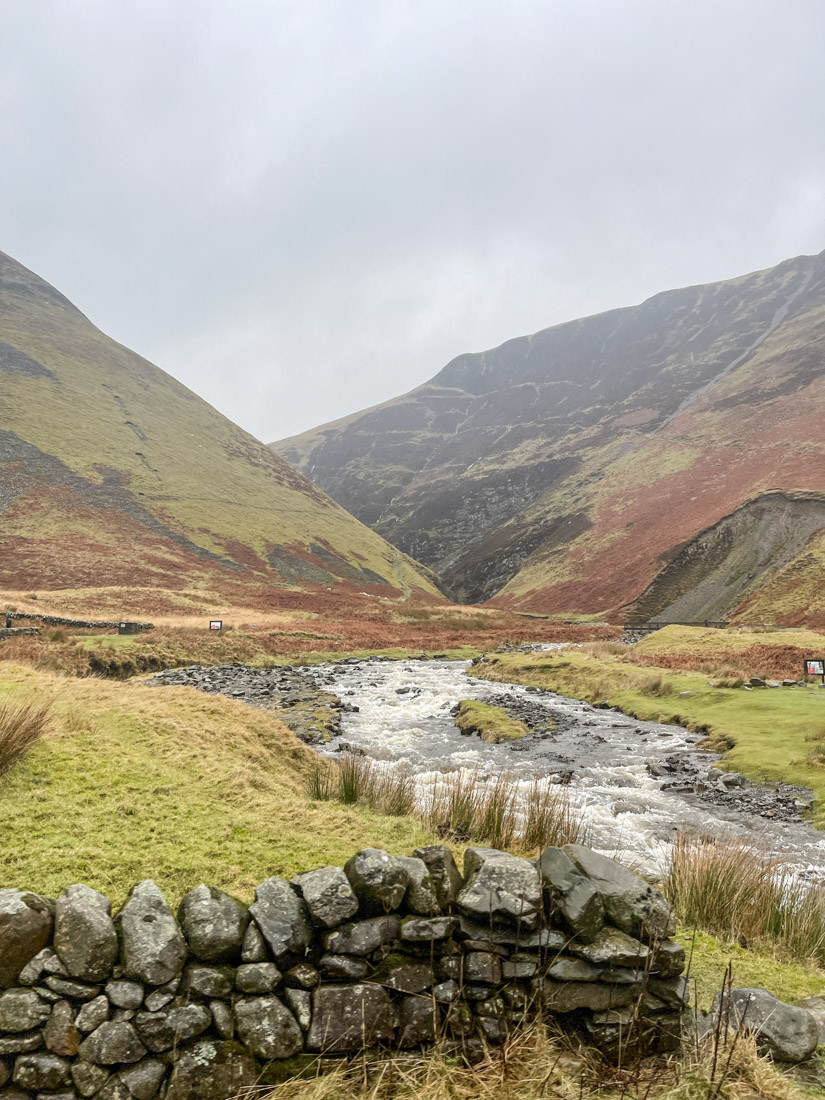 Next up is the Queen of the South, Dumfries which has a couple of restaurants and pubs for food including the Cavens Arms serving hearty meals including an extensive vegan menu.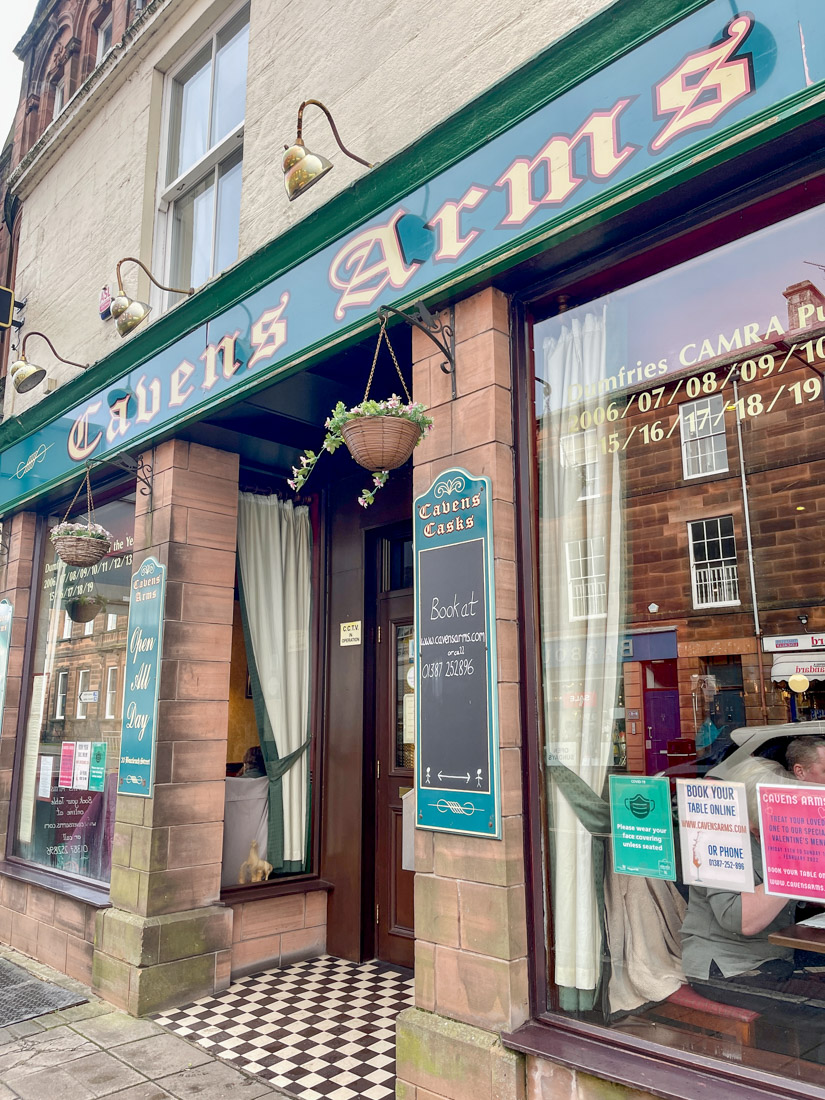 Dumfries is the biggest town in South West Scotland and one of its biggest claims is that the Scotland's National Bard, Robert Burns, lived here.
Also, Greyfriars Kirk in Dumfries is where Robert the Bruce and his rival, John 'Red' Comyn arranged to meet on the 10th February 1306 to negotiate how Scotland should be ruled.
Comyn didn't come out alive but it has never been confirmed how he died.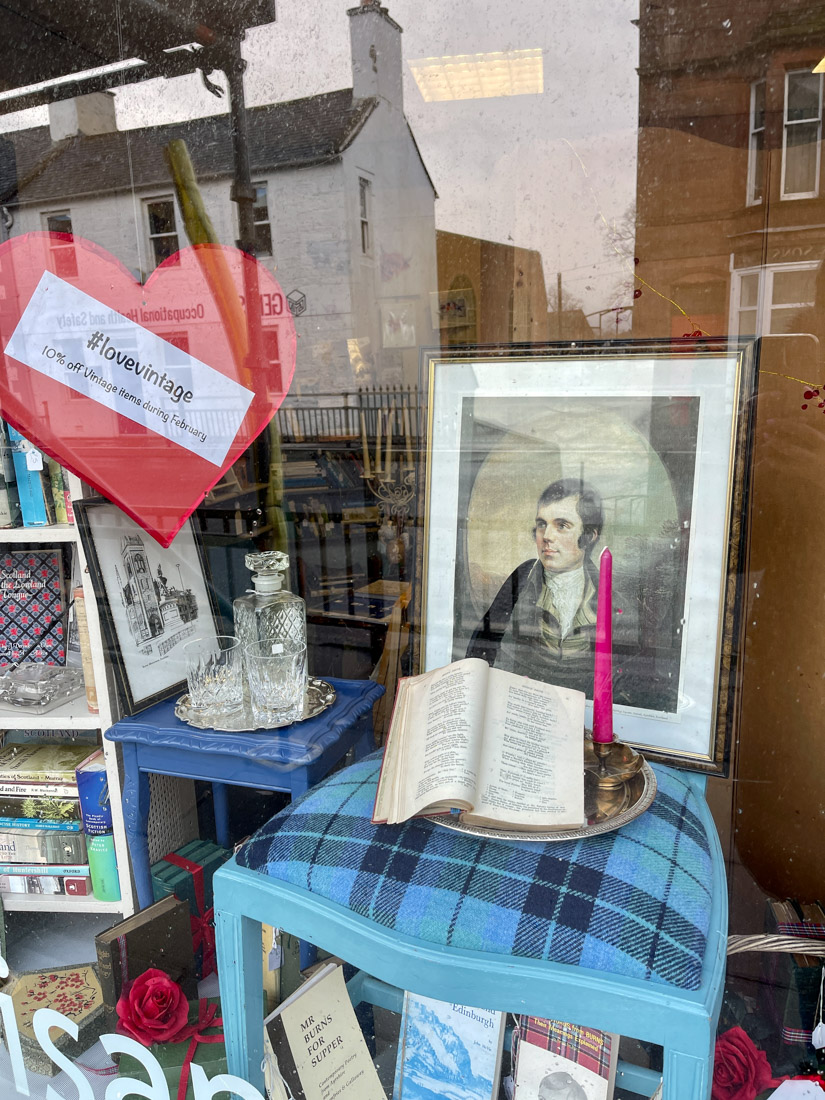 Marthrown of Mabie (6 miles)
Just 20 minutes drive from Dumfries, an eclectic campsite with luxury yurts and an Iron Age roundhouse hides among the Mabie Forest track roads.
The campsite is owned and managed by Pam and Mike who took over the land and started building family-friendly yurts in 2006.
You have to stay at Marthrown of Mabie to believe it.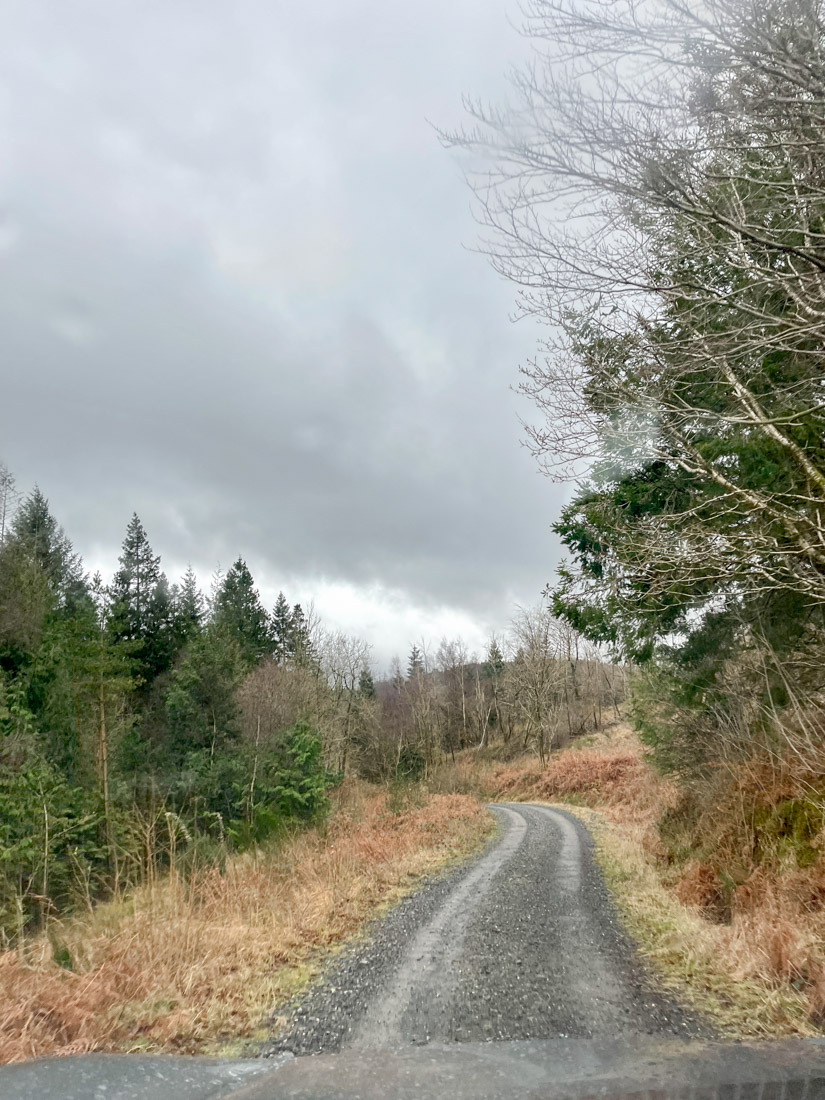 The first stop is the reception car park where you will also find two cottages and a kitchen space with a large indoor social area.
From here you drive along the dirt tracks to your special accommodation whether that be a luxury yurt, yurt, roundhouse, campsite area for tents or one of the other hundreds of years old cottages located on a historic drovers' passing place.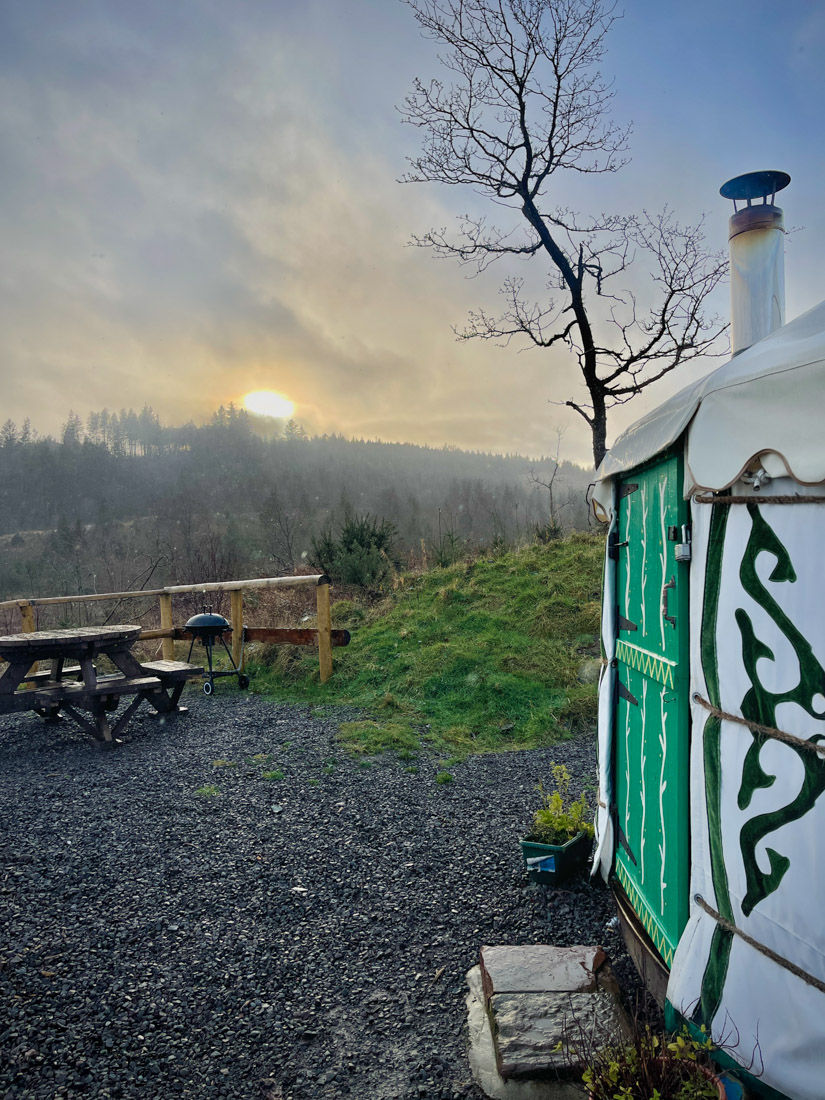 The accommodation is spread out over the grounds and discreetly covered by large trees.
We stayed in a luxury yurt overlooking the Solway Coast.
As soon as the stable-like yurt door opens you are hit with a warm cuddle and sweet smell from wood stove fire.
The circular room includes everything you need for a comfortable stay.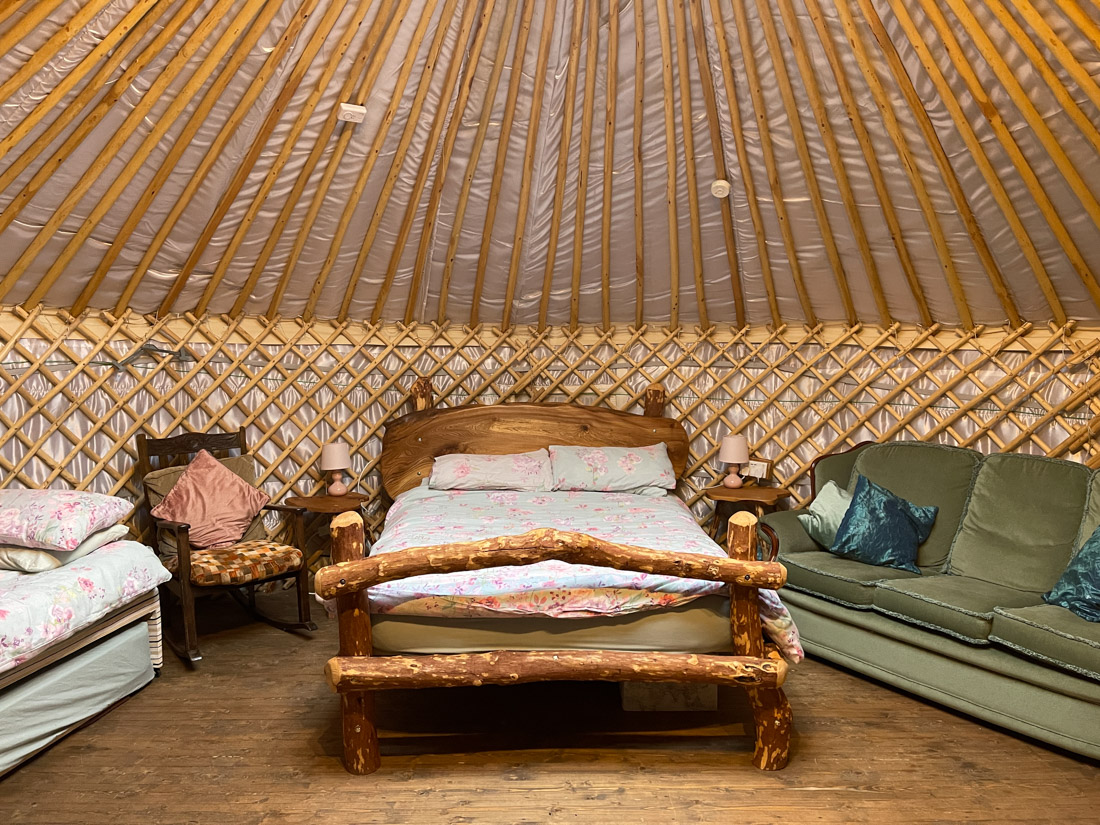 Amenities include a double bed and additional bed for family, a kitchen with a four ring hob and the top section of the wood stove acting as the oven, plates and utensils, a sofa, bedside tables, a TV and DVD player and plugs for electronics.
Each yurt also has a bench and BBQ area.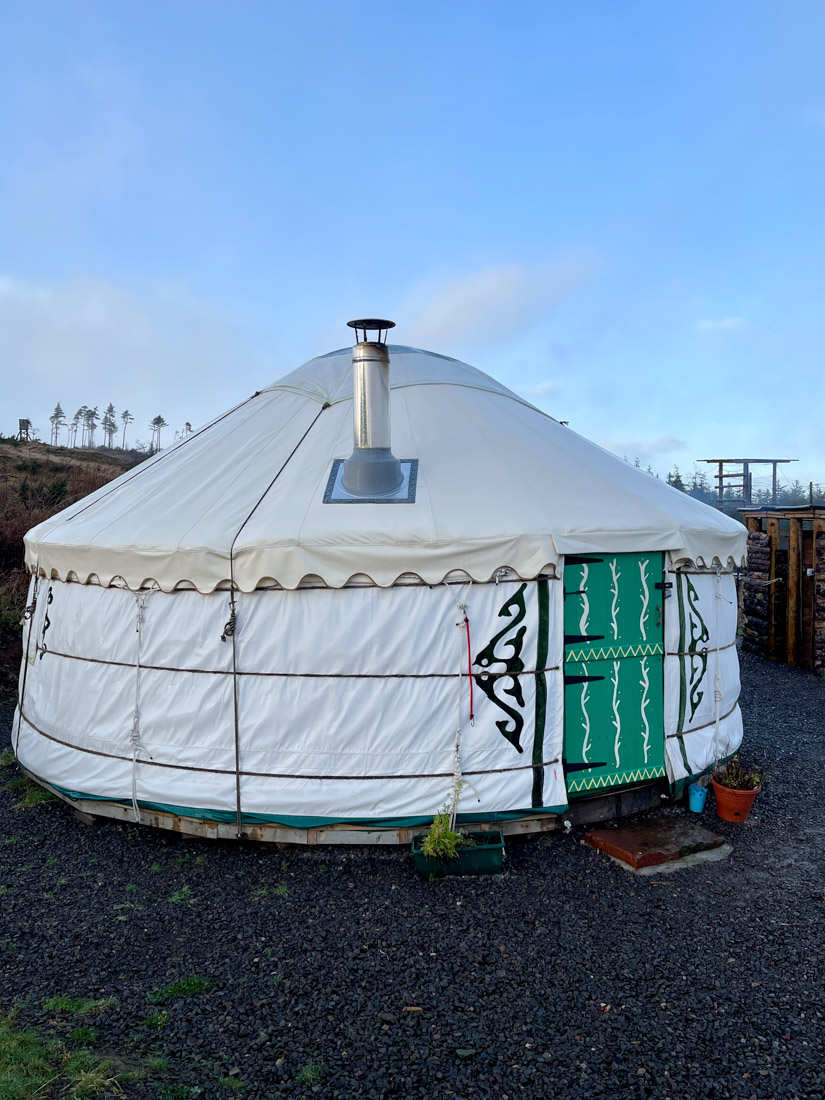 There's even free wood for the stove which you usually have to pay for when glamping in Scotland.
There's even reliable WiFi!
All you need to remember to pack is your own towels.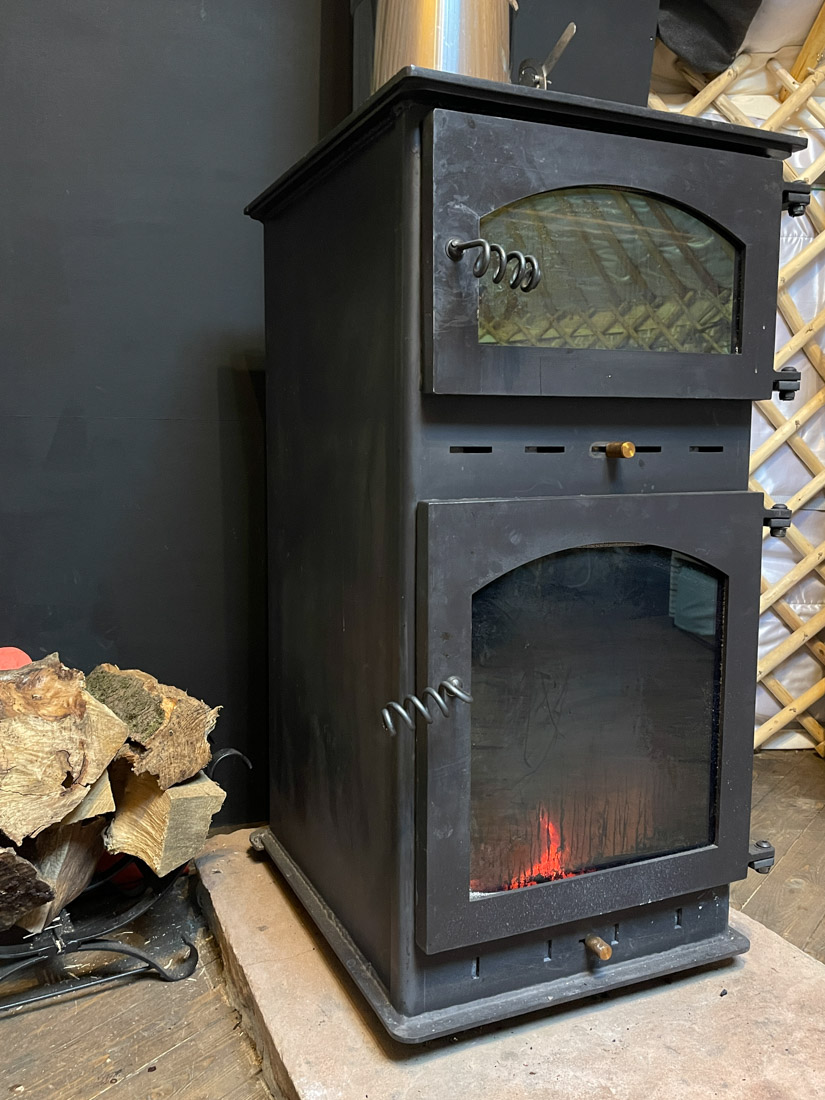 A one-minute walk from your yurt is a covered section where the fridge and microwave is stored and another where you will find a hot water shower.
Tip: Pack a pair of wellies and flip flops/Crocs.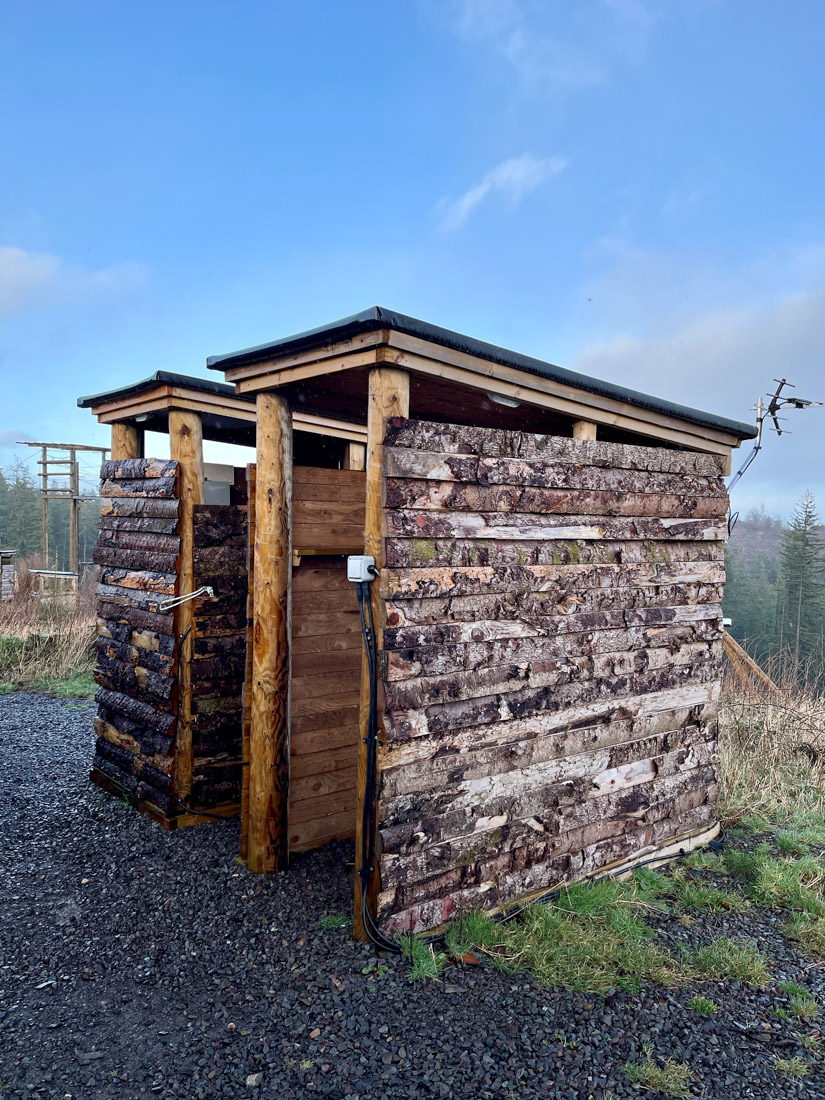 What about the toilets?
Just two minutes' walk from your yurt is the 'loo with a view'!
It's a composting toilet which means there is no running water down the toilet, you use sawdust to cover up.
Don't worry, the drop is far down so you don't have to look at anything aside from the countryside views provided by the carved out space in the wooden toilet walls!
The walk to the toilet really isn't bad since you have a canopy of stars above to look at after nightfall.
Marthrown of Mabie is in the same region as the Galloway International Dark Sky Park.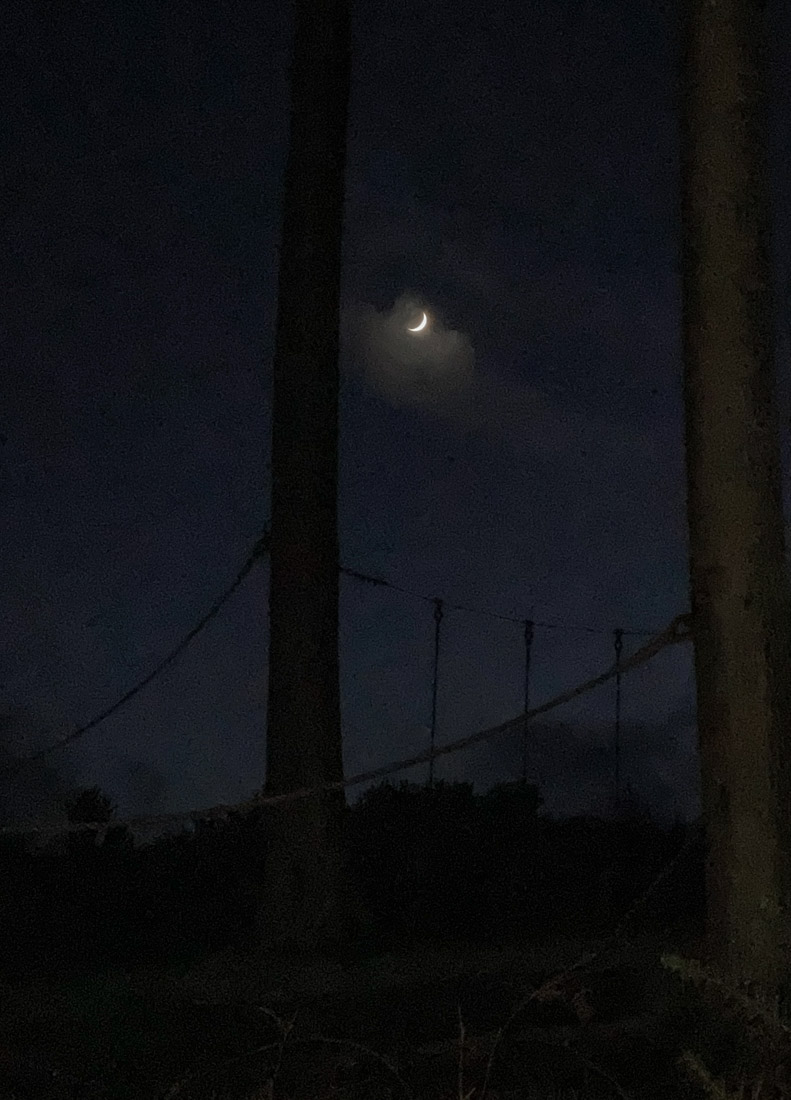 There are three recreational areas at Marthrown of Mabie.
The first is a challenge assault course which Mike dares you to try and get around it without touching the ground.
The second is the marque space where catering can be put on for events.
And finally, there is an outdoor wood fired hot tub and indoor sauna room.
The hot tub uses clean spring water and recycles it.
It is a wood fire hot tub so it is very hot but there is a cold tap you use to control the temperature.
Wood fired hot tubs don't create bubbles by the way.
Remember to pack your Crocs or flip flops and clean your feet before you enter the hot tub or the sauna.
The sauna comes with scents such eucalyptus, magic for clearing the airways.
The area is lit by fire sticks, giving it a Game of Thrones vibe!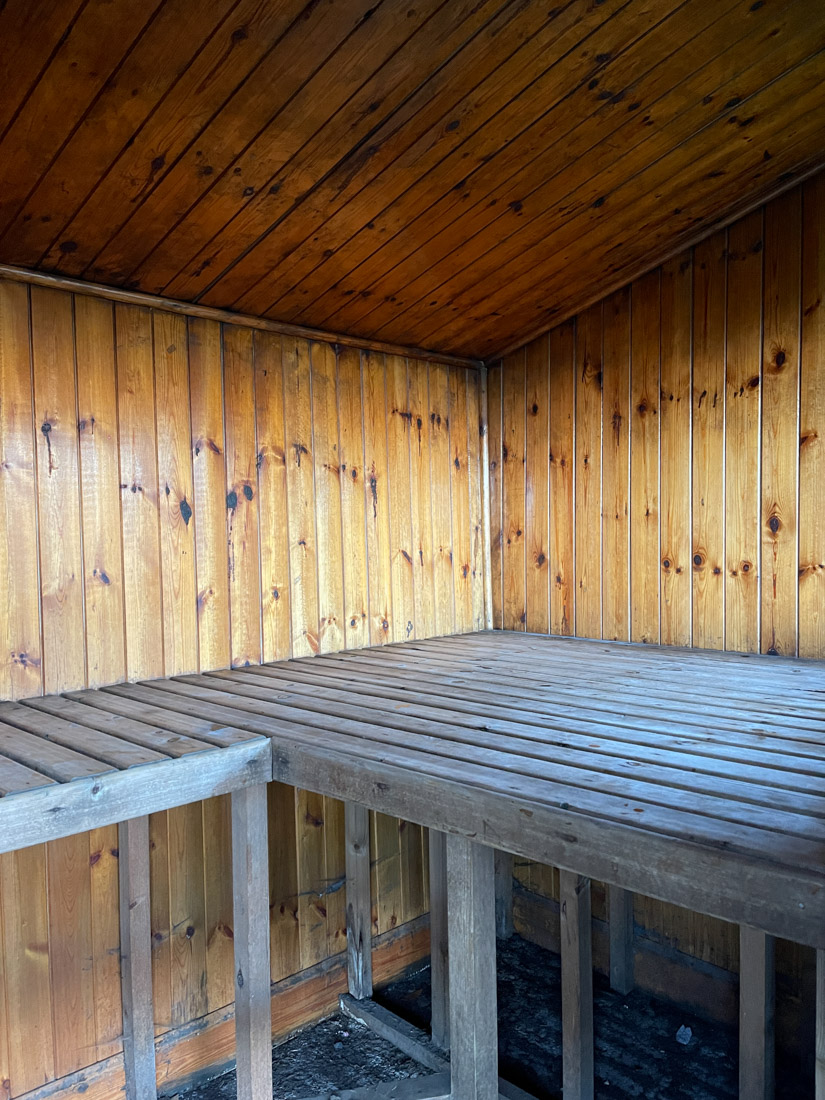 Marthrown of Mabie has been built with love and this was picked up by the E4 TV show, Don't Tell The Bride when a young couple got married at Mabie there in 2012.
If you are watching the re-run, Marthrown of Mabie looks a little different a decade later, there are less trees making room for clearer views!
Weddings and events still take place here today with many people opting to rent out the Iron Age Roundhouse for ceremonies and parties.
It comes with an outdoor stage, kitchen and campfire.
The campsite is close to 7Stanes which is popular with mountain bikers.
Check availability at Scottish Hostels.
New Abbey (5 miles)
New Abbey is a cute historic village in Kirkcudbrightshire.
It has a similar feel to Culross in The Kingdom of Fife with these well-preserved buildings, some of which are painted soft colours.
One of the main attractions in New Abbey is Sweetheart Abbey which you can see as you enter the picturesque village.
After a stay at Sweetheart Abbey in 1300, King Edward I of England is said to have proclaimed, 'if this is Scotland, I want more of it'.
Unfortunately, today, you can't spend a night at the abbey founded by Lady Devorgilla in 1273 to commemorate the death of her husband John Balliol as it is a ruin but you can admire its architecture from the graveyard.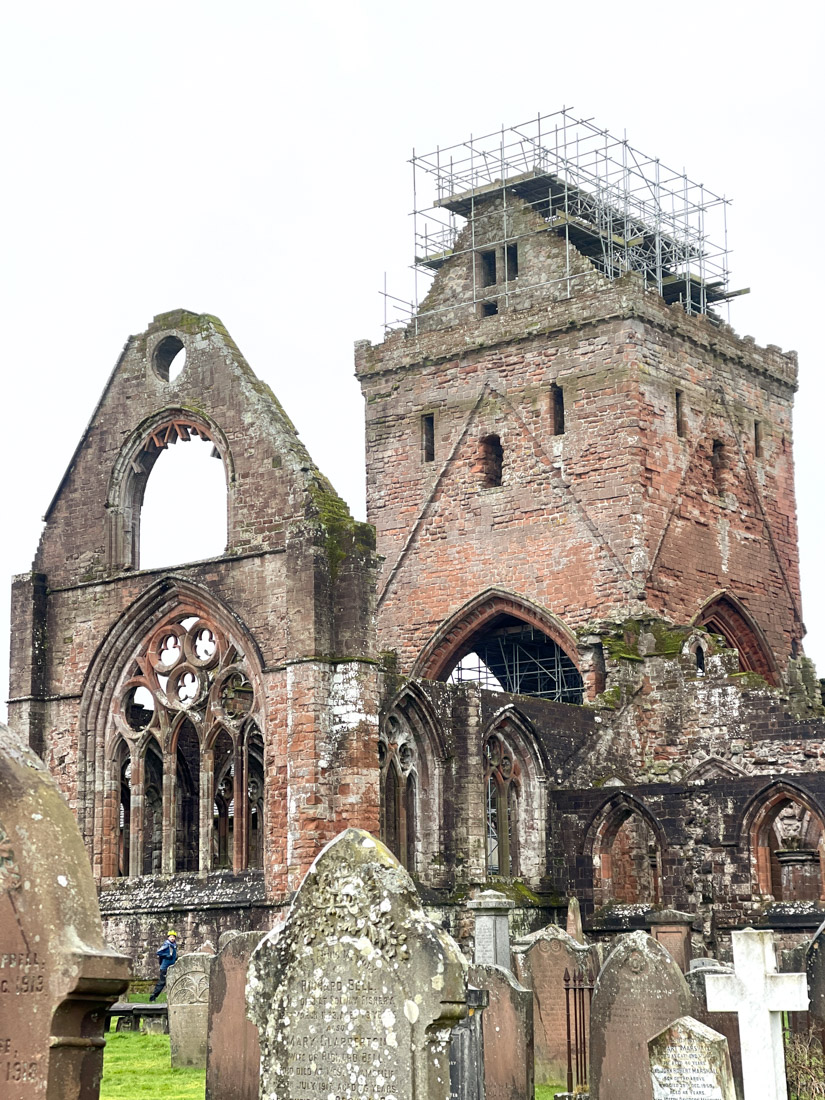 You can also visit New Abbey Corn Mill and hike one of the trails that range from moderate (Airds Point) to strenuous (Criffel).
There are also lots of biking opportunities around Dumfries and Galloway.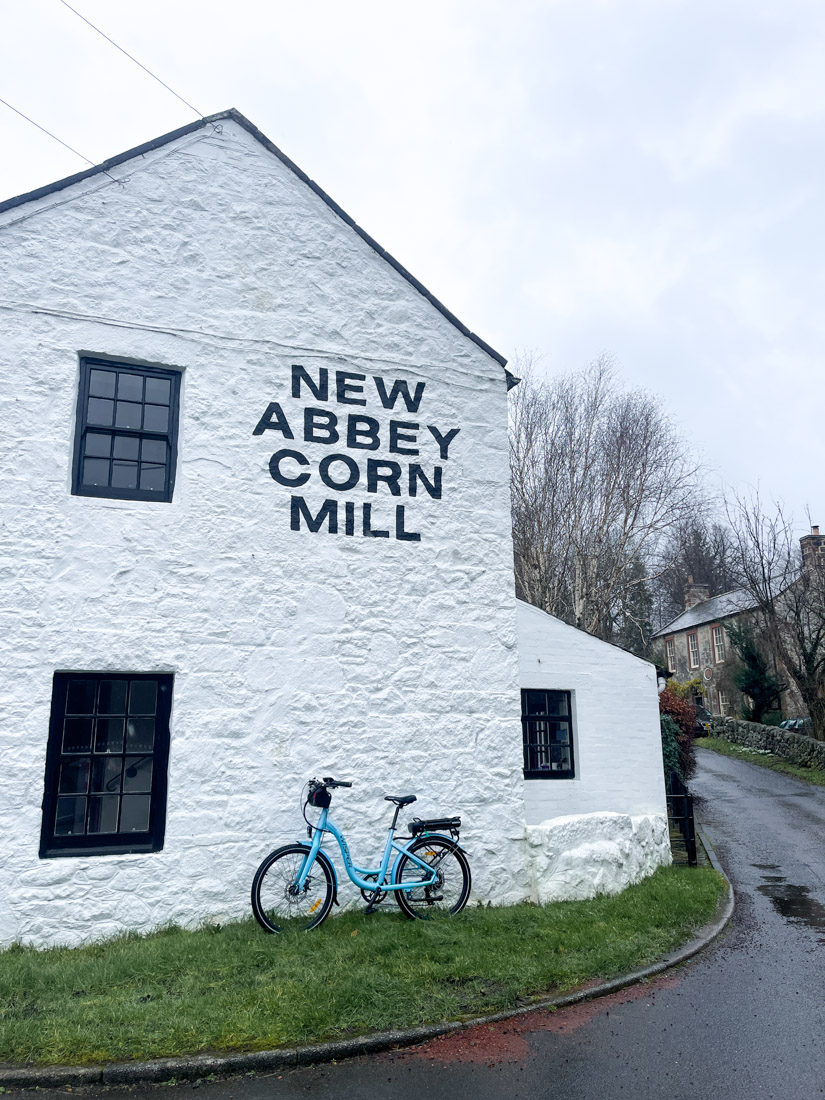 We cycled to New Abbey and out to Drumburn Viewpoint at Nith Estuary with Warren from Galloway Cycling Holidays.
Galloway Cycling Holidays is an award-winning tour company run by Warren and Esther who have cycled all over the world.
They aren't just cyclists though, they are also photographers who have a background in ecology and art so there is never a dull moment during conversation.
Warren also loves coffee so you are guaranteed a scenic coffee stop, or two, during your trip!
The couple are also supporting the development of gravel biking in South West Scotland so if you fancy making your trip about multi-cycling or Galloway gravel, contact the team.
Our start and end point for the cycle was Loch Arthur Farm Shop which you should definitely stop at for lunch and try the cakes.
It isn't just a food spot popular with locals, it is also a community campus which works with people with learning disabilities throughout the farm, gardens, creamery, bakery, craft workshops and the farm shop and cafe.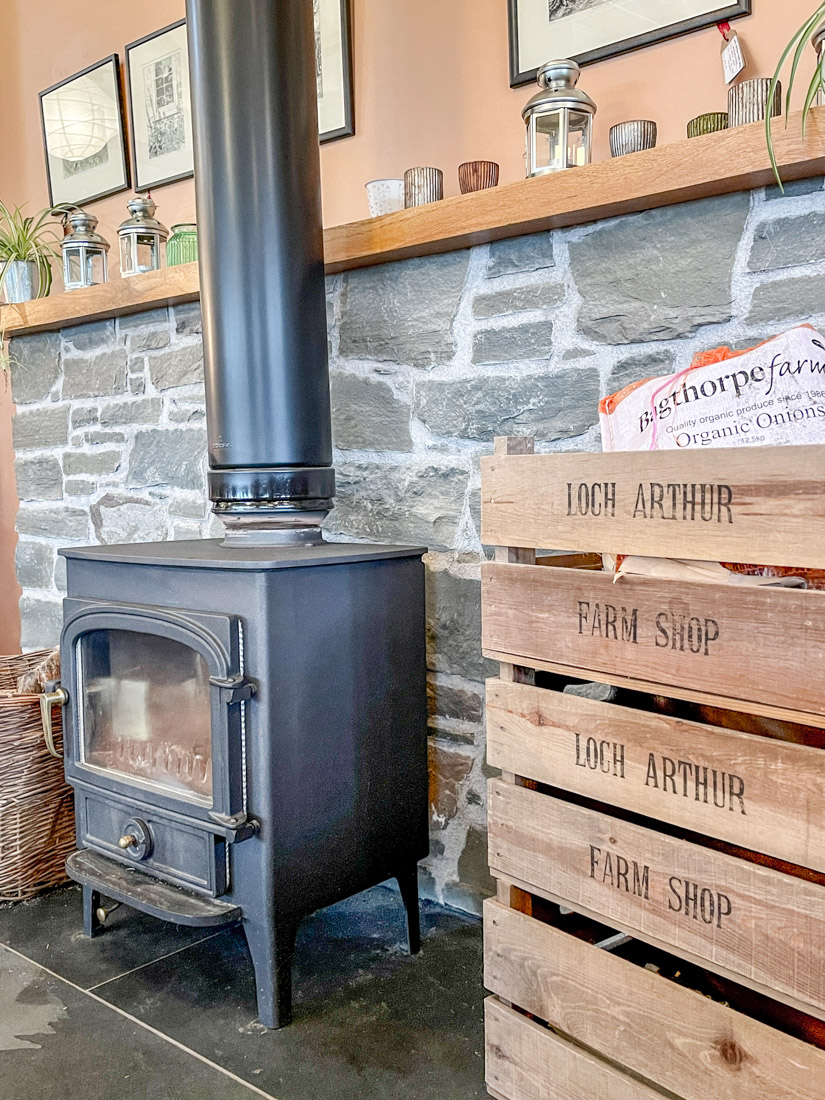 Castle Douglas (18 miles)
If you are looking for a town with lots of food options, there are plenty of cafes in Scotland's Food Town, Castle Douglas.
Cream of Galloway is not only a Scottish ice-cream maker in the area, it's also a day out!

The farm has crazy golf, an adventure park and nature trails.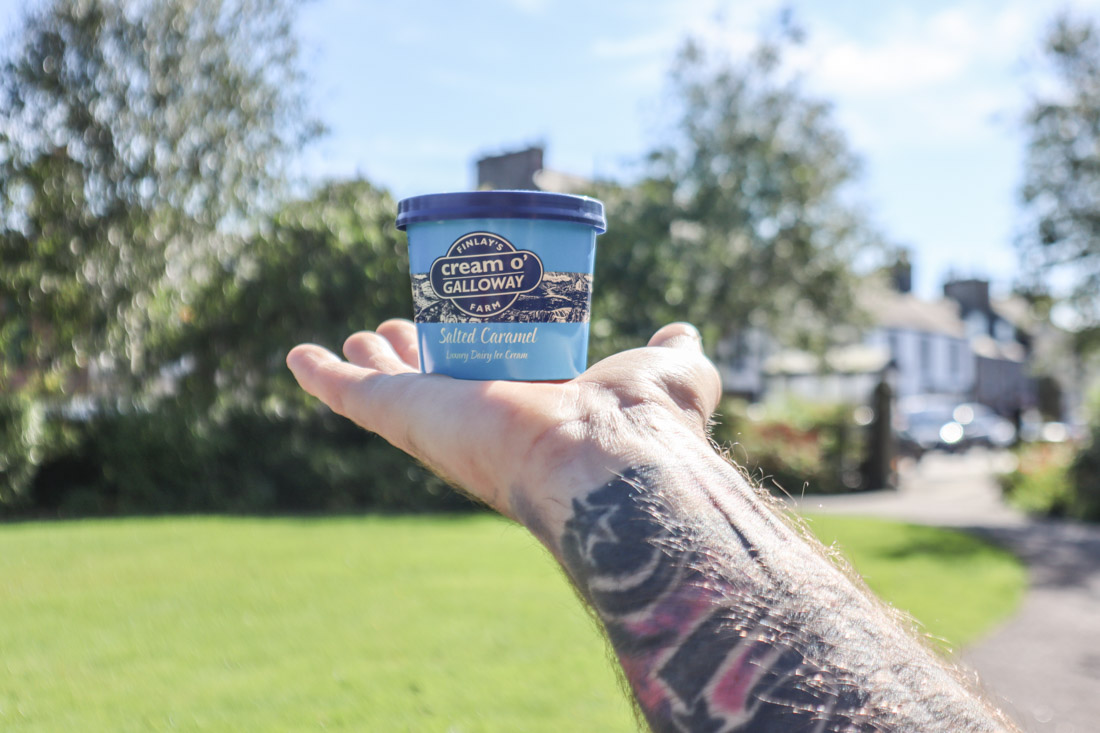 Gatehouse of Fleet (14 miles)
Cardoness Castle signals the entrance to Gatehouse of Fleet, you can't miss the 15th-century tower from the road.

This six-storey tower was built by the McCullochs and there is a 'pit prison' where the family's enemies spent some time.

Attached is a smokehouse specialising in salmon.
There's a grassy area by the castle with picnic benches.
We only stopped to stretch our legs at Gatehouse of Fleet but I messaged my friend instantly to tell them this would be a lovely weekend trip location for us.
It's a nice size with interesting architecture and a few pubs.
There's an 18th-century cotton mill called The Mill on The Fleet which has an exhibition centre, cafe and bookshop.
If you like beaches check out the six bays of Cardoness Shore.
Like to hike? There's a 7-mile (4-hour) Laghead To Lagg loop.
If visiting in May, don't miss Carstramon Wood for the bluebells that take over the ancient woodlands.
Red squirrels can be spotted all year round.
Wigtown (24 miles)
The next stop on your South West Scotland itinerary was a highlight for me, Scotland's National Book Town, Wigtown.
The town centre is surrounded by wonderful book shops including the country's biggest second hand book store, The Book Shop.
You'll identify it behind the stacked books statues at the entrance.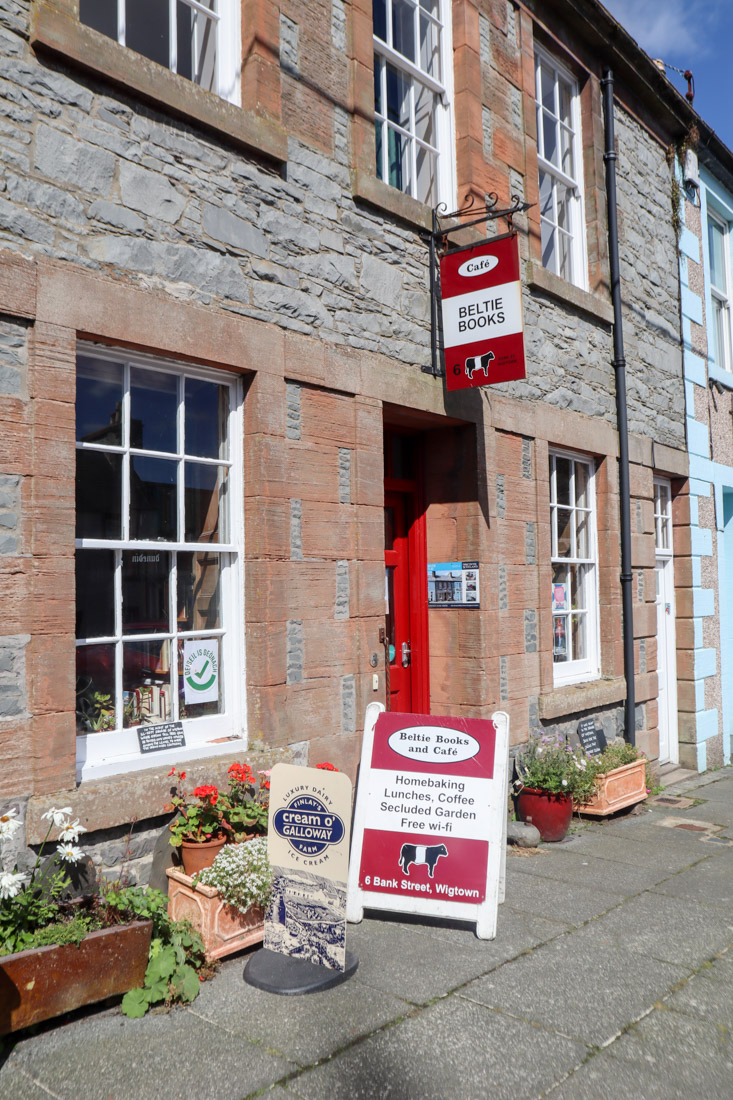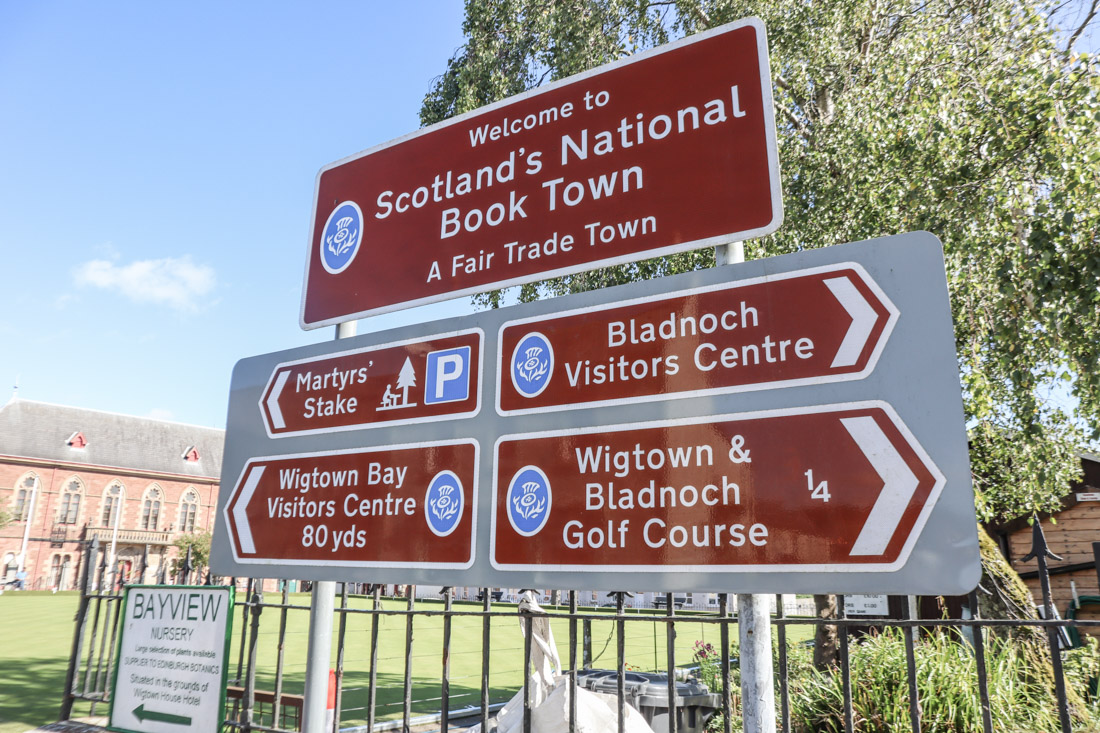 Wigtown plays host to an annual book festival where creatives meet and present to audiences.
This unique Scottish town doesn't just sell stories, it has some of its own too.
Pick up a map of 'Wigtown Women's Walk' to locate where influential women have left their mark.
I personally recommend Reading Lassies for food.
You can either dine alongside the books inside or beside the pink cafe walls in the small garden.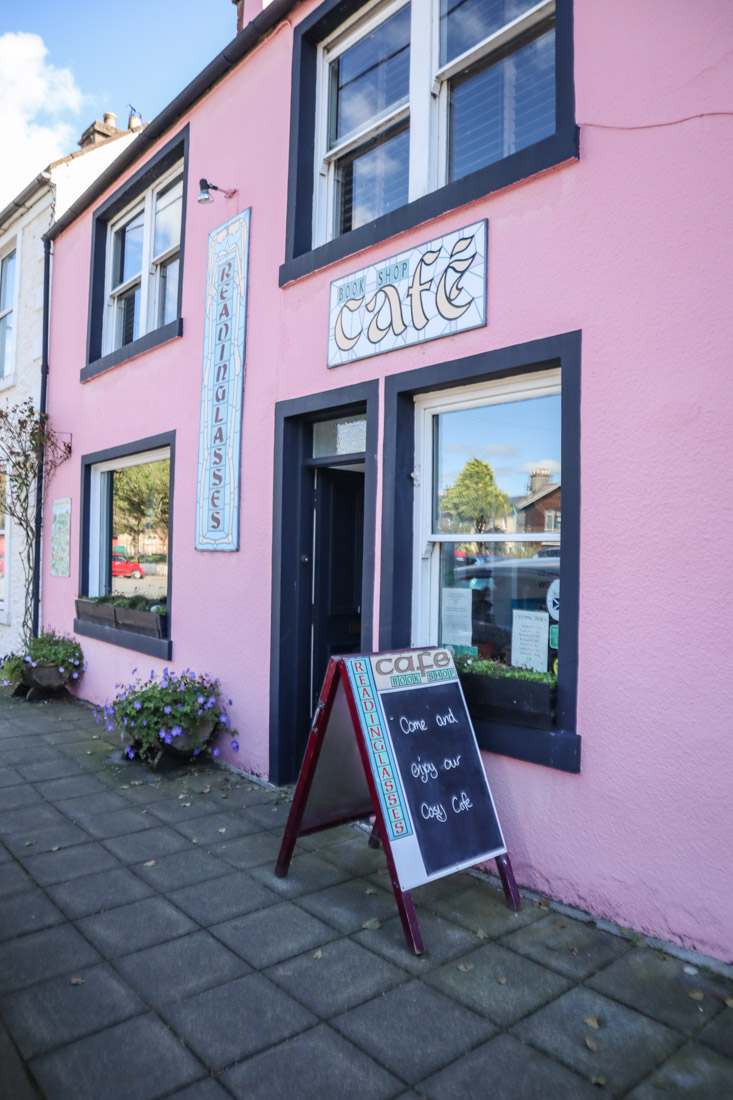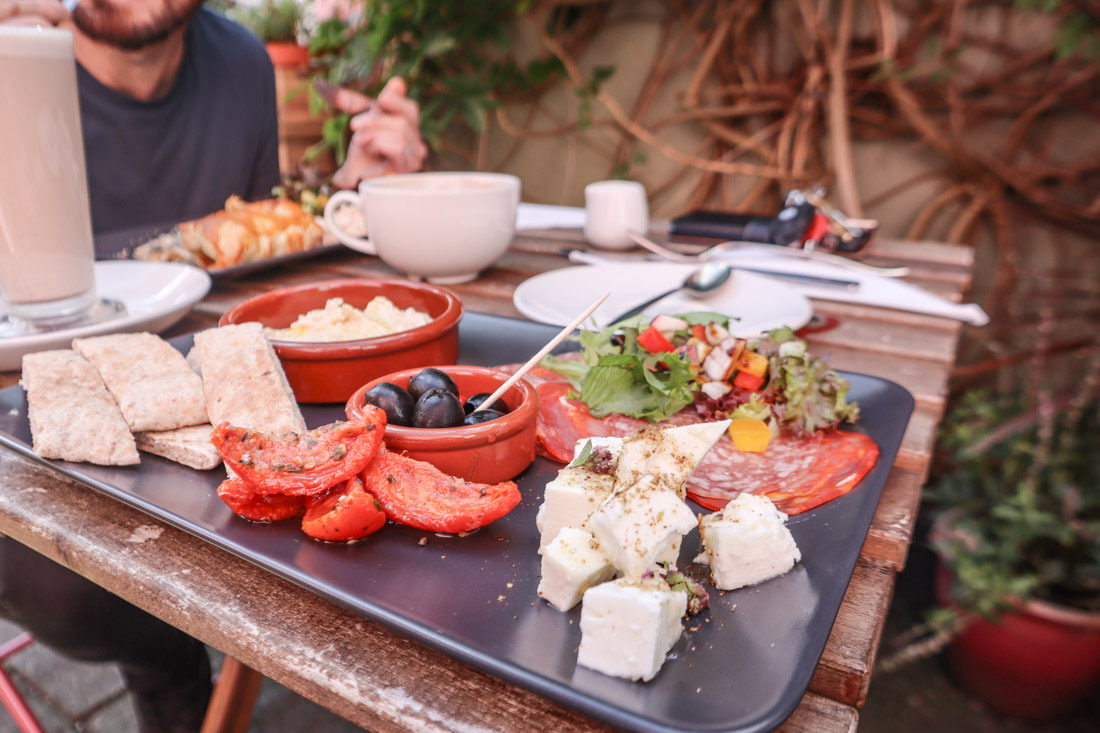 Bladnoch (1 mile)
Just before you drive over the bridge out of Bladnoch, you'll find Bladnoch Distillery tucked in the corner behind you and the Bladnoch Inn over the road from the distillery.
The distillery is only one out of a handful of lowland distilleries in action and has been producing a single malt since 1817.
You can take a distillery tour of the 200 year old estate and enjoy lunch at the cafe.
Alternatively, grab pub grub across the road at the Bladnoch Inn.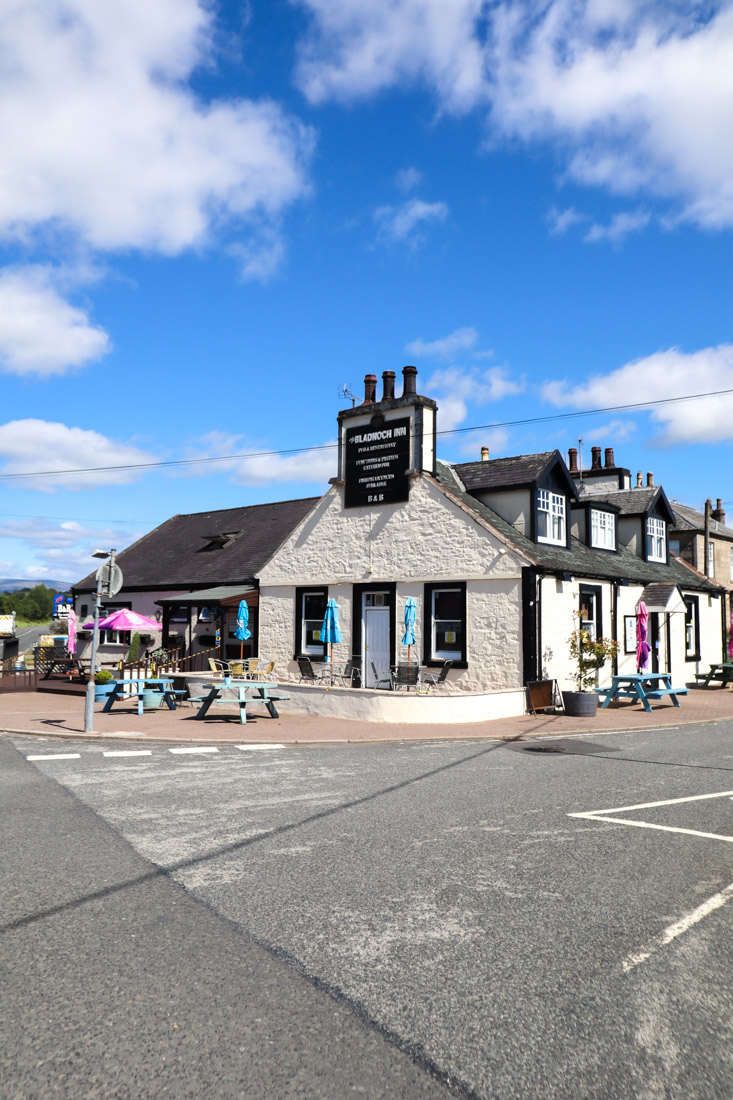 Port William and Luce Bay (10 miles)
The still water of Luce Bay was like a sheet of glass as we drove past the posh summer houses on the other side of the road.

This leg was one of those 'lucky to be alive' moments you often get during a road trip; a real appreciation for what Scotland has on offer.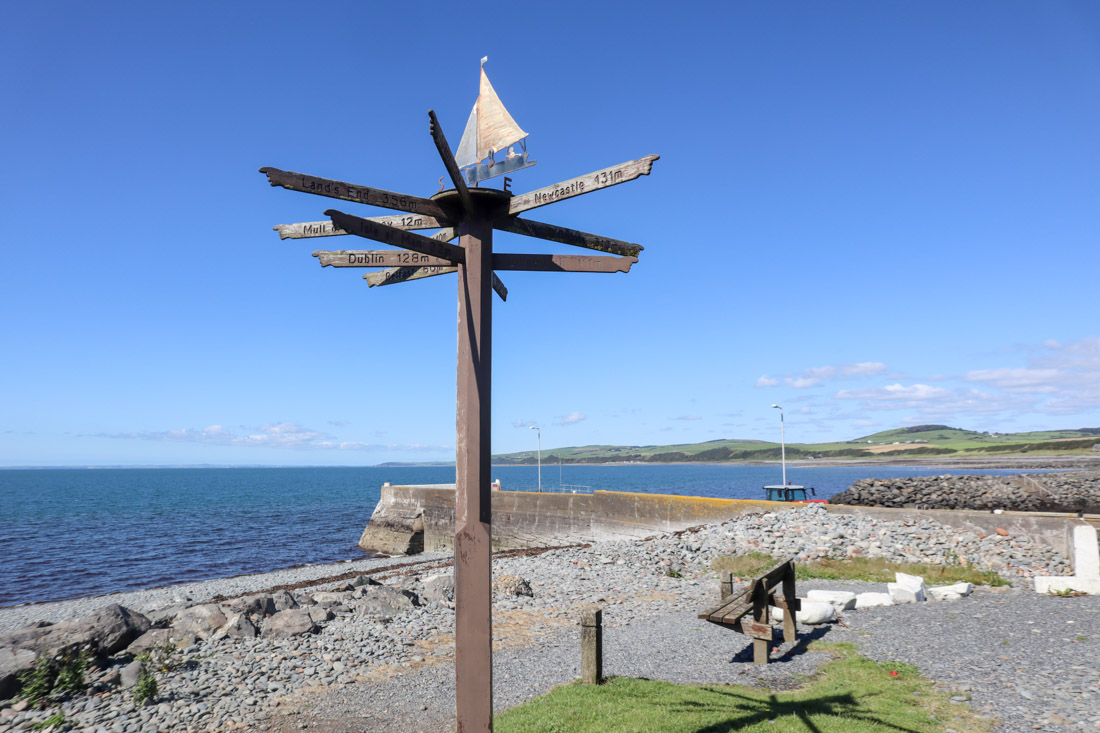 There isn't much going on in Port William, but there is a waterfront cafe, a few points of interest including a bronze fisherman looking out to sea by the award winning sculpture, Andrew Brown and signs pointing to different parts of the UK and Ireland.
Portpatrick is a busy wee town packed with locals looking for a pint, even on a rainy day.

There's plenty of outdoor seating spread out over the three harbour view pubs and dogs are welcome.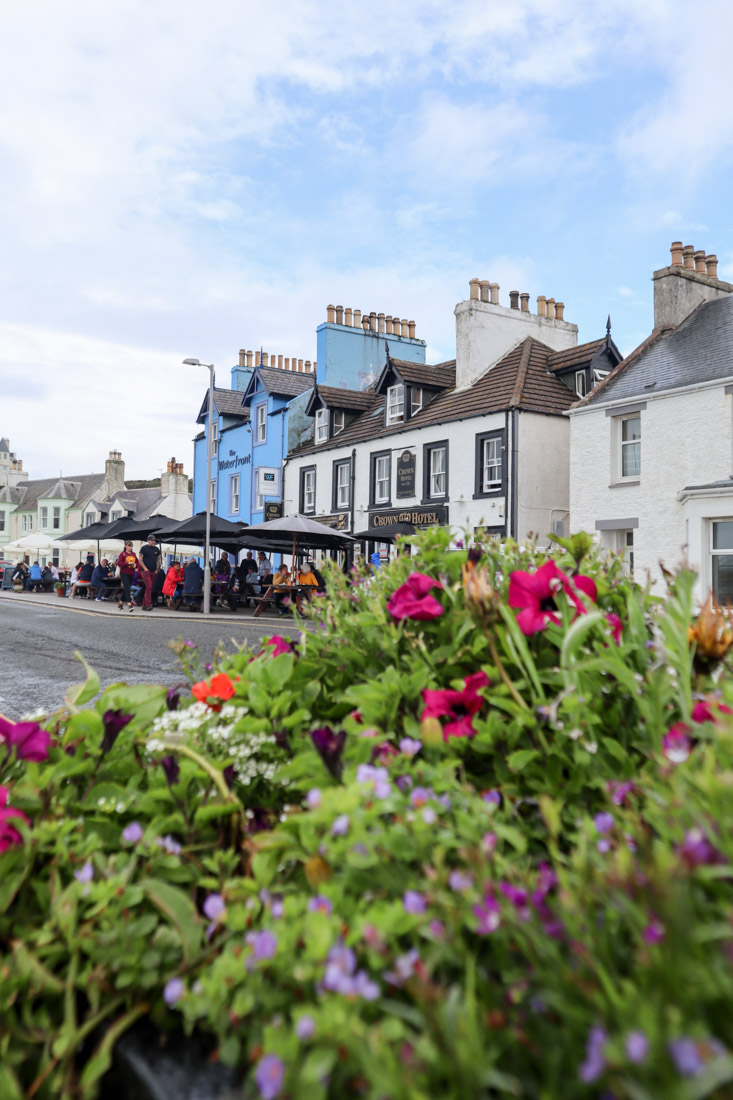 We dined on pie at The Crown Hotel before a walk around the harbour.
Another popular walk is to the 16th-century Dunskey Castle.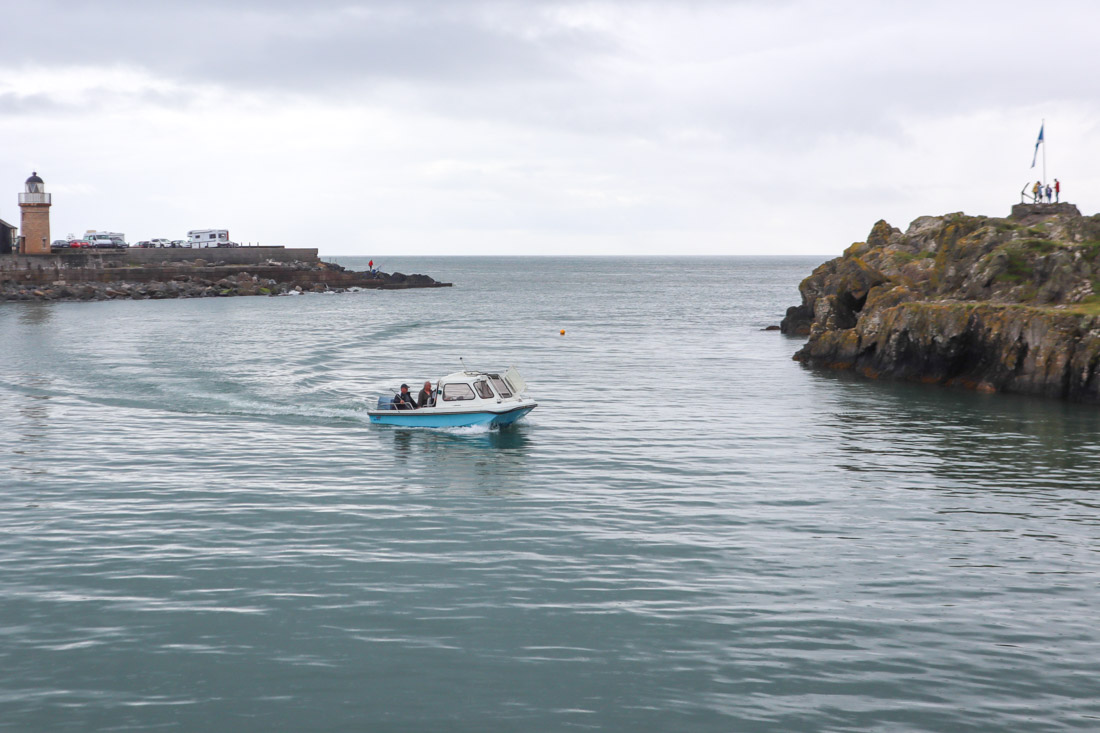 Stranraer (8 miles)
Take on the bends of the hill as you drive to the big town of Stranraer.

This town has a well used waterfront called Agnew Park which has swans, a play area and a waterfront cafe.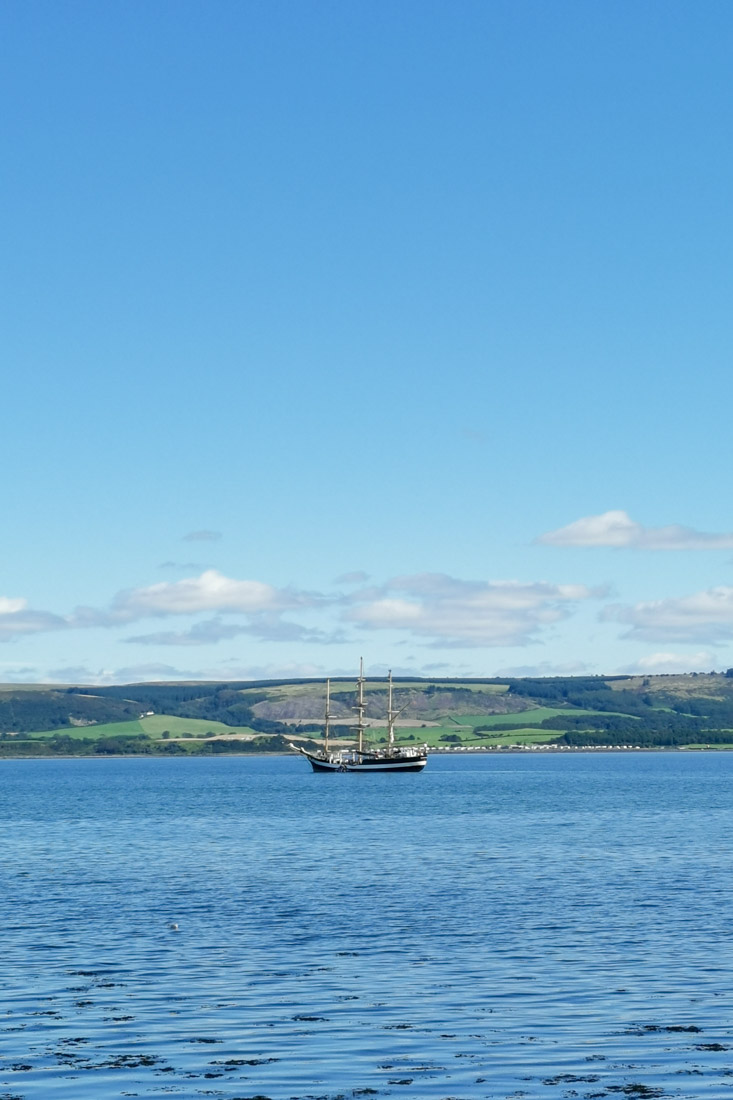 Tor of Craigoch and Agnew Monument, Leswalt (5 miles)
If you are camping or campervanning, consider North Rhinns Campsite.
Just outside of the site you can point out the Isle of Arran in the distance!
The campsite itself is very chill. We had a nice big spot next to the shower and sink.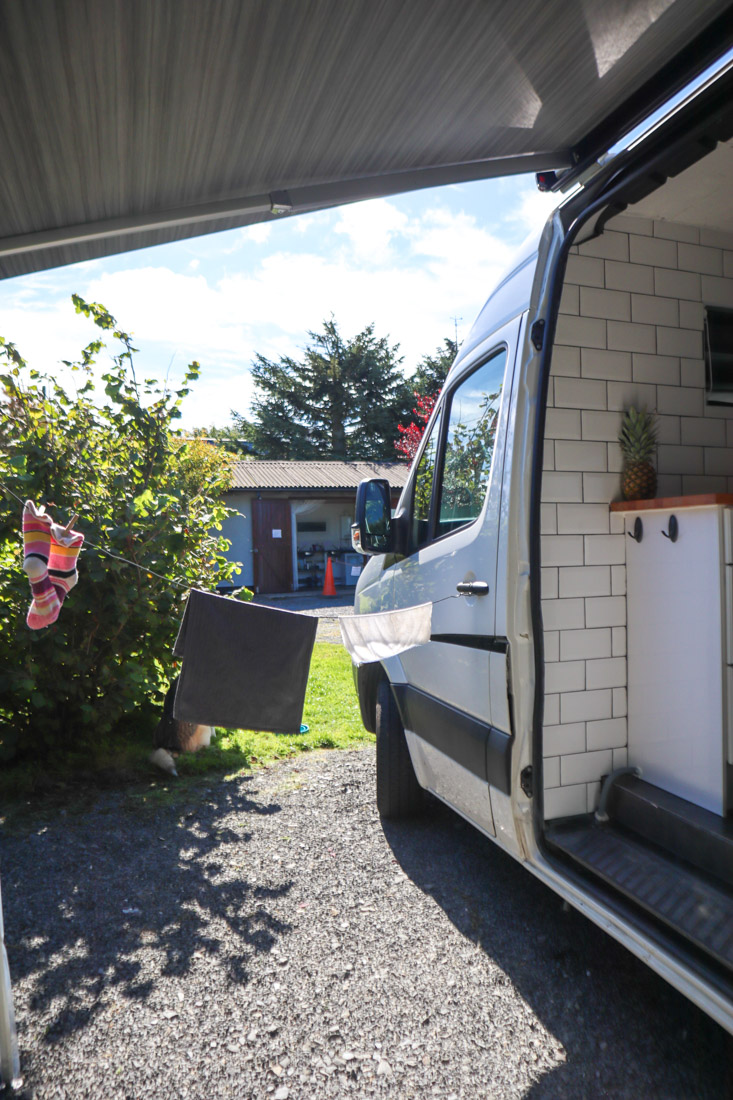 This secluded campsite is close to Tor of Craigoch where you will find the Agnew Monument.
It's a steep five minute climb to the top but the views are panoramic so they are worth it.

Parking is available at the bottom of the path.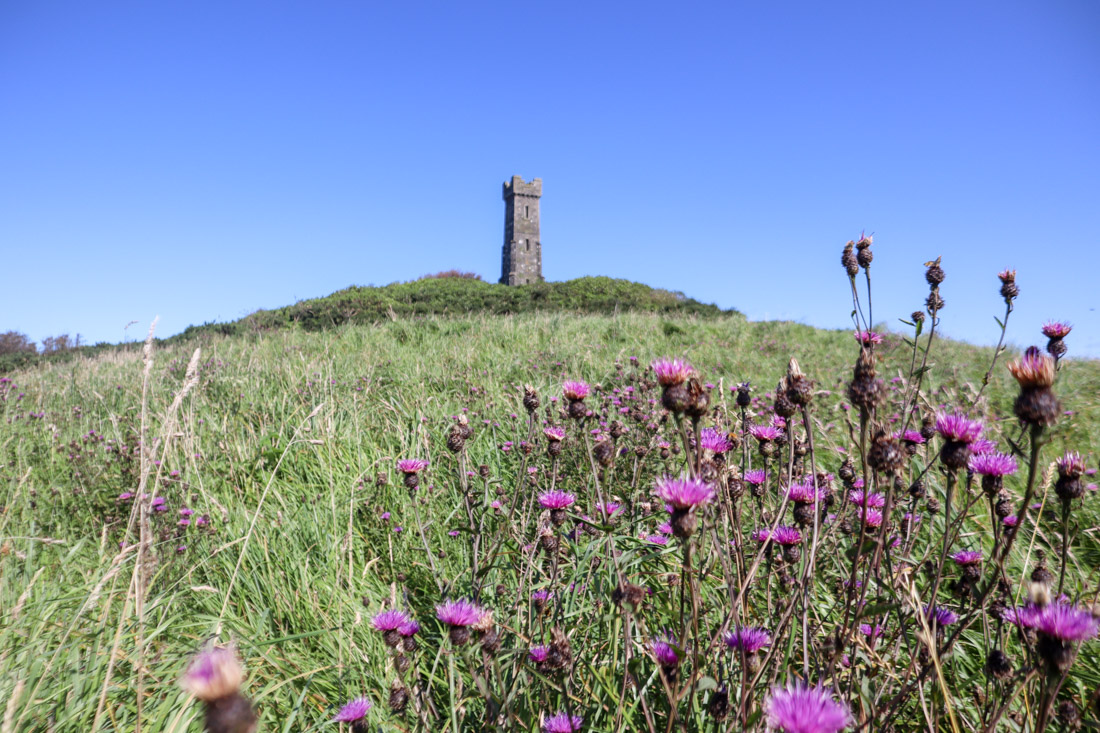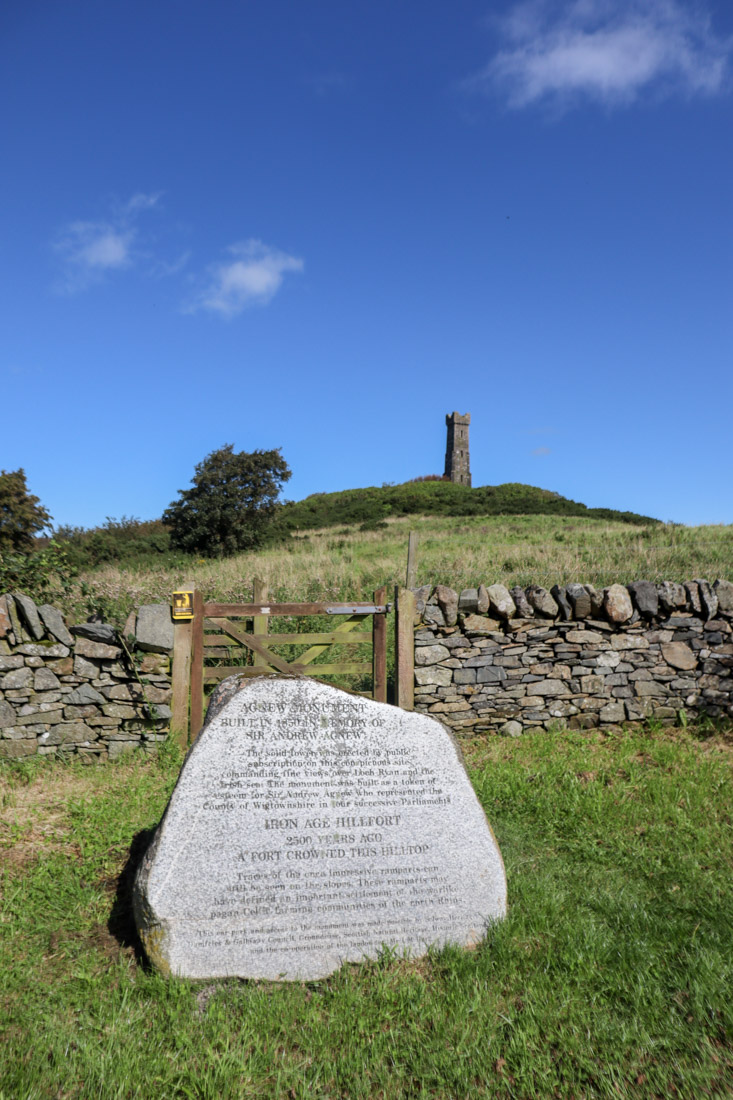 Galloway Forest Park in Dumfries and Galloway (33 miles)
Galloway Forest Park, not to be confused with Galway in Ireland, is a UNESCO Biosphere reserve, known for its dark skies and secluded spots throughout its 300 square miles of forest and hills.

Since there is minimum obstruction from town lights, you can see up to 7000 stars on a good night.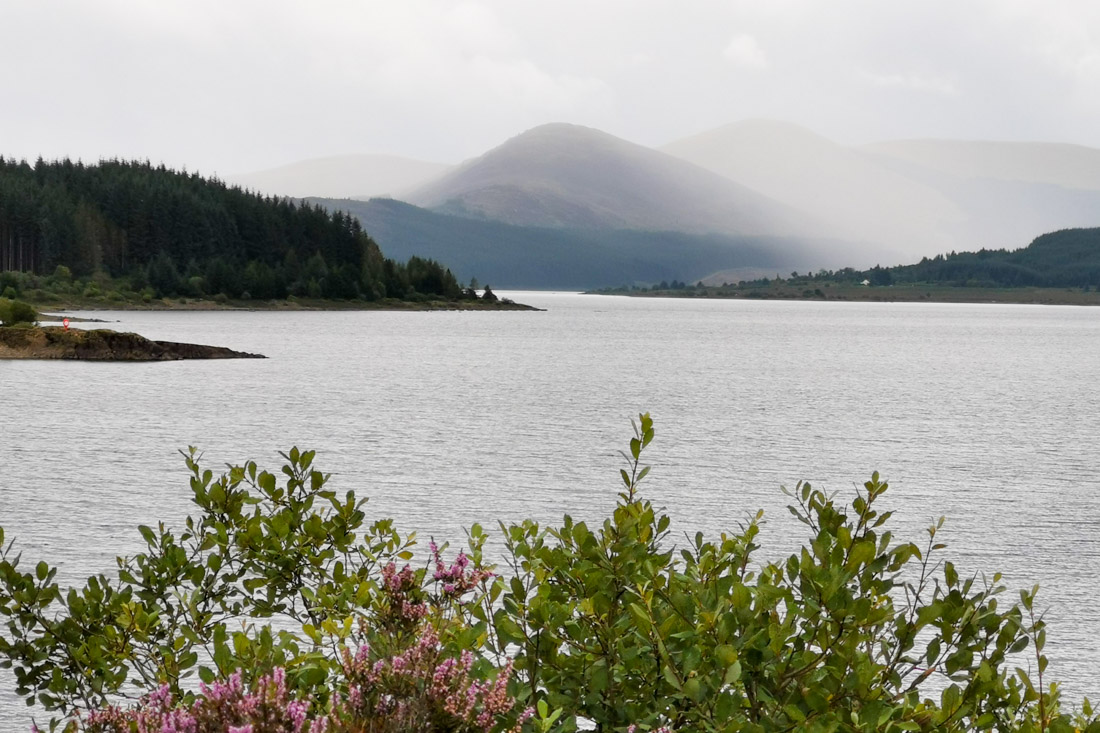 Coined 'the Highlands of the Lowlands', there are plenty of outdoors opportunities here including watersports and hiking.
You will enter the park again during this SW Scotland road trip!
Be prepared for an invasion from wee beasties as dusk falls during the midge season (May-September).
If you are planning a road trip to SW Scotland, here's our packing list and road trip hacks.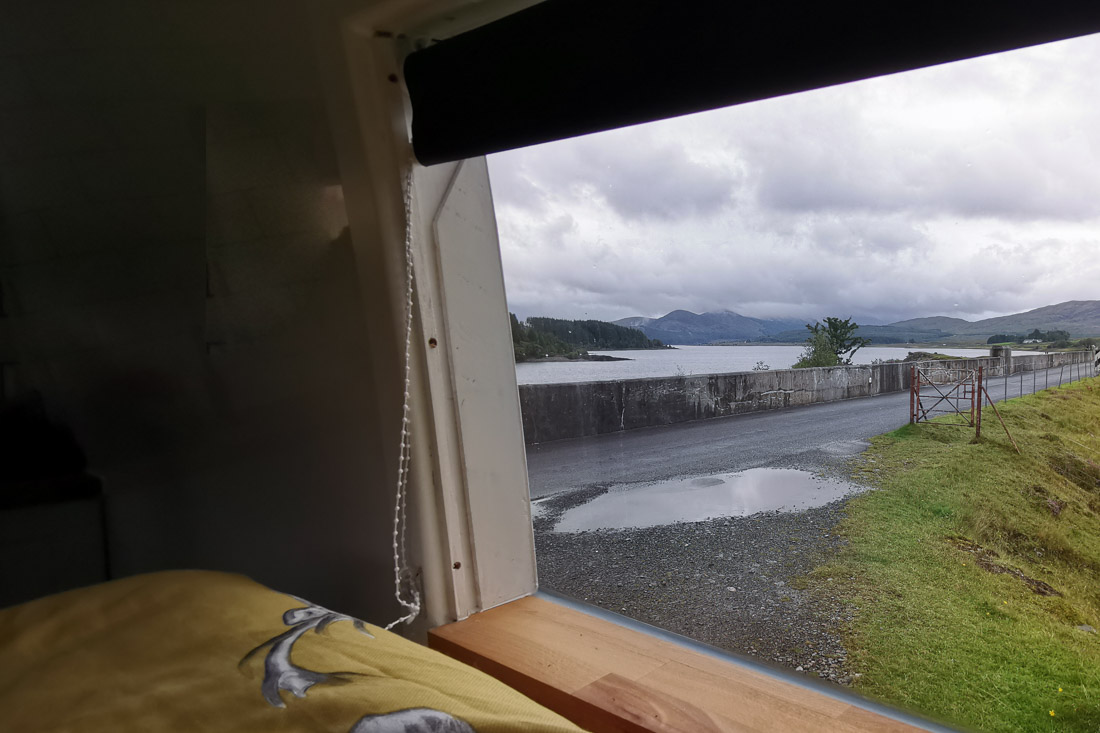 Murray's Monument, Newton Stuart (34 miles)
Atop a mossy hill is a tall statue called Murray's Monument which was built in memory of a local shepherd boy called Alexander Murray.
There is parking to the side and the steep hike up takes around 10 minutes.
Clatteringshaws Loch in Galloway Forest Park
Clatteringshaws Loch is a busy bus tour stop where you can grab a snack and sit by the loch looking at the highest hill in the Southern Uplands, Merrick.
Here you can also see Bruce's Stone which commemorates a spot where King Bruce took a rest.
The hike to get to the stone is an easy one mile.
Earlstoun Loch (10 miles)
As you drive along A713, you can get lost in the low hills and heather, depending on what time of year you travel.

It's a distinct difference from the high rolling hills of the west coast of Scotland which you normally see on adverts for Scottish tourism.
Earlstoun Loch stopped our travels, we hopped out the camper to take some photos of the greenery.
The stark white Cumnock Knowes Country Retreat bouncing off the lush green fields might be of interest to photographers too.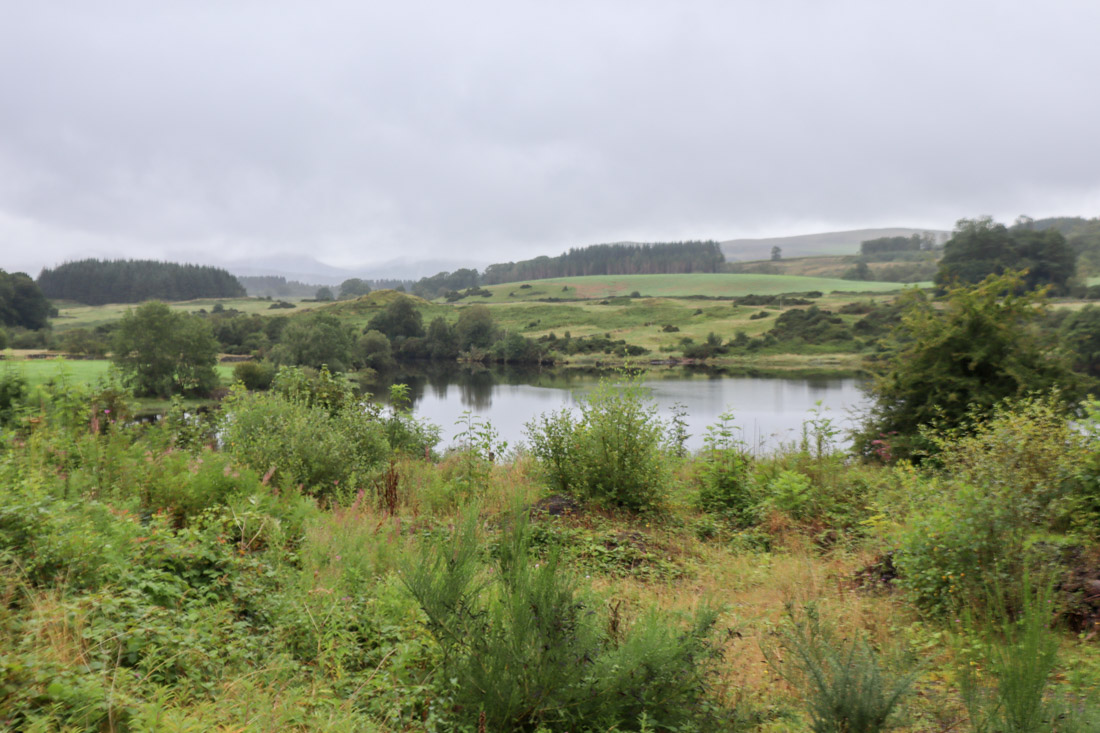 Dalmellington (18 miles)
As mapping goes, you could pop into Dalmellington before entering Galloway Forest Park but we spent the morning here instead.

Historically, it is an old market town but today, it has more of a large village feel with a cafe and takeout shops.
Its history is shaped by its involvement in textiles, the railway, ironworks and coal mining.
The Dalmellington Inn has indoor and outdoor seating.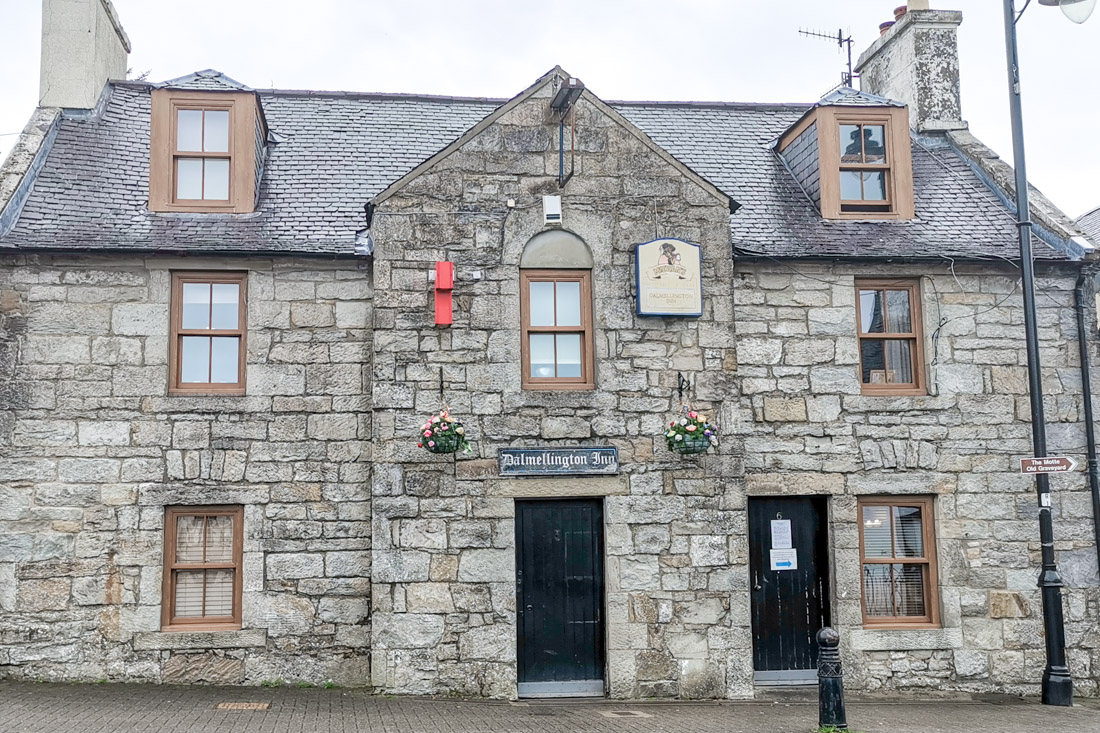 Close to the Inn, there is a play park and green space which is part of the King George's Fields, in memory of King George V.
There are over 400 of these fields in the UK and you can see the lion on the plaque as you enter.

There is a unicorn on the other side of the entry.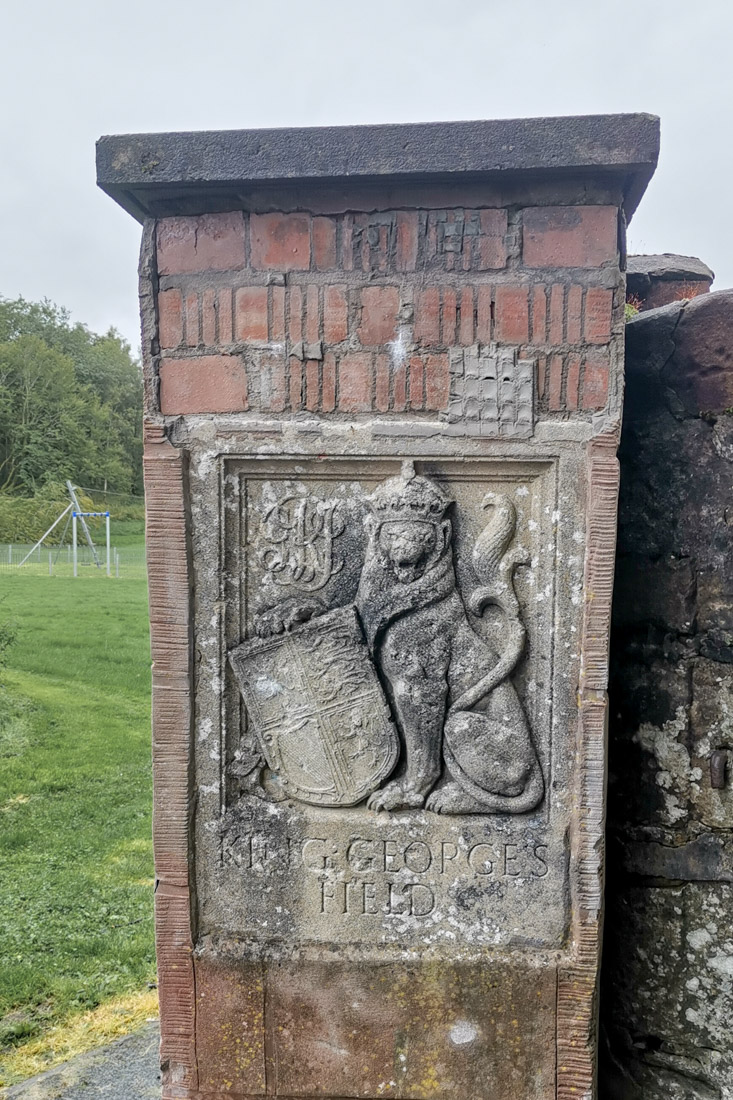 Loch Doon (7 miles)
Close to Dalmellington is the sought after photo spot during Scotland's lockdown, Loch Doon!

Got to love the Scottish banter.
South West Scotland Map
Please find a link to the above SW Scotland itinerary map here. It is free for you to use and adapt.
Save for later! Pin to your Scotland planning board
Final Words
If this is your first time or a repeat trip and you are wondering where to visit in Scotland, SW Scotland is well worth considering for its expansive landscapes, quiet beaches, history and its UNESCO Biosphere.
Our Road Trips Guides
Any questions or comments?
Leave us a message in the comments section below
and we'll get back to you.