This article has links to products and services we love, which we may make commission from.
The best advice I can give to people intending to travel South America is to learn Spanish! Why? So you can avoid being ripped off, have a better experience communicating with locals and feel empowered. Cusco is a great destination to learn Spanish in Peru because the city is small enough to get to know well, there is a variety of activities to do (21! Read about them here) and the city has a developed network of companies who offer classroom lessons for groups, individuals and opportunities for homestays. Here is our (Gemma and Craig) Spanish school Cusco review of San Blas Spanish School.
Spanish school Cusco: What to expect
Before we booked our trip to Peru, we were warned that some level of survival Spanish would be required so we signed up for a few lessons at a local community centre. Unfortunately, although the tutor was a nice lady she was a useless teacher. Mrs Armit (aka Gemma, Two Scots Abroad) found her methods very frustrating and I've been out of education for so long I just find everyone's teaching methods frustrating!
San Blas Spanish School was different. The classroom setting is relaxed, the ratio of tutor to participant is 2:1 and the school is organised. They supply workbooks and homework tasks, unlike our home tutor who spent half of the class photocopying worksheets.
San Blas Spanish School
After some online research, we chose San Blas Spanish School for three reasons. Firstly, the positive reviews, secondly the homestay possibilities with a non-English family and finally, Gemma received good vibes from Manfred via email.
The school is situated in a very cool area of Cusco (San Blas) which we were already familiar with so it seemed like a perfect fit. School starts at 08:30 until morning break at 10:30 then resumes again until 13:00. However, that is not the end of the day; homework is issued and lunch then dinner is spent around the non-English speaking table if you choose to try a homestay.
César, The King of Tutors
Our tutor for the next five days is César, a Peruvian in his mid-20s and luckily Mrs Armit seems to take to his teaching style straight away. He starts off lightly with the basics but ramps up to full conversation by day five. We have no WiFi in our homestay casa which forces us to do our homework. It was also quite fun helping Gemma for the first few days until she overtakes my abilities, then I resented the tarea (jokes).
5 Day San Blas Spanish Programme
Over the next five days, César crammed our heads with as much Spanish as humanly possible. I swear I think I pulled a muscle in my brain. This Spanish School Peru programme looks like:
Day one / two  – what, where, when, why and how/masculine and feminine words/alphabet and numbers
Day three – adjectives to begin forming sentences/yo, tu, nosotros, elle, ustedes etc
Day four – verbs and sentences/paragraph challenges on various subjects including Peruvian issues like child labour
Day five – conversation in morning (working on our horrible accents) and rounding up grammar in the final afternoon
As you can see, a lot of content is crammed into five days making it one of the best ways to learn Spanish while travelling.
Learn Spanish Apps
Before we went to learn Spanish in Cusco I both spent a bit of time persevering with the DuoLingo app before hitting the jackpot with the Johnny Spanish podcast. This gave me a half decent grasp of the basics….or so I thought! Once we arrived in Peru, we found that our Spanish was worse than miserable!.
A few Bolivian schools were also recommended to us as it's cheaper than Cusco, but at the time we were visiting the weather forecast was sunshine so I decided we'd be better off studying indoors, in rainy Cusco.
Final thoughts
We can understand (mostly) what's going on when people speak to us in Spanish. Answering takes time but that will come with being immersed in South American Spanish for the next two months. All in all, if you find yourself in Cusco and would like to begin learning or brush up on your Spanish, I'd highly recommend spending time with San Blas Spanish School.  Last point, here's Gemma's attempt to ask a hostel in Cusco for extra nights. I think it's called 'Spanglish'…

Prices are as follows:
Group lessons – 1 week of 20 hours (4 hours every day) with max 6 students = S/. 335 or S/. 16.75 per hour
Individual lessons – 1 week of 20 hours (4 hours every day) =  S/. 670 (or S/. 33.5 per hour
*Low season discounts are available, just ask!
Address: Carmen Bajo 224, San Blas, Cuzco, Cusco, Peru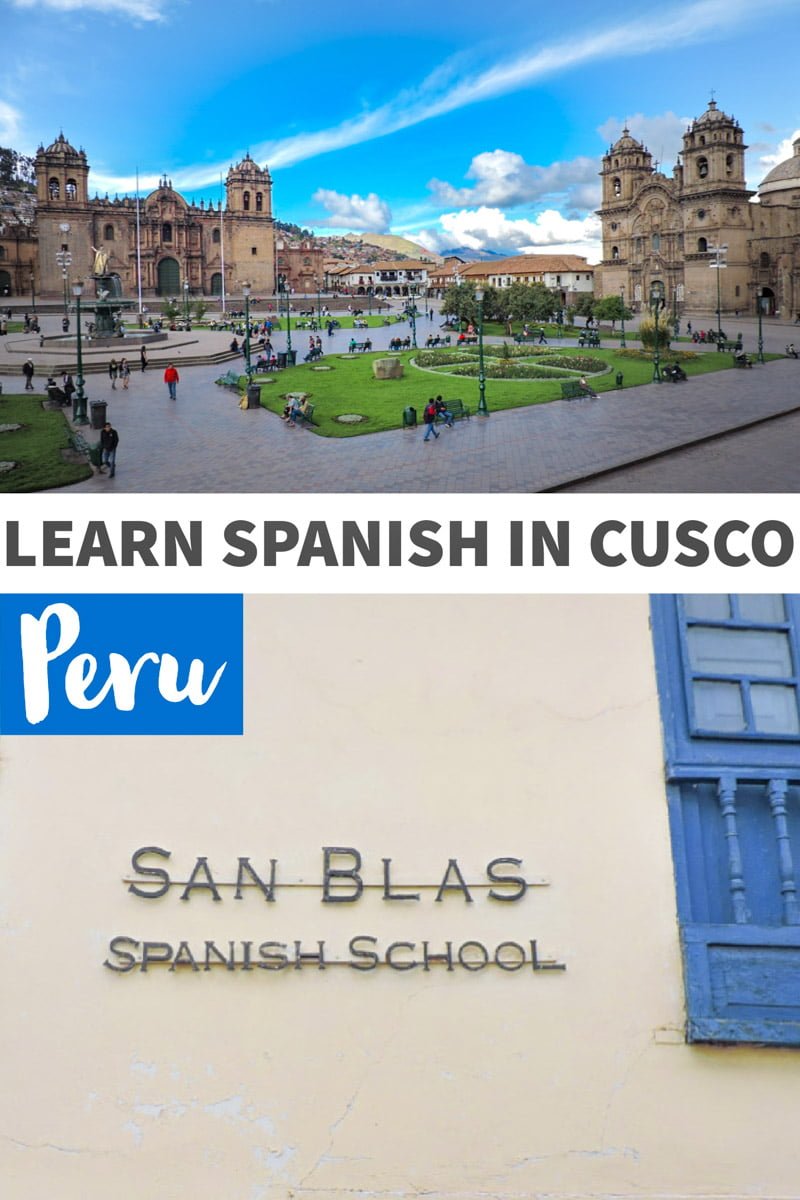 Over to you, any questions? Have you been back to school?
*Many thanks to San Blas Spanish School for putting us Two Scots to work (with a 30% discount). As always, our honest opinions.