Sweaty nights, backpack soiled clothes, mosquito bites… travel really isn't as sexy as many people think! However, we have seven real life situations to share this Valentine's Day – honest stories by eight talented writers about romance on the road!
Romance on the Road – Cute Meet:
Vicky & Gavin, Make Time to See the World
Prior to migrating to Melbourne, I used to manage ski hotels in the French, Swiss, and Austrian Alps. I met my partner, Gavin, on a company training course in Serre Chevalier, France, back in 2008. Hotel Managers and Head Chefs were in different training briefings so our paths did not cross much in the first few days. Our first real interaction came the night of my duty manager shift – and I can honestly say it wasn't the greatest first encounter ever! Gavin and a fellow Australian chef were blind drunk in the bar and refusing to leave as I was trying to close up for the night, and it took me well over half an hour to get them out. At one point I actually had to physically push them (using my knees and shoulders – drunk people are heavy!) out of the bar! Imagine my horror when I discovered the following day that Gavin was going to be my chef for the season!  Seven years on – it turns out he has been 'my chef' for quite a lot longer than a season – and he still doesn't remember the night we met!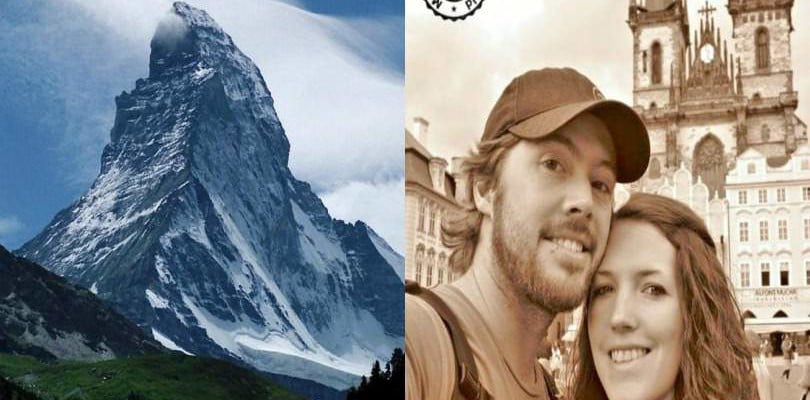 Enchanting Engagement
Carolann & Macrae, One Modern Couple
When you travel full-time as a couple, you end up spending holidays, celebrations, and major events in random places around the world. Sometimes, those places don't really coincide well with what you are celebrating – take for instance, our Canadian Thanksgiving in a small village in Thailand where turkey and trimmings was NOT available (though we did see a random turkey gobbling on the side of a mountain road!) It also means however, that you can plan some pretty special moments in some incredible places that would otherwise be impossible and that only add to the romance and mood of the event. That's exactly what happened for us, with one particularly momentous occasion in our relationships that benefitted from the special touch that only travel can add. It was as we walked along a beach in Okinawa, Japan, the waves slowly washing along the shore, that we got engaged. It was a perfect place: beautiful ocean scenery on a gorgeous day in a country that both of us absolutely love. After the question was popped, and the appropriate response by the now bride-to-be was given (YES!), we stopped at a refreshment stand along the beach, grabbed ourselves a celebratory drink and some snacks, and sat to watch the sunset. Travel has not only brought us closer together than we could have ever imagined, it also allows us to create some pretty incredible memories around our milestones as a couple… we only need to convince our family that a wedding abroad is a fitting end to the engagement that started on the other side of the world!

Wanderlust Wedding
Tara & Tip, Fit Two Travel
Tip and I originally planned for a wedding in our home state of Oregon. It was going to be big, fun, and of course expensive! However, before we got too deep into signing wedding contracts, we changed our mind and opted for a destination wedding.  When we truly sat down and thought about what we wanted our day to look like, we knew we wanted to be married on the beach. Tip mentioned Jamaica one day out of the blue, and the deal was done, that's where we would get married! At this point we knew next to nothing about what it would be like in Jamaica, but we knew we could lay by the beach with a drink in our hand in the middle of December. While only a handful of our friends and family could make the trip, getting married in another country was the best decision! In true Jamaican culture there were "no worries" on our wedding day and we even got married barefoot! Not only did we have a memorable wedding day, we also had the rest of the week to relax and explore the beautiful island together, as we celebrated the beginning of our marriage.
Breaking Up for Backpacking
Jub, Tiki Touring Kiwi
In 2011, I moved to Melbourne, planning to spend a few months there before heading to Southeast Asia. Unintentionally, I fell in love and 20 months later was confused as to how I was still in Melbourne. There was a noticeable age gap between my partner and I, and with the female body clock counting down I realised I wasn't anywhere near ready for marriage, kids, the house, the works. She understood that I wanted to travel and was prepared to make sacrifices, by moving to Vancouver with me or waiting for a year for me to come back. Incredible! Unfortunately I didn't want to let her down and couldn't commit to anything down the road. I didn't want to make a promise, follow through with the plan and end up unhappy with my life. It was tough, but we enjoyed our last few months together before I moved to Vancouver. Three years later, I'm still on the road constantly, and happy as can be in Chiang Mai, Thailand – my favourite city ever! My ex also now has everything she wanted as well. Win win! It wasn't always easy for the first year after leaving, but I'm glad I was selfish enough at the time to make solo travel a priority for me.
Travel: Lucy'smilesaway's One True Love
I've cheated on every boyfriend I've had in the last six years! Not in the usual sense though; I've never left them for another person. But, with each wonderful boyfriend I've had, through no fault of their own, they have always been held second best to my love of new adventure. I'm not proud of it, but there have been more than one occasion when I've sadly kissed goodbye to a much-loved partner at the departures gate, knowing in my heart that once I cross security and into the departure lounge, we will be over. The last time I did it, I felt nothing. My beautiful, kind boyfriend of two years and I held each other the night before I left, kissed for the last time at the airport and that was it. From the very start, we had made a pact that we would end it when I left. Maybe subconsciously I was prepared for it. Perhaps one day I'll wonder what could have been, or hold some regret. Perhaps I'll meet someone who will travel with me, perhaps I'll meet someone who'll change how I feel and I'll settle. I'm not sure. For now, all I know that travel is the only true love of my life.
Tinder and Travel: Match Made in Heaven
Laura, Wilful and Wildhearted
I moved to Korea in 2013 to find myself. Still grieving over the loss of my brother and grandmother, the last thing on my mind for the first few months here was getting into a serious relationship. It seemed that every single one of my peers here had a Tinder account, which is something that I continuously scoffed at. While riding in a cab after a pretty wild night out, my friends coerced me into downloading the account. In my dizzy state, I "swiped right" (a ridiculous sign of approval) on every single account that popped up on my feed. I clicked on the app the following morning and was flabbergasted by the amount of raunchy and lame pick up lines that were taking over my inbox. Some guy went as far as privately messaging me on Facebook after locating me via a mutual friend. I'm not kidding! Needless to say, I was a little freaked out and decided I'd never go on it again. Fast forward two weeks later. I was bored at work, checked my messages and low and behold I saw a message from a British guy named James who had a nice face and even better banter. We messaged back and forth for about a week before we decided it was time to meet in person. We met in Gangnam (like the song) for an Indian curry and ended up chatting over beers all night instead. Our first date turned into an adventurous weekend and we have been pretty inseparable ever since. We are about to embark on a 5-6 month backpacking trip through South East Asia on our way to New Zealand, which will be our home for the next year. Cheers to you, Tinder!
A Hostel Encounter
Claudia, My Adventures Across the World
Sometimes things don't go as planned, and that really is for the best. I was in Puerto Madryn, Argentina, and needed to get a flight to Ushuaia. When I got to the airport, I found out that all flights had been cancelled due to a volcano eruption in Chile: smoke and ashes made it impossible to fly. I was stuck in Puerto Madryn. I went back to the same hostel where I had been staying, welcomed by the staff and the other guests I had come to know during my permanence. One of them was Omar, a cute Italian guy I had spent quite a bit of time with (and enjoyed one too many glasses of Malbec). As there was no way I could make it to Ushuaia, I decided to go straight to El Calafate by bus. As I got back to the hostel with my ticket in hand, Omar announced that he'd be on the very same bus. That's how we spent 20 hours sitting next to each other, flirting. Those hours on the bus were followed by 4 fantastic days in El Calafate. To date, we are still in touch!

Cancelling for Cupid
Gemma Jane Adventures
I met Gavin in a bar in New Zealand. Our first date was dinner and drinks. I wasn't sure about him, I was supposed to be leaving NZ in a few months and didn't want to meet anyone, but we got on brilliantly and spent the evening chatting away, swapping stories and having a great time. A month later I was ready to leave NZ, I booked flights to Asia, but was sad that I was leaving him behind. Time passed and we got closer, our personalities clicked so well, and after traveling for over 18 months and meeting countless numbers of people, in my experience this doesn't happy very often, and when it does you should grasp it with both hands. I moved my flight to Asia back by one week to spend longer with Gavin which meant we could go on a goodbye budget camping road trip! We had an amazing time, and were brought even closer together so… I cancelled my flights, moved in with him, and he's saving up so we can leave New Zealand and travel back to the UK together in six months or so!
 Like this post?
Hover over to share on Pinterest!
Seven situations, some happy, some sad but that's the reality of travel! Guess what?! Craig and I got hitched on the road! and we're not the only ones, check out this cute travel couple.
What stories of romance on the road
can you share?