This article has links to products and services we love, which we may make commission from.
The following road trip packing list essentials will ensure that your next road adventure is safe, manageable and fun. You just can't beat hitting the open road with friends and family to explore the outdoors and towns and cities along the way. Although the most popular time to do so, planning a road trip doesn't have to be confined to the summer months if you are correctly equipped!
Whether you are heading abroad, crossing States or taking a staycation this ultimate road trip packing guide will have your cruising covered in comfort. Continue reading for tips on clothing items to handy electronics, games to keep entertained and easy road trip hacks. Don't miss our free road trip check list below and tips on the popular topic of what to bring on a winter road trip too.
Why Trust Us To Plan Your Road Trip Essentials?
We (Gemma and Craig) love to road trip. We adore the independence that it brings.
The ability to pack the car or camper without worrying about cabin sized baggage or pre-booking activities and accommodation months in advance, although some popular destinations do require this.
We like that you can travel slower during a road trip and get off the beaten track too.
We love road tripping so much we've just converted a work van into a boutique camper van! This was before it was 'the' thing to do too.
Our previous adventures include a five-day road trip to Iceland.
We spent most of the week in the south of the island, avoiding the tour buses on the Golden Circle.
We took on the mighty West Texas road trip from Austin out to the wonder that is Big Bend.
We have road tripped the length of Scotland in our camper to the Highlands via North Coast 500 route, down below to South West Scotland, to Perthshire to see the fall leaves and we've even island hopped!
Learn how to plan the best road trip in Scotland here.
Enough about us.
Here's the road trip packing guide you've been waiting for.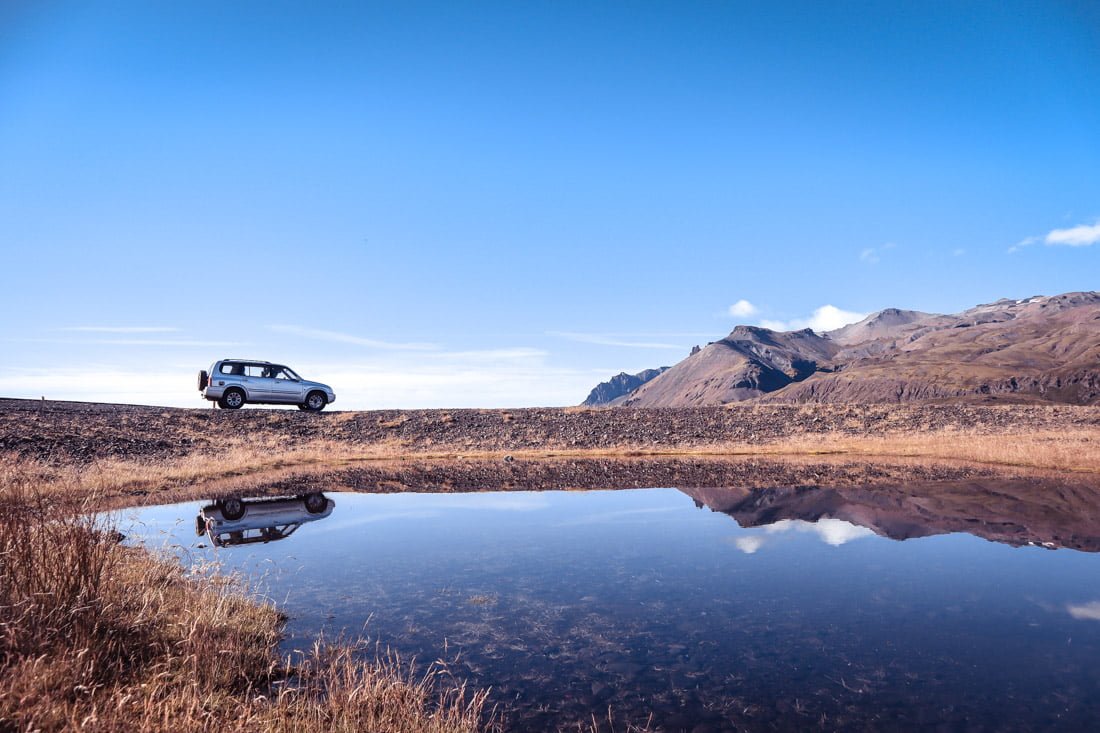 Car road-tripping in Iceland
---
Road Trip Packing List
Here's an overview of a road trip checklist which we then go into detail about each item below so keep reading to find out why we recommend them.
Car documents.
Car audit (wheels, brakes, oil, water, gas).
Car phone holder.
Electronic battery pack.
First aid kit.
Windscreen covers (privacy and heat protection).
Neck sleep scarf.
Hand sanitizer.
Poncho/cape/blanket.
Day bag.
Waterproof bag cover.
Eco water bottle and cutlery.
Food bags and clips.
Waterproof jacket and over trousers.
Hiking boots/shoes.
Swimwear.
Bug spray.
High factor cream.
Torch.
Flip-flops, sliders or Crocs.
Toiletry bag with a hook.
Safe bag.
Music speaker.
Hydration tablets.
Stove (if cooking), gas can + lighter.
Cookset pack.
Collapsible box if you need to take dirty dishes to campsite cleaning station.
Fridge or a cool bag with ice.
Water containers.
Food (see list below).
Camping table, chairs and groundsheet.
Wheel wedges to balance RVs and campers.
Washing line and pegs.
Awning or tent and pegs/hammer.
Hooks, rails, carabiner, bungee cord with hooks, heavy duty tape.
You may also like out guide on road trip hacks to make your adventure run as smoothly as possible!
Learn space savers, comfort tips and safety advice here.

Our wee campervan in Texas
---
Road Trip Essentials Packing List in Detail
For the Car or RV
Car Documents
Remember to carry your driving licence and store the car documents like the manual, break down details and insurance coverage in the car. Do you need any special cross border cards? Ensure your research and apply for it before you leave.
Road Trip Tips – Car Audit
Road trip necessities definitely include being proactive and not reactive. Before taking a road trip, remember to do an overall audit of the car. Check the oil and water levels, the tire/tyre pressure, functioning spare wheels and brake action.
If you are hiring a car, take photos of the previous damage to avoid being stung when you return the car (trust me, I used to be a car check-in chick!)
Don't drive past a petrol/gas station without filling up in remote areas.
If you see the empty button flash, hit zero on the mileage and do not go above 63 km/40 miles.
Be sure to have breakdown cover and know how to access it (note down the number in case your phone battery dies and/or you have no phone coverage).
Hot destinations will require you to book accommodation or camp/RV spots ahead.
If booking hotels, ensure that they have parking.
We road tripped to Big Bend National Park in March and there was zero space at the official campsites.
We managed to grab a spot an unofficial overspill campsite just outside of the park lines.
Phone Holder
Over the past decade, laws on phone use while driving have increased and penalties have become harsher and rightfully so.
This has pushed the importance of hands-free phone kits.
I like this phone holder US / UK as all you need to do is clip the base to your air vent, pop a magnet in between your phone and case and ta-da, the phone sticks to the base!
Ideal for car hire as you can remove the clip without damaging the car.
Handy for using maps (quick tip – hit 'go' in WiFi/4G/5G and the directions should work when out of signal) and playing tunes, two essential road trip items.
Electronic Battery Pack
I love these small Anker battery charger US / UK.
Charge before you leave your accommodation and use it to recharge your phone once it's drained by maps and music.
You can even use it to charge your portable music speaker and action camera.
If you are using a newer iPhone model you will be need a batter pack that is compatible with the lightning chord or MagSafe.
I personally don't like the MagSafe for this kind of battery charge on the go as the phone has to be in one place.
If you're hiring a modern camper or RV it is possible that the van includes phone charging facilities but don't rely on just the van for battery juice!
Anker lipstick, we now use the bigger, flatter pack
First Aid Kit
Boring but essential. If road-tripping around somewhere with mediocre health care records be sure to choose a first aid kit with needles and 100% buy travel insurance before you leave.
I had to use ours with True Traveller in Vancouver.
They paid back my GP fees plus my two trips to the physio speedily so come recommended by us.
Windscreen Covers
This is a new addition after road tripping in Texas but we really could have done with window screen covers to keep the car cool.
It also offers another layer of privacy to keep the nosey RV people away from your business, one of the road trip essentials for adults!
Your items will bake through the glass, so make sure that you keep your electronics away from the window and stored in dark, cool areas of the car/van.
Neck Sleep Scarf
Not for the driver! If you are lucky enough to be the passenger and are prone to the nodding dog, wrap this scarf around your neck for better sleep.
This is a great travel gift as well.
Hand Sanitizer
Because you never know where you have to go to the loo.
Baby wipes too, great for cleaning hands and spills.
I also suggest packing a few plastic bags for dirty shoes and food rubbish.
Versatile Road Trip Clothing: Poncho/Cape
This is the first year that I've road tripped with a poncho or a cape and it won't be my last.
This garment is bigger than a scarf so great for covering up during the air-con tug of war. I like it down, Craig wants it up.
It also doubles up as a picnic blanket for romantic lunches.
Check out this attractive wool poncho/cape US / UK.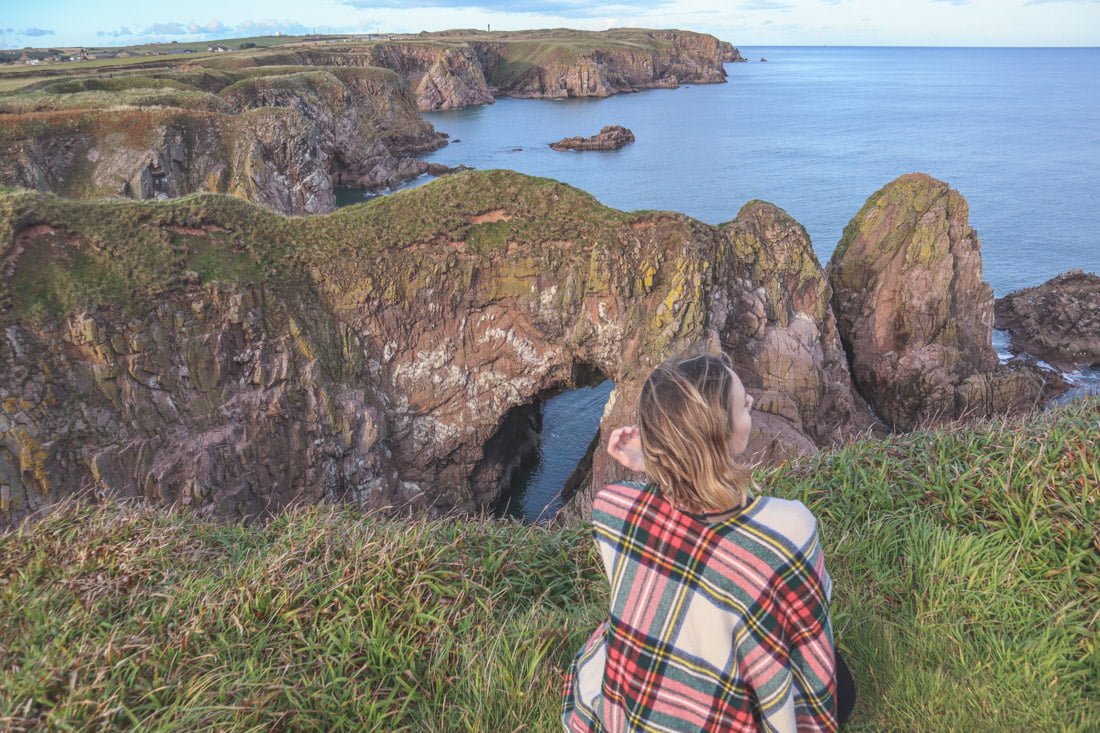 Aberdeenshire, Scotland – throws are very versatile
Swimwear
You just never know when you might see a spot for a hike and a dip or a shower in the morning!
I recommend packing a bag to keep wet swimwear separate from other items.
If you are planning of spending time at the beach during your road trip, check out our dedicated beach packing list too.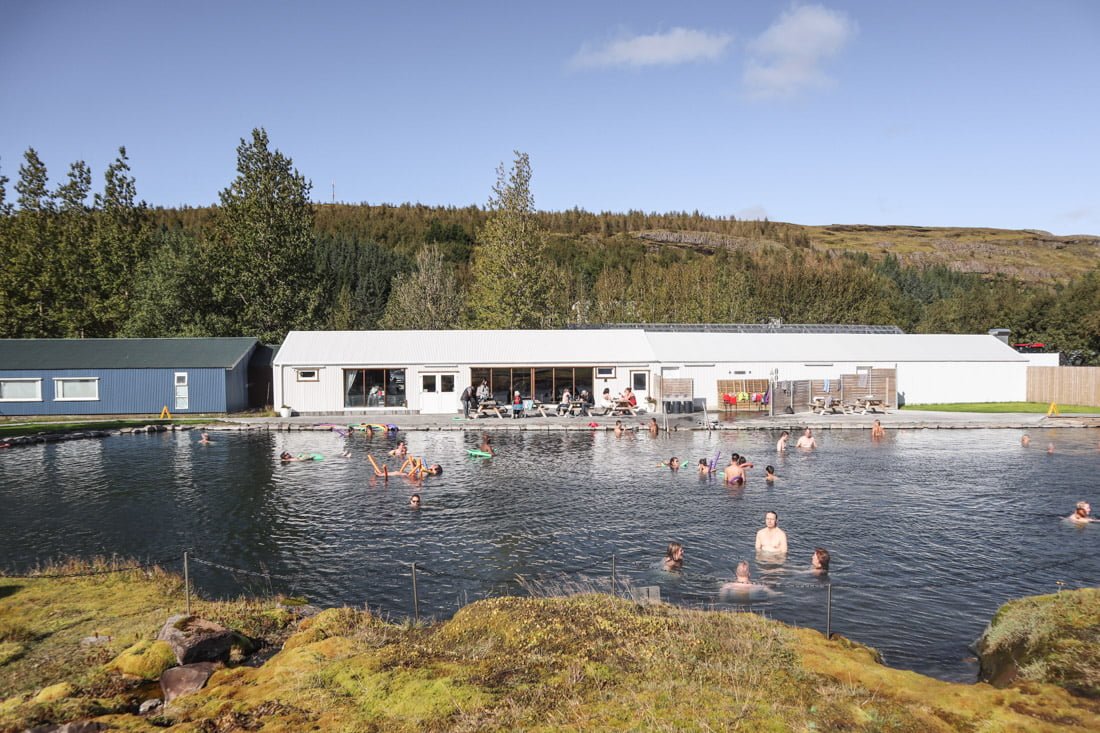 Not so Secret Lagoon, Iceland road trip
Stove, Gas, Lighter and Cookset Pack
I was a little terrified of the camping stove and gas the first time we used it but there was nothing to worry about.
Just ensure that you disconnect the gas before packing away.
We've had experiences where the ignitor didn't work, pack a lighter just in case.
You will need a cook set packing kit which includes all your portable kitchen essentials.
See below for tips on what food to take on your road trip.
Pack a collapsible box which stores neatly away if you plan to use campsite communal cleaning facilities, recommended long road trip essentials.
Cool Bag and Ice in Bags
If you plan to travel with perishable foods and/or want to keep drinks cold you will need to invest in a cool box or bag US / UK.
We found that we replenished our ice bags every day to the second day.
The ice eventually turns to water which needs to be disposed.
I would much prefer to use our re-ice packs but there is rarely anywhere on the road that you have access to a freezer for a period of time.
Ice is easily bought at gas stations for a buck or two in the USA.
In Europe, some petrol stations may sell ice in bags but your best option is to use a shopping market like Aldi or Lidl (cheap).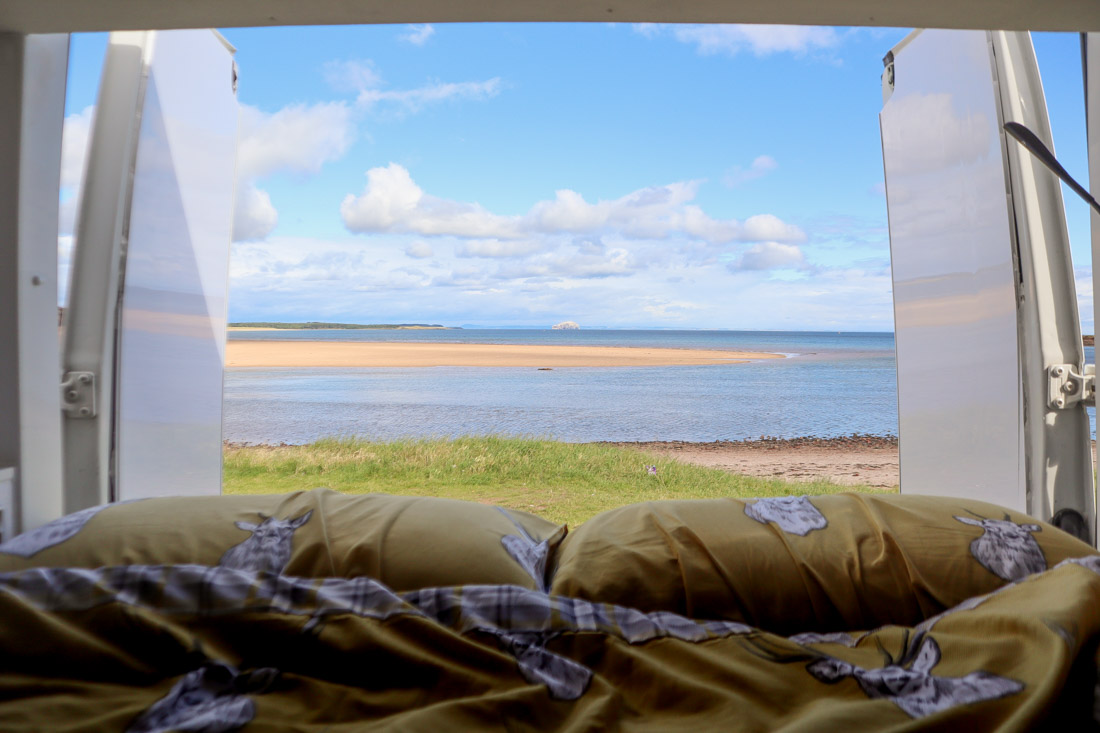 Water Container
A large water container is recommended so you can refill water bottles, use of boiling and also for cleaning after meals.
We never really consider this but you need somewhere to fill up the container! Hence the need to stay at a campsite/RV park some nights, I'd recommend every second, to restock and reload.
If you have a camper van, you will need one for waste grey water.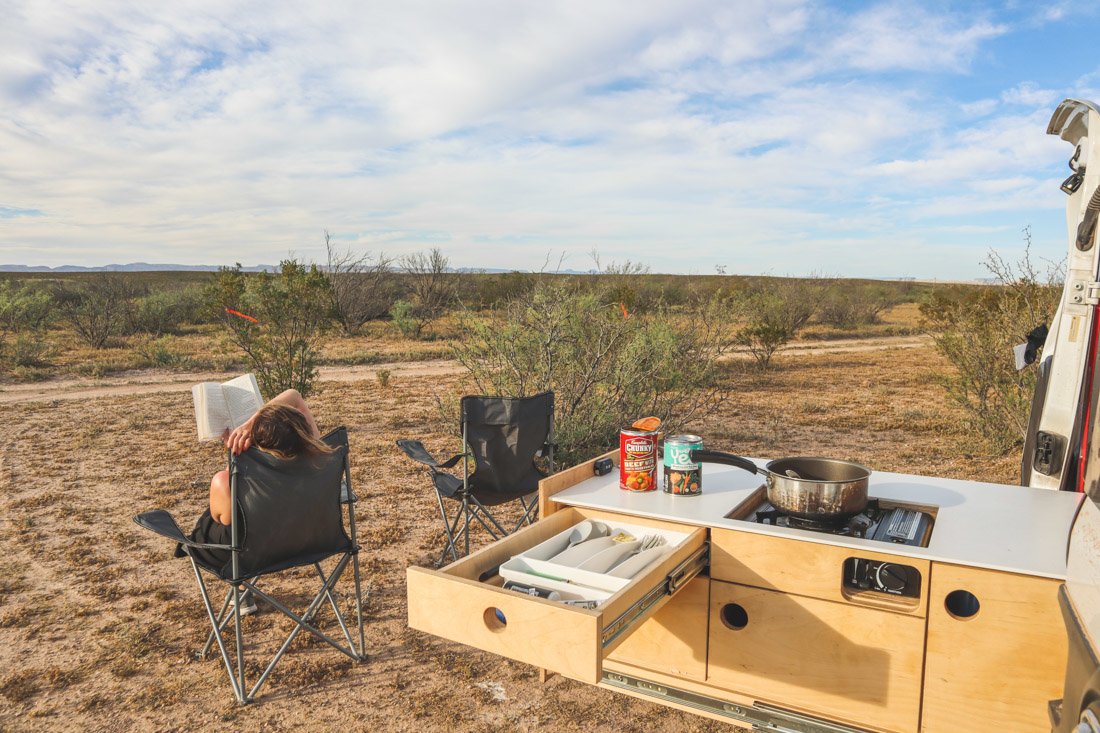 Big Bend National Park, Texas road trip
Fun Things to Bring on a Road Trip
Driving for hours on end requires some kind of entertainment.
Here's a list of road trip games to keep you amused and the driver awake
Name a celebrity, next person names a celeb whose name starts with your celeb's second name.
I'm going on a road trip and I have packed (must name all items mentioned previously).
Singing game – player one sings a lyric, player two takes last lyrics and starts new song etc.
Would you rather… be a cyclops or human spider? The weirder the better.
21 questions – yes or no answers only, guess the object/person.
Never have I ever (drink water, stay hydrated).
A-Z of pop songs/artists/90s movies etc.
You can also make your own games using our quiz questions guide.
Camping and Campervan Games
Cards
Dominoes
Board games such as Connect 4 and Dobble/Spot
Pass the Pigs
Ring Toss
Ball games such as swing ball and Sketch – make sure you can control the ball to avoid hitting other RVs
Road Trip Essentials For The Trip
Day Bag
I bit the bullet and bought myself a Kanken day bag and I adore it.
Not only is it super stylish but it is also really sturdy.
There are grab handles at the top as well as shoulder straps.
The bag unzips at the very front of the bag and extends so you can pack a lot in.
There's a secret section the size of the bag at the back as well as a small pocket at the front.
I played it safe and went for black but there are a variety of colours if you are feeling bolder than me!
You can fit a laptop, camera, purse, water bottle and cardigan in the larger Kanken. Perfect for a day bag during your road trip.
Craig wears a hiking day bag by Osprey US / UK. It has an airy back structure which suits his sweaty body!
Me doing the Jamie Fraser post at an Outlander location
Waterproof Bag Cover
Keep your camera dry in potential downpours by covering up your day bag with this Osprey bag cover US / UK.
It unfolds out of the bag, pulls over the daypack, a drawstring then pulls the bag around the day pack and clips around the middle for additional security.
There's a neat pouch which attaches to your day bag for when it is not in use.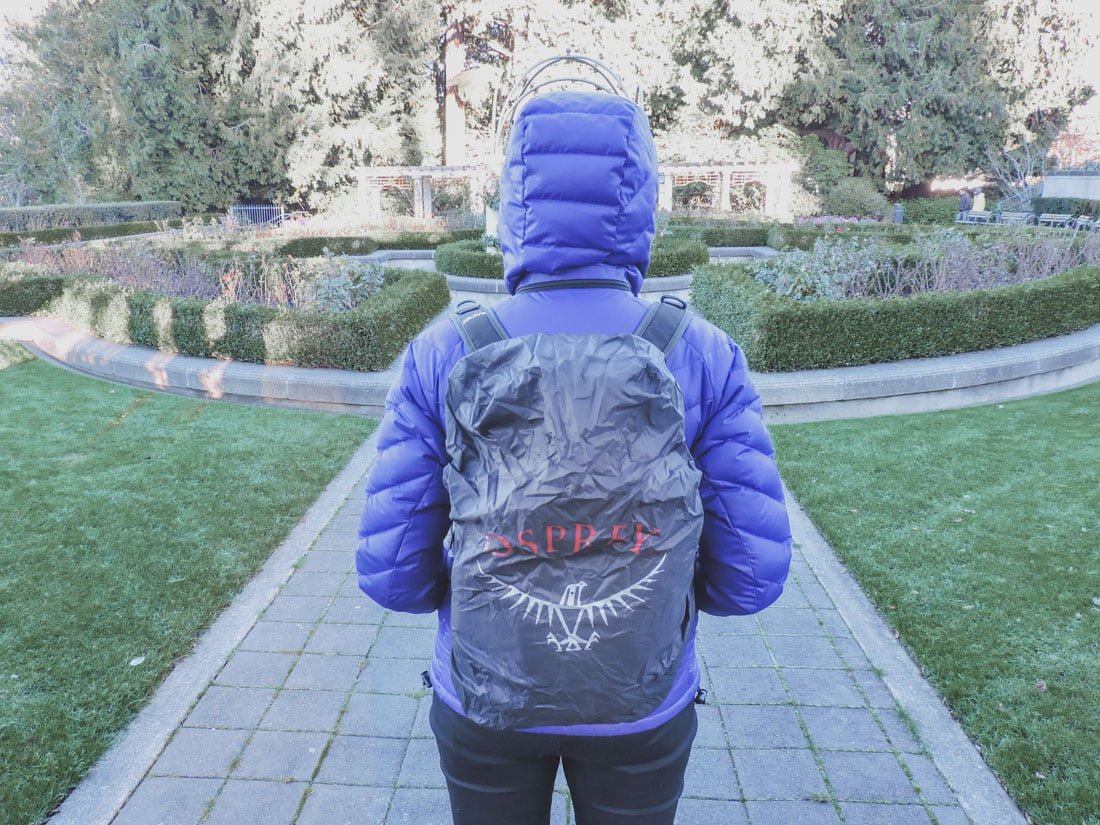 Osprey waterproof day bag cover saves electrics from water death
Eco Water Bottle + Picnic Gear
This year I am pledging to go single-use plastic-free where possible.
For Craig's birthday, I researched extensively plastic-free bottles and two stood out.
I had a choice between the stylish Chilly's Bottle (UK only), practical Tree Tribe US / UK.
I went for the Tree Tribe which came with no plastic packaging.
A water bottle really is one of the things to take on a road trip to help do your bit for the environment – leave nothing but footsteps!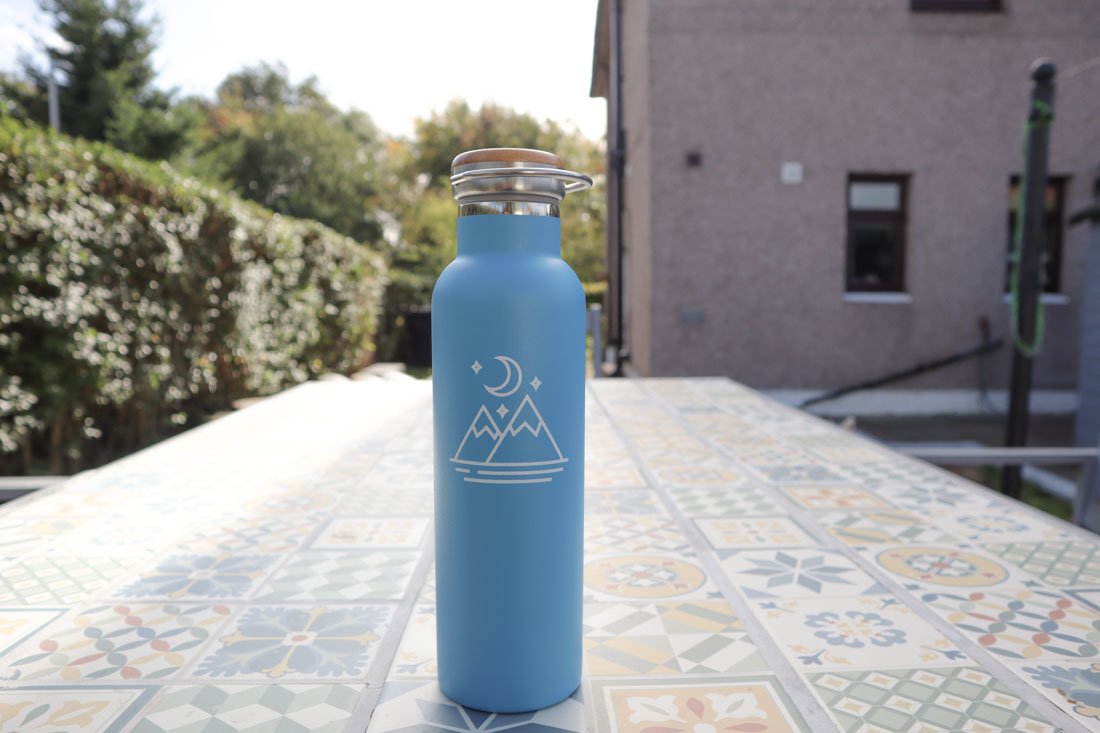 Consider a picnic bag or cool box. You will have to pick up ice on the way since you can't re-freeze cooler ice packs.
If you don't want to go full picnic basket, pack collapsible cups.
Handy for some fizz at the end of the day and lets you contribute to sustainable travel by avoiding plastic throw-away cups. So no to plastic cutlery, pick up the wooden kit instead and consider my trusty bamboo cutlery set US / UK.
You will also need dishwashing soap.
Waterproof Jacket – Road Trip Essentials
This road trip essential item I can't travel without because in Europe you can enjoy four seasons in one day!
I have certainly won the cost per wear games. This Marmot waterproof jacket US / UK comes with me everywhere.
My trusty Marmot Precip and dog, Bowie
I love the slimline fit, the colour and the fact that it folds away into its own pocket! It also helps that it keeps me dry.
Choosing a soft shell like the Marmot is great because you can squash it down small and pack it away in your day bag.
I can't stress how important a high-quality rain jacket is for Europe – you can expect four seasons in one day if road tripping in the UK and you can't always guarantee that your accommodation (or tent!) will have drying facilities.
For Iceland, I invested in the Mountain Equipment Rupal jacket US / UK which is thicker than the Marmot but more durable.
I bought Craig one for his birthday after a very wet road trip in Iceland! His coat, below, did not withstand the elements.
So wet at one of Iceland's waterfalls
Hiking Boots/Shoes
There comes a time where even the most sloth-like amongst us have to stretch our legs and with the potential scenery a road trip takes you through you'd be mad not to hike the hills.
When shopping for hiking boots and shoes you want to test their water resistance, support, breathability, comfort, weight and of course, the look.
For the past two years, I've been hiking in Salomon Quest boots and I can't speak highly enough about them.
I like travel gear to look as good as it performs and this is a stylish boot.
I'm comfortable wearing them on the hills and then in the pub for the post-hike pint! Check out the rage here: Salomon Quest boots US / UK.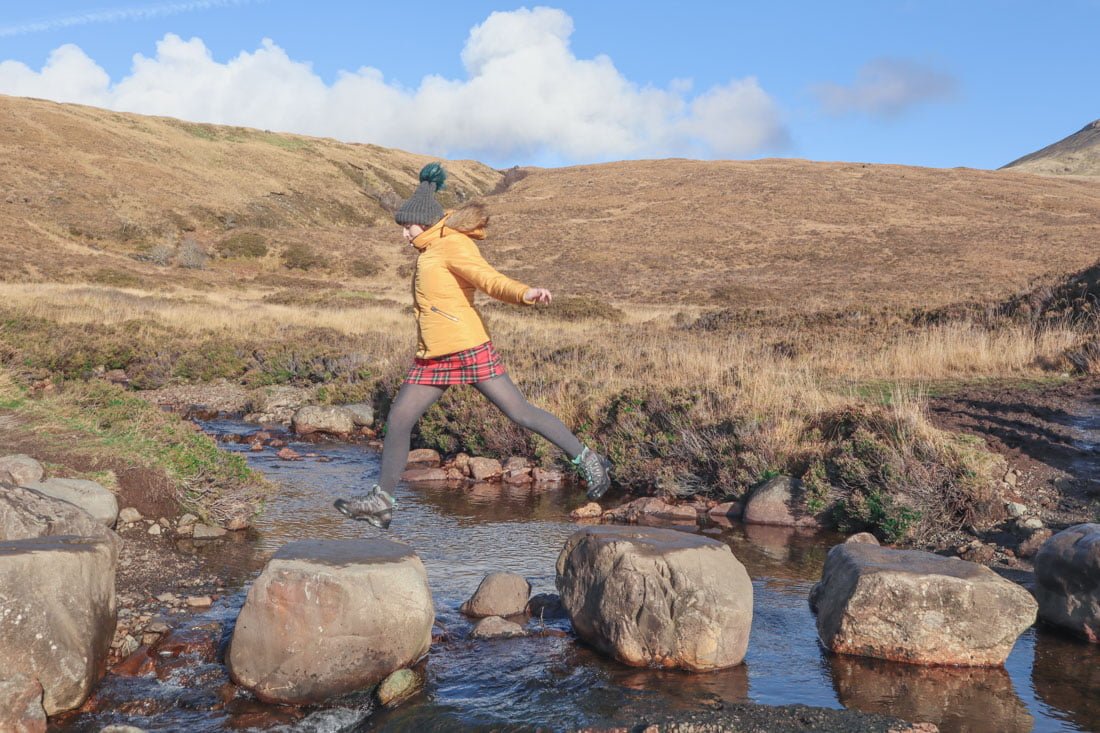 Short hike during our Outer Hebrides road trip
I also like the lighter Salomon Ellipse trek shoes US / UK which I trekked with to Machu Picchu.
They are shoe-like so great if you don't want anything touching your ankle like me back in 2015.
I injured my Achilles tendon during the West Highland Way – 96 miles from Mallaig to Fort William in Scotland.
I love how light they are for carrying in day bags and also how attractive they are. Their Contagrip® soles offer support as they do not bend when attempted to fold in half.
I use Leukotape US / UK on my ankles, this prevents blisters as this tape does not budge.
This technique was recommended to me by a serial trekking Canadian while hiking Maderas Volcano in Nicaragua.
Craig pretty much wore his Salomon every day for three years but now wears leather Scarpa boots.
Both come highly recommended depending on your need.
I'll let you know how I get on. You might also like our lightweight trek boot review.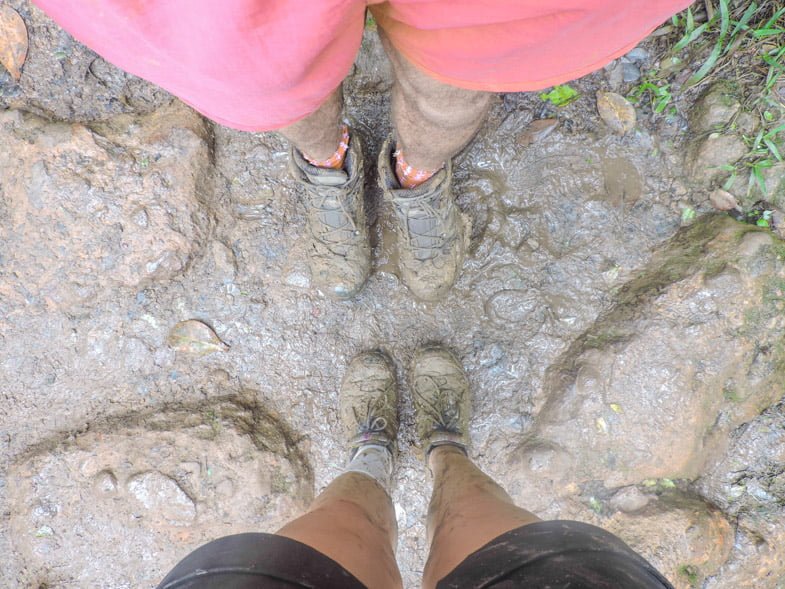 Mosquito/Midges Repellent
Those blasted wee menaces are out to ruin every trip. In warmer climates, mosquitos come out to play at dusk which is a PITA when you want to watch the sunset.
We have used DEET repellents like Off in the past but moved to repellents without DEET after a year of constant bites.
DEET melts plastic so keep it away from your laptops.
If you don't like the sound of DEET, try the alternatives Avon Skin So Soft US / UK.
In Scotland, we don't suffer from mossies but we do have our own equivalent, midges.
They don't carry malaria but can leave nasty marks so you need to pack a face net for dusk, road trip must-haves.
High Factor Face Creams
I love the sun but I love my life more. Take skin cancer seriously, even in overcast weather the sun can have an impact. We go to factor 30 or above.
I'm also vain, invest in a factor 50/60 face cream to avoid wrinkles. If splashing out I go for La Roche-Posay US / UK.
Santa, you there?!
Head Torch
I know what you're thinking, I have a phone but those choosing a tent as their home will know the importance of a separate light for midnight toilet stops (remember the tissues and flip-flops).
Flip-flops or Sliders
If you are staying in accommodation/camping grounds with communal showers, take some flip-flops to avoid having to share the germy floors.
My Havaianas are still going strong, six years later.
These flops were made for walking.
If you prefer to wear socks with your waterproof footwear, consider sliders or Crocs.
Toiletry Bag (Hook)
Don't just pack any toiletry bag, buy with a hook.
Why? Because many of the showers we've used while road tripping have very small storage spaces in them and a hook allows you to access your toiletries while it hangs from the shower pole. Neat eh?
Shop for toiletry bags with hooks US /UK.
Safe Bag
Keep your belongings safe in communal dorms or busy hotels while you are out sightseeing with this Pacsafe safety net US / UK.
We survived 17 months of travel with our belongings intact.
How to use the Pacsafe safety net
Place your electronics, passports, and money in a bag
Pull the Pacsafe net over the bag and close the net around it
Secure the wire string around a non-moveable object like a bedpost or radiator
Pop in the clip and close with a padlock
Throw a coat or scarf over the bag and you are locked and loaded
After 2.5 years of 'the net,' we upgraded to the more expensive Pacsafe backpack which has the net hidden beneath the fabric and the lock is subtle.
I still think the PacSafe net is the better option though and it keeps costs down.
Music Speaker
We love music. We actually chase gigs around the world, so no road trip is complete without a soundtrack.
This JBL Clip US / UK is economical, durable, loud and actually waterproof!
The clip allows you to hook it onto bars and bed posts.
Hydration Tablets
A new and welcomed addition to our road trip packing list, hydration tablets or sachets helps the head the next day.
A British doctor recommended this hangover remedy while we were travelling around Cuba (yes rum I am looking at you).
This is one of our most popular items bought by you via our Amazon recommendations. Shop for hydration tablets US / UK.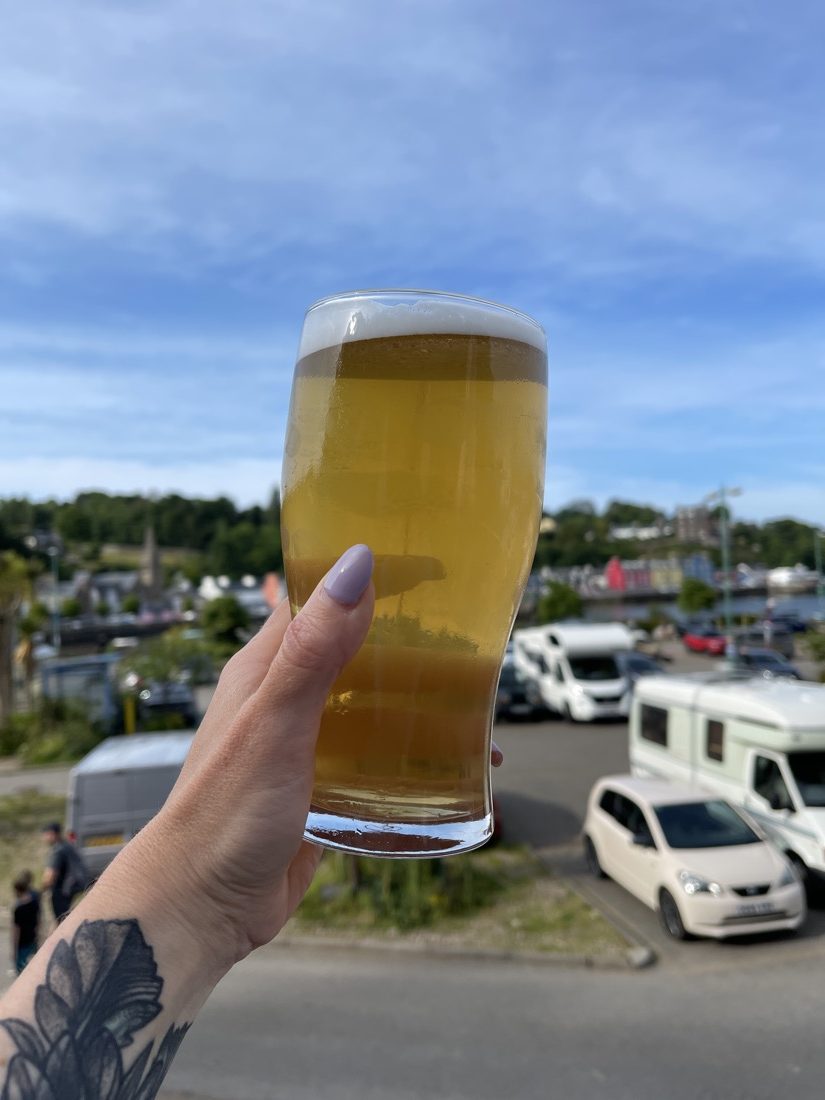 Hooks, Clips and Ropes
Sounds dramatic but these handy wee fellas will become your best pal!
Use hooks, rails and carabiner clips for hanging bags, towels, coats and hats.
Tie bungee cord around plastic boxed and bags to keep them secure in campers and trunks. Read more helpful road trip hacks here.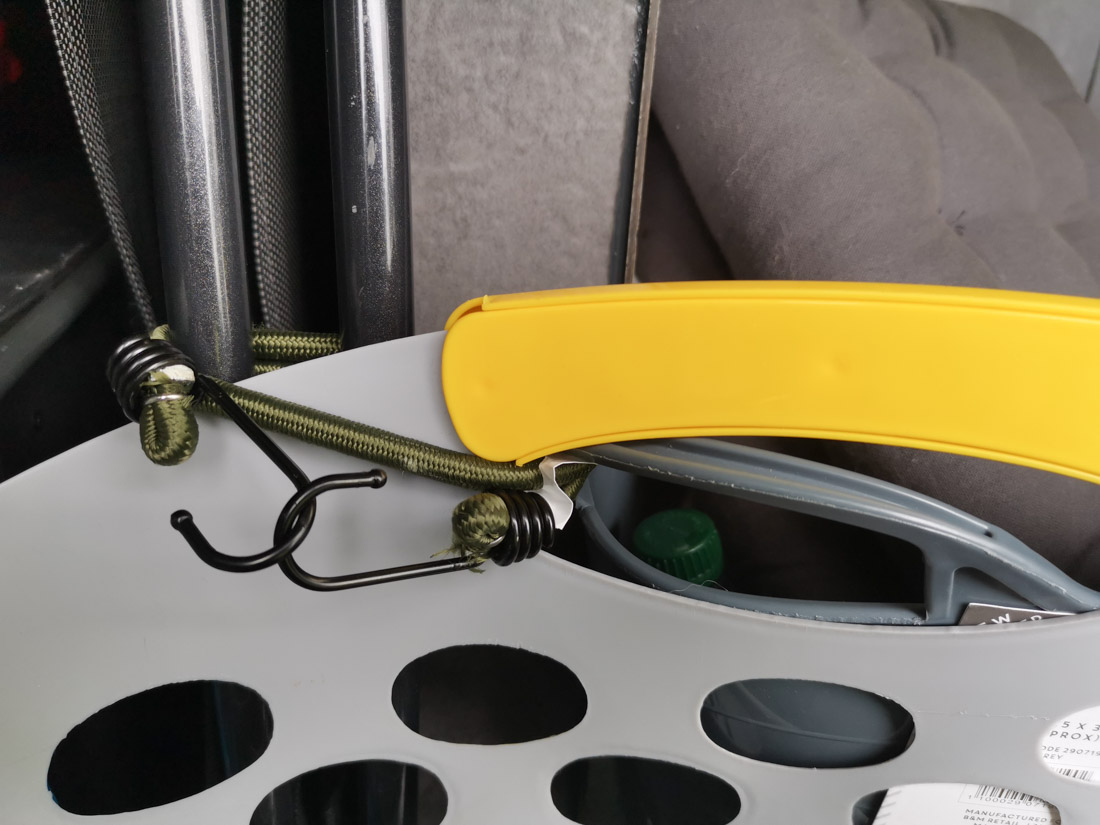 ---
How To Pack For a Road Trip
We adopt the three bag policy – 1 large, 1 weekend and 1-day bag.
A larger rucksack or a cabin-sized case which stays in the car packed full of your daily threads and toiletries.
A smaller weekend bag to move overnight and next day clothes into for one night stays which you don't want to lug your big bag to. A canvas tote would even do. Easy to pack and hang for trips to the showers if camping/RVing.
A day bag for the camera, waterproofs and snacks.
This is a great technique for a cross-country road trip packing list since some stays will be one night only and rooms can be too small for big cases which is the case in the Highlands of Scotland.
What to Pack For a Road Trip Checklist
Download your free road trip checklist here. You can print it and check off the items during packing, never forget a packing list item. So when friends ask you what to take on a road trip you can point them to this checklist too!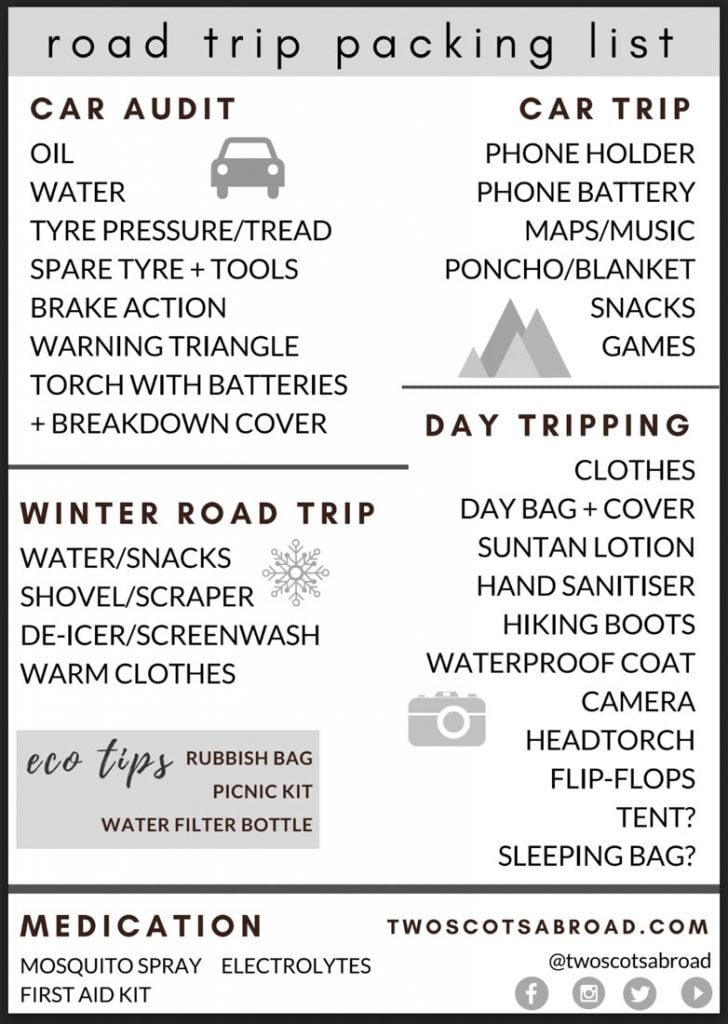 What Food to Bring on a Road Trip?
One of the most obvious things you need for a road trip is food and drink which travels well.
This is a tough question to answer because it depends on how long you are on the road for and at what temperatures.
For perishable foods, you will need a cool bag with ice. You will need to replenish the ice every day or two.
In the States, ice can be bought at gas stations. In Europe, you are best shopping at supermarkets for it.
Breakfast Road Trip Food
Hot oats/porridge, milk, fruit.
Overnight oats/porridge, milk, fruit.
Cereal, milk.
Eggs.
Sausage.
Beans.
Tortillas (Craig's fave – Tex Mex breakfast!)
» Top tip: oats are a 'mare to clean. Soak in hot water as soon as finished.
Lunch and Dinner Ideas
Homemade 'Lunchables' – cheese, meat and crackers.
Sandwiches/wraps.
Soup (tinned or pre-made).
Salads (avocados are great, own skin protection).
Spaghetti bolognese.
Tuna, pasta sweetcorn.
Chilli.
Omelette.
Road Trip Snacks
Cereal bars.
Rice cakes.
Crackers.
Nuts and dried fruit (trail mix).
Hard-boiled eggs (Craig bans this, I love 'em).
Potato chips.
Humous and carrot/celery.
Jelly sweets/candy.
Fruit with skin such as nectarines.
Caffeine drinks for the driver.
» Water is essential, remember to bring a durable bottle with you to reduce your plastic footprint.
Road Trip Apps
The following apps will help inform and support you during your road trip.
Google Maps.
Maps.me.
Weather.
Spotify with music downloaded.
Kindle.
Netflix with shows downloaded.
Destination campsite app.
Preferred hotels apps.
OpenTable for restaurant bookings.
Photo edit apps like Lightroom.
Whatsapp to say in touch with family/friends.
Electronic car charge app if driving an electronic car.
Things to Pack For A Road Trip in Winter
Two very important things to consider here – firstly, is your (rental) car suitable for Winter road conditions and secondly, does it have Winter tires? Legally, you can't drive in BC, Canada without switching to snow tires come October and this lasts through to April.
Check out Winter driving laws for the country you plan to drive in and abide them. We were checked frequently in BC when we drove from Vancouver to Whistler.
You should pack a shovel, de-icer, scraper, screenwash, torch with batteries, clean water for drinking and snacks for eating. A warm sleeping bag is also recommended. Just last Winter, drivers were stuck on Scottish roads overnight. This was all over the country, not just in the Highlands where you would expect snow.
It goes without saying you should be wearing (or have packed) boots with a solid grip and a warm coat. It is also recommended to pack a high visibility coat and a warning triangle.
Don't leave for the day of driving without a fully charged phone, battery pack or in-car plug and a manual map (old school but necessary).
Tell someone your route too. The RAC asks you to check your FORCES – fuel, oil, rubber tires, coolant, electrics and screenwash.
Road Trips Around the World
Looking for some road tripspiration?
What to Bring on a Road Trip Conclusion
There's no better feeling than independence and that's what a road trip holiday brings! This packing guide has been curated by a seasoned road tripper and details truly useful items to make your tour comfortable.
---
Pin to your planning board
---
---
» » Read next: our travel essentials list
---
What have we missed out on this
things to pack for a road trip list?