From burlesque to fancy dress, politics to freaky tricks, laughs to an upside down full grown purple calf. What do all of these mean combined? It's the Edinburgh Festival Fringe time! Here is your Edinburgh Festival Fringe Guide.
For three weeks in August (Edinburgh Festival Fringe dates for 2018 are 03 – 27 August), you have never seen Scotland's capital so alive. It is my ultimate favourite time of year in Edinburgh. Come rain or shine * insert joke about Scotland's weather here* you are guaranteed to laugh, cry, cringe and gasp and that's just over your hangover (thanks to Edinburgh City Council's extended drinking hours!) But jokes and rhymes aside, I'm excited to share my years of experience and teach you how to do the Edinburgh Fringe, like a local, in this quick guide.
Edinburgh Festival Fringe Guide
Who Do You Want to See?
Actually, what do you want to see?! Comedy, plays, musicals, puppet shows, live radio, cabaret, a single girl telling you how bad her life is through Beyoncé songs?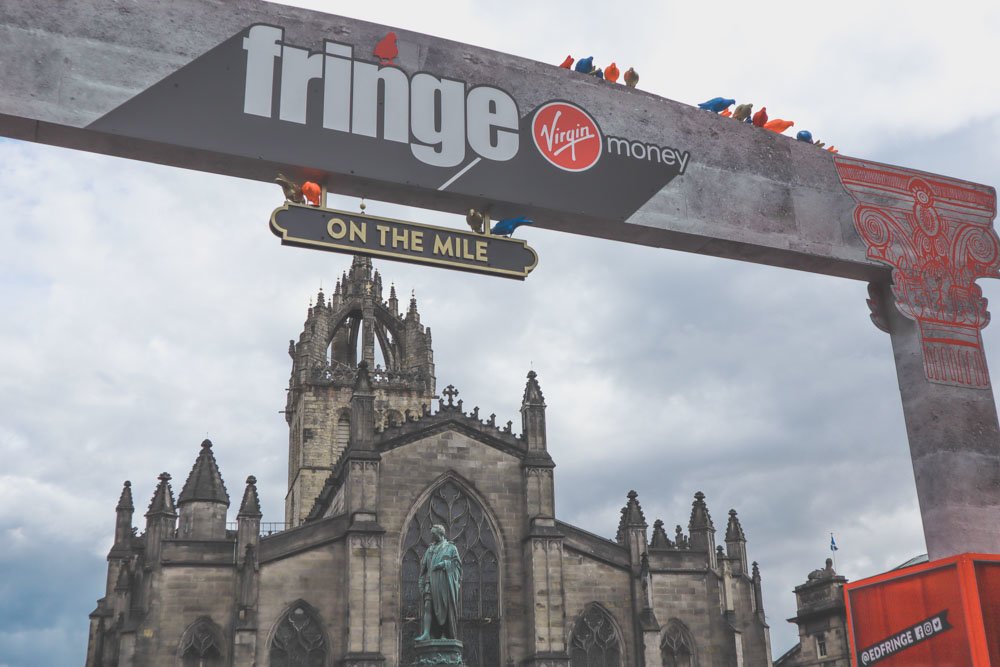 With over 3000 acts, Edfringe has it all! A good reference point is the Edinburgh Festival Fringe themselves. They have an extensive catalogue on their website, an Edinburgh Festival Fringe programme brochure, which is published and found in shops in the city. You can also download the Edinburgh Festival Fringe app and for the latest updates, follow them on Twitter. Remember to add #EdFringe #IntoTheUnknown if you want to share. There are no spare walls or pavement left in Edinburgh during the Fringe because they are inundated with posters and PRs trying to sell their show. Most of the Scottish newspapers will provide Edinburgh Festival Fringe reviews and suggest the best shows to see this summer.
So it's all on One Cobbled Street, Right?
Wrong! The Fringe is actually pretty spread out and boasts of nearly 300 venues so you need to know your Pleasance from your Underbelly!

Edinburgh Festival Fringe Venues
1. George Street – Plush shops and upmarket clubs
Amongst other venues you will find the Assembly Rooms (54 George St, Assembly has many venues), this is where I saw Christian Slater in his boxer shorts during One Flew Over the Cuckoo's Nest. BABE
2. St Andrews Square – The Famous Spiegeltent 
Food, drinks and entertainment
3. The Mound – That big hill near The Castle
Assembly Halls (yes another, don't mix these up.) I endured Jim Jeffries cutting set here – don't go with your Mum!
4. The Royal Mile – The street you see on the telly
One mile of free shows and acts, a good starting point
5. The Grassmarket – Touristy pubs, usually hens and stags
Every nook and cranny of Edinburgh's Grassmarket is consumed by the Fringe.
6. BBC – The national news channel
I was in the right place (their music tent) and the right time (about 20:30) and managed to bag free tickets to a show here. I was annoying and tried to heckle. 2017 venue: George Heriot's School, EH3 9EQ.
7. Underbelly – Giant purple cow on its back + more
Underbelly is one of the largest venues during the Festival Fringe with pasture at George Square, Circus Hub on The Meadows, Topside at the Edinburgh Festival Theatre and the original Cowgate site.
8. Pleasance – Pretty and relaxed area
I've seen quite a few small cringe-worthy shows here but also some extremely funny ones.
There are bars at every venue, naturally, it is Scotland after all.
If you have time in Scotland, I suggest looking into the newly advertised (it's always been there!) North Coast 500 in the Highlands of Scotland which starts in Inverness the goes all around the coast, taking in turquoise sea beaches with white sand (like the Maldives minus the sun!), by castles and distilleries.
Cheap Seats for Edinburgh's Fringe
Those on a budget can still enjoy the Fringe. Here are a couple of options for cheap Edinburgh Festival Fringe tickets
Take a stroll down the Royal Mile and watch the free performers or see snippets of shows which aim to advertise
There are hundreds of Edinburgh Festival Fringe free shows dotted around the city. Just hit 'filtered results', select 'special pricing' option then tick free here. It is expected that you pay the show's worth at the end of the performance
Arrive at the start of the programme to enjoy the 2-4-1 cheap seats as the acts warm up
For thrifty Edinburgh Festival Fringe deals, head over to the Virgin Money Half Price Hut to see if any shows need bums on seats. Tickets must be paid for in person
Work in Edinburgh! There are a variety of Edinburgh Festival Fringe jobs

Did you know that the Fringe is not the only Edinburgh festival on in August?
Don't Plan for The Fringe!
Craig hates planning. It has been known for me to take a bottle of contraband along to the Fringe and just soak up the atmosphere. Let's face it, you can't plan for every day when you follow the Fringe Junky philosophy of wake up – Fringe – sleep – wake up – Fringe – sleep and repeat. Some of the best shows I've seen, such as Baby Wants Candy, were watched on a whim.
Plonk yourself down and celeb spot! A couple of years ago I was stoked to meet the Scottish comedian Danny Bhoy but that was knocked off the top spot after spotting The Big Yin himself, Billy Connelly, sauntering past with his hair bouncing behind him.
Check out this 90-second video on Edinburgh Festivals.
2018 Fringe Recommendations
So far I recommend (free) Ashley Storrie show, the comedian from the Scottish Harry Potter viral video fame (crude language alert) and the very sweet Jon D. Harvey's TreasRETrove (£9). I can't say much about it but the twist blew my mind. I'm going back with teaching friends this week.
Our social media followers recommend Aunty Donna (comedy sketch group), Stuart McPherson (stand up), Reginald D. Hunter (comedian), Ivy Paige (singer), Adam Rowe (comedian), Game of Thrones Musical (brilliant, saw it last year), Hypnoprov, and Baby Wants Candy (improv show recommended by me too, seen it three times).
Sad to not see Showhawk Duo on the list. Managed to catch their free show on the Royal Mile last year.
What do you recommend?
Edinburgh Accommodation
Edinburgh Fringe Festival accommodation is expensive and in high demand.
Hotels in Edinburgh during the Edinburgh Festival start at approx. £95 and reach the highs of £550 per night
Hostels are cheaper at £18 – £50 for a dorm bed (there is often a minimum stay).
Airbnb is also an option with an entire property averaging at £215 and private room, £81. Accommodation books up fast so get in quick
Remember to sign up to Airbnb using this code and you'll get money off your first booking and we get credit in return, thank you!
An alternative option is to search Edinburgh Festival Fringe University Accommodation by clicking here
Closing Points

So to conclude this guide on the Edinburgh Festival Fringe – plan or don't plan but take a brolly! One of the highlights of the three weeks, for me, are the Edinburgh Festival Fringe comedy shows. I always enjoy reading the Edinburgh Festival Fringe best jokes (voted by Dave, TV channel) once the Festival closes – 2018's #1 is…
"Working at the JobCentre has to be a tense job – knowing that if you get fired, you still have to come in the next day."  – Adam Rowe
If you really enjoyed your time at the Fringe, why not return for our Edinburgh International Book Festival. I had the privilege of listening to Malala Yousafzai speak about her new book at this book festival. Oh and don't forget to check out the best bars in Edinburgh.
Going to Edinburgh?
Why not pin to Pinterest board?

What tips do you have to make The Fringe the best year yet?