I've (Craig) been interested in all things Universe related since my incredibly drunk uncle dragged me outside in my He-Man pyjamas to look at the stars and constellations, aged five. Although this is my third visit to Florida, I've never had the opportunity to visit NASA as my family don't share my interest in space. But as they say, third time lucky… I finally made it to the Kennedy Space Center, Orlando, thanks to Tinggly Experiences.
Not only that, I also had the chance to dine with astronaut Captain. Jon McBride! Thankfully it wasn't the "romantico dinner" I was expecting, more of a sportsman's dinner type affair but I'll get to that in due course. Here is how my amazing day played out.
Florida is not just Orlando
I just wanted to take a minute to say that although us Brits associate Florida with Mickey, it is so much more than just Orlando. The Space Center is a great option not too far from International Drive for the space loving holidaymakers amongst us and obviously there is the party scene and beaches of Miami. For the outdoor lovers why not check out one of twelve national parks in Florida such as the Everglades?
Blast Off – iDrive to Kennedy Space Center
I was picked up at 07:55 by Grey Line Tours (big thanks to Visit Orlando and Kennedy Space Center for organising that). After a few pick ups, we set off on the hour long journey to Kennedy Space Center. It's not a very scenic trip but our driver, Stewart, kept us amused with "dad jokes" and played a DVD about NASA, naturally.
Upon arrival at 10:00, I exchanged my Tinggly gift certificate for a day pass and the lunch with an astronaut voucher.
Kennedy Space Center, Orlando
The Kennedy Space Center visitor centre had a useful exhibition map on display, advice on how to best use your time and the duration of each of the attractions on offer.
Unfortunately, I had just missed the Journey to Space in 3D at the IMAX so aimed for the Journey to Mars; Explorers Wanted film, at 10:30 instead. It was enjoyable but aimed at kids instead of me, the 32-year-old super nerd. The film ended at 10:50 which left me with about an hour until the big lunch date, annoyingly that didn't really give me enough time to visit any of the other exhibitions so I went for a walk through the Rocket Garden and took some pictures of the complex to kill time. I stumbled on a suited astronaut character and got a couple of pictures.
I had skipped breakfast (either out of excitement or for an extra ten minutes in bed, I'll let you decide) and could not wait any longer so I bought a reasonably priced ($6.99) very tasty breakfast burrito.
Lunch with an Astronaut
At 11:45 I headed over to the Debus Conference Center where the lunch with an astronaut was due to take place. I was greeted at the entrance by a really nice older dude called Germany but not before another picture with the character astronaut was taken (I think he was stalking me, not the other way around). I was flying solo so was shown to a table with four fellow Brits and three Americans. After some quick pleasantries we ate a buffet-style lunch with chicken, salmon, spicy beans, salad, pizza etc. Drinks included tea, coffee, and Tang of course… a favourite with the astronauts!
Tang is the official astronaut drink consumed in the space station; it is basically sugary orange squash, which was a little too sweet for my palate but I am pleased to say that I've tried it.
Buffet and Tang time over, Cpt. Jon McBride, the retired veteran who has been in space for 8 days, 5 hours and 23 minutes, took centre stage whilst wandering around the room. He presented a slideshow and spoke about his astronaut friends as well as telling us about the perils of drug use (strange).
He was charming and explained a few things about daily life aboard the International Space Station. For example he told us he had experienced sixteen sunsets and sunrises in a mere twenty-four hours because the Shuttle/ISS orbits Earth at 17150 MPH but as a seasoned nerd I already knew his facts and I guess I was hoping for some information from a more personal level. For example, what was his parents / wife reaction when he first said he was going to space? Did he cry first time he seen Earth in all her glory from 400 miles up? I think I would!
I guess I'll have to wait until Tinggly Experiences start doing trips to space and experience it for myself!
Cpt. Jon McBride took a couple of questions. To my disappointment, one from a toddler who asked:
What's your favourite food in space? Green beans and Mexican eggs. All freeze dried then "reconstituted with water before consumption." Mmmmmm sounds great. Gemma bought me astronaut 'ice cream' for Christmas one year. It was all right!
Another question from an Aussie dude:
Why has the space program been mothballed? Politics, says Cpt. Jon McBride, (he hinted that it is not that expensive to run the programme in relation to the money spent on other areas), he stated that NASA's annual budget is merely 1% of the weekly interest America earns in GDP. He thinks that the government's priorities are all wrong. Can't argue with that.
A few Americans murmured about wasting money on war but that's a whole other blog post.
I had a list of questions prepped but didn't have the chance to ask; damn, I had my journalist pants on and was hoping to bust a few conspiracy theories wide open! They don't call me Craig the Conspiracist for nothing!
Atlantis, At Last!
We were given the opportunity to have our picture taken with him…for a fee. I body swerved that as I still had loads of exhibitions to squeeze in to the afternoon. I said my goodbyes to my new friends then headed for the other delights the Space Center had to offer, beginning with the newly completed $1 million retirement home for the Space Shuttle, Atlantis!
I was very impressed with this. The exhibition began with a short projection movie, which concluded in a pretty special way (I won't spoil the surprise!)
Next up was the main room, where Atlantis sat proudly in all of her glory. The world's first reusable spacecraft is truly an engineering marvel. Smaller than I'd anticipated but makes sense when you think about the fuel required breaking free from Earth's gravity. With the cargo doors wide open the Shuttle reminded me of a giant Ford Transit, basically just a giant delivery truck/work van with its small passenger cabin and large payload section, albeit a thoroughly impressive one.
There was also a realistic (so I'm told) launch simulator, and because it was low season I went straight to the front of the line. Dancer! If I'd had more time, I'd definitely of had a second go!
Spaceports, Airports for Space Shuttles!
A really cool aspect of the day was the bus tour of the launch facilities (which took about forty-five minutes). The tour took us around the shuttle assembly building, an impressive building built for the Apollo missions. This building is a beast, big enough to contain three and half Empire State buildings! We also had the chance to see the newly refurbished Launch Complex 39A (which in the past has been the launch pad for many important launches such as Apollo). 39A will be the spaceport for Elon Musk's company, Space X.
The home of space shuttle launches, Cape Canaveral, was looming in the distance, which was cool; it has been on my hotlist since a family visit to Florida in 1997. We were staying in a villa; all of us huddled around the television watching the NASA channel as the space shuttle Discovery was coming in for landing. Little did we know the shuttle was about to pass directly over our heads! As it did, there was a massive Sonic Boom (this is caused when the sound barrier is broken!) My poor wee unsuspecting Gran was floating in the pool and got such a fright that she fell off her lilo. Oh how we laughed, until we remembered she couldn't swim. Cue, my best Hasselhoff impression!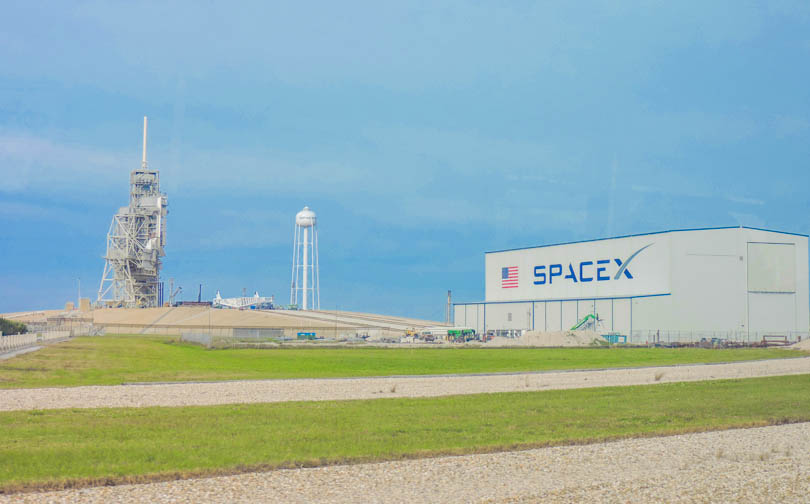 Back to the…Present
The bus tour dropped us off at the Saturn V Center which houses an impressive array of memorabilia including The Moon Lander (which was driven by Neil Armstrong on that trip to the moon), several space suits and a moon rock, which just looks like dusty granite.
I had a thoroughly enjoyable day at the Kennedy Space Center; I recommend it to anyone with even a passing interest in Space.
Kennedy Space Center, Orlando
Address: Kennedy Space Center, Florida 32899, United States
Contact: 866.737.5235
Thanks to Tinggly Experiences for this teaser trip to outer space! An honest review as always. Seek the unusual? Check out my friend's weird places in Florida e-book.
Like it, pin it!
Have you been to Orlando or space?…