This article has links to products and services we love, which we may make commission from.
Looking for free things to do in Phoenix, Arizona? This article shares the best free attractions so you can get the most out of this outdoorsy city.
Whether you are a visitor on a budget or a local looking for something cheap to do, our guide explores affordable options without skimping on fun.
Here are some of the best free indoor and outdoor things to do in Valley of Sun, including festivals and events.
You may also like our USA bucket list guide.
Free Outdoor Things to do in Phoenix, Arizona
If you fancy basking in the sun, then let's start with the al fresco activities you can do in Phoenix.
This section covers fun free things to do in Phoenix which includes cultural activities, incredible hiking trails, gardens, outdoor museums, and a pyramid tomb.
Soak Up Downtown Phoenix
There is no shortage of things to Do in Downtown Phoenix from museums to theaters, restaurants and rooftop bars and while you need some money to fully take advantage of this neighborhood, it is still worth a visit at night to take it all in.
If you are around at the start of the month, hop on the First Friday Art Walks to explore the city's creative spaces.
It is one of the nation's largest self-guided art walks with over 70 galleries and venues featuring in the tour.
Hike Camelback Mountains
If you enjoy trekking mountains then Camelback is probably one of the best hikes in Phoenix, as it has around 3 miles of steep hiking that resembles the hump of the camel's back.
It's a popular hiking destination and one of the best free things to do in Phoenix for both locals and tourists.
An easier trek would be the Waterfall Trail near the White Tank Regional Park as it is flatter!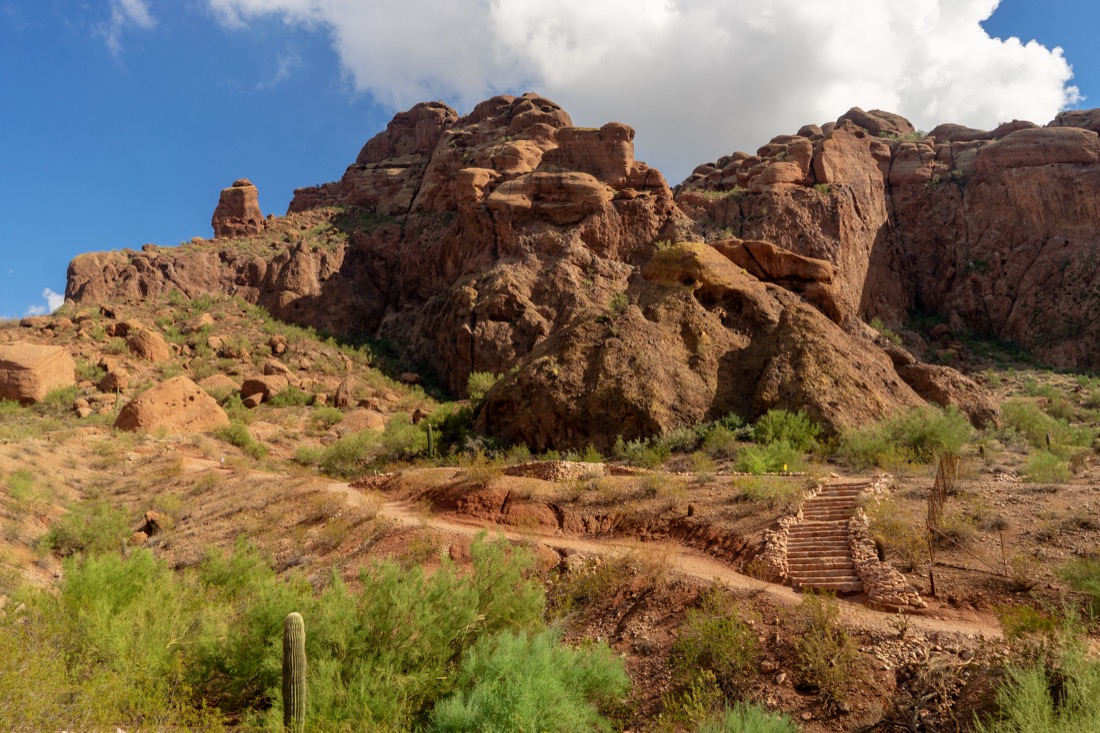 Trekking at Papago Park
Papago Park was once a reservation for Indigenous people.
It was also a fish hatchery during the Great Depression, a POW camp during WWII, and a VA hospital.
Today, it is home to a massive golf course, a botanical garden, lakes, Sonoran Desert plants, numerous museums, and a large baseball field.
It's so big it is split into two sections, east and west, with North Galvin Parkway running through it.
There are many hiking trails including routes around the red butte formations.
Magnificent View From Hole in the Rock Trail
When visiting Phoenix, you won't want not miss the iconic Hole in the Rock Trail on the east side of Papago Park for its incredible view over downtown.
This stunning formation was used by the ancient Hohokam civilization to track the position of the sun.
Beautiful White Pyramid, Governor Hunt's Tomb
If you're looking for things to see in Phoenix for free, then you should check out one of the spectacular man-made creations which is the tomb of Arizona, built in honor of the first governor, George W.P. Hunt.
You can take a quick stroll to the top and get a complete view of the eastern part of Greater Phoenix.
World-class Arid Plants at Desert Botanical Garden
The Desert Botanical Garden is one of the places to see in Phoenix for free where you can check out more than 50,000 varieties of desert plants.
There are five thematic trails: conservation, desert life, plants and people of the Sonoran Desert, and arid wildflowers.
The Botanical Gardens also offers specialized tours, seasonal shows, concerts, a garden gift store, a plant shop, and a restaurant for refreshments.
Explore Pueblo Grande Outdoor Trail
You can pay a small admission fee to enter the Pueblo Grande Museum Archaeological Park (4619 E Washington St) and delve into the Hohokam civilization.
You can also enjoy the free outdoor trail through the ancient village exhibit that showcases a Hohokam ruin site.
Dobbins Lookout
Dobbins Lookout is located at South Mountain Park and offers breathtaking views of the city from the mountain at an elevation of 2,330 feet.
The historic structure was built during the Great Depression by the Civilian Conservation Corps.
Drive Through the Picturesque Apache Trail
The stunning drive along the Apache Trail is a great free thing to do around Phoenix.
Known as Route 88, it stretches 40 miles of canyons, desert flora, fauna, lakes, seasonal wildflowers, and geological formations.
Avoid taking this trail during extreme weather conditions like torrential rain, exceptionally hot days, and windy periods.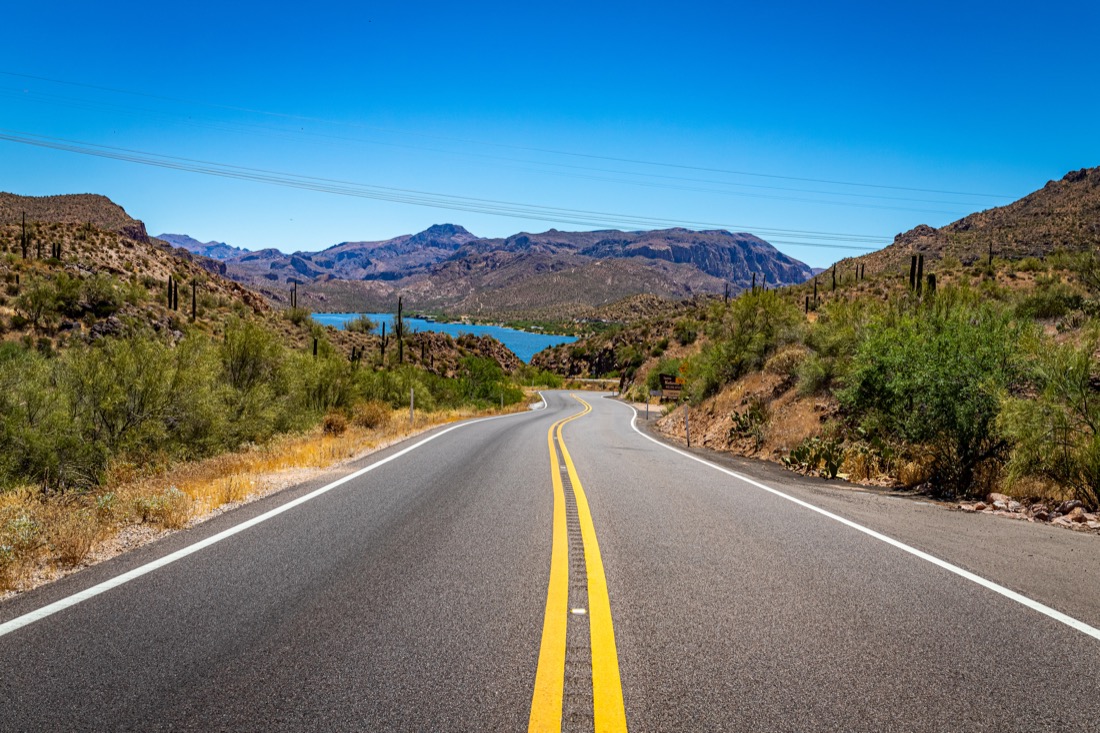 Free Indoor Things to Do in Phoenix
This section will cover some of the most popular museums and art centers that are either free to enter or free on certain days of the month.
Delve into American History at Arizona Capitol Museum
Explore Arizona Capitol Museum (1700 W. Washington St) to see the World War II and the Pearl Harbor exhibitions.
Other museum displays include the exclusive rooms that were once Arizona's Judicial State Courts, House Chamber, and Governor's office.
It's one of the free attractions in Phoenix where you get to learn about the story of Arizona territory to statehood.
Hall of Flame Fire Museum: Largest Firefighting Museum in the World
A visit to the Hall of Flame Fire Museum (6101 E Van Buren St) is one of the free things to do in Phoenix with family.
Exhibitions include 130 firefighting pieces that date from 1725.
It has a massive display of badges, alarms, firefighting gears, and a huge fire truck for kids to explore.
Take Free Yoga Classes
You can tour around Phoenix and still stay on track with your fitness goals by attending a free yoga class.
The city is home to many yoga studios where you can find complementary classes with experienced instructors ready to help you no matter what your levels of experience are.
Some classes are held in studios, others are hosted in public spaces.
Available classes are listed here.
Free First Fridays: Phoenix Art Museum
Those looking for free activities in Phoenix can enjoy the free tour of Phoenix Art Museum (1625 N Central Ave) on the first Friday of every month.
It is home to over 20,000 pieces of art from Latin American, Asian, and European countries.
Do not miss the Thorne Rooms that display detailed replicas of exquisite rooms found in the US and Europe, at an exacting 1:12 scale.
Arizona State University Art Museum
The Arizona State University Art Museum at Nelson Fine Arts Center (51 E 10th St) features Latinx and contemporary art exhibits from local and emerging artists.
The museum's nearly 50,000 square feet of space houses five galleries where the majority of its art collection is displayed.
Admission is always free.
Cheap Things to Do in Phoenix, Arizona
During your trip to Phoenix, you'll be able to find some activities that are worth paying for.
This list brings you loads of cheap fun things to do in Phoenix such as exploring historic sites, public swimming pools, and guided tours.
Prehistoric Sites and Monuments of Phoenix
One of the inexpensive things to do in Phoenix is to plan a day trip to the national park sites like Montezuma Castle National Monument (Montezuma Castle Rd) and Tuzigoot National Monument (25 Tuzigoot Rd).
Witness the historic limestone cliff ruins that were constructed by the Sinagua people between 1100 and 1425 AD.
The monuments are a 90-minutes drive from Phoenix, and you can enter both sites for a small admission fee that is valid for seven days.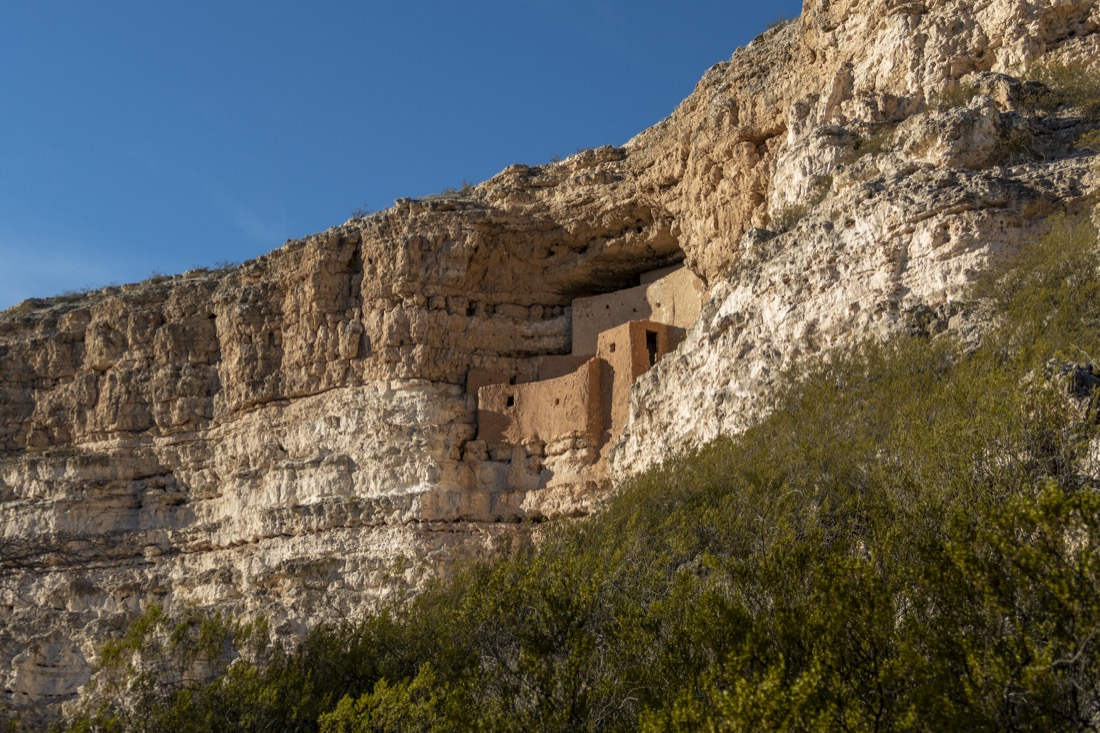 Public Pools for Summer Cool Off
When you have more than five months of summer, hitting the splash pads and local pools is an ideal cooling-off solution!
The Park and Recreation Department is responsible for local pools and charge a small fee to enter.
These swimming pools include wave pools and slides that are perfect for kids.
Phoenix Ghost Tour
Discover the most haunted downtown areas of Phoenix on this walking ghost tour.
Learn about spooky locations such as Hotel San Carlos (202 N Central Ave), the basement of Hanny's department store (40 N 1st St), and the Gothic Rosson House Museum (113 N 6th St) in this 1.5-hour tour.
Phoenix Scavenger Hunts
Solve clues and complete the challenges thrown your way through this scavenger hunt.
Using your smartphone as your guide, you'll compete in a quest while seeing the sights of downtown Phoenix as well as learn about the place's history.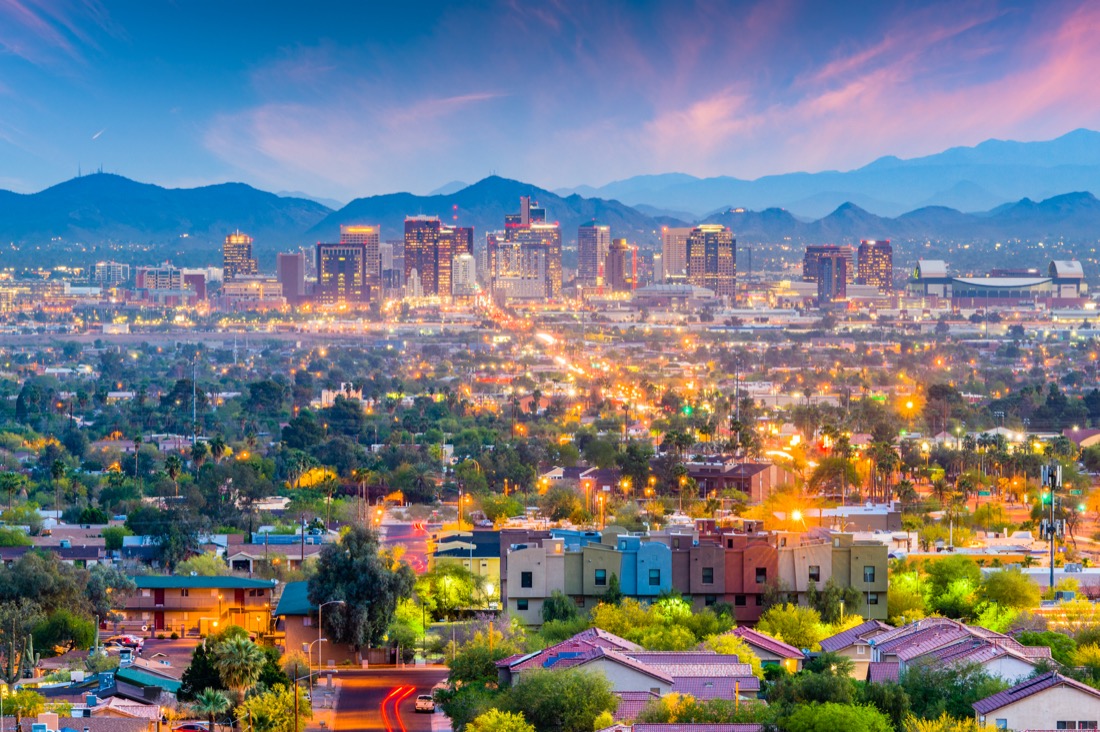 Free Events in Phoenix
If you're looking for more free things to see in Phoenix, then check out some of these awesome events!
This section brings you free cultural events, musical concerts, and football matches that you can do during your next AZ visit.
Attend Free Musical Concerts
During the summer, you can catch an outdoor performance by the West Valley Symphony in Phoenix.
There are also year-round indoor concerts by the Chandler Symphony Orchestra.
Fall brings the student's performance at Glendale Community College which is open to the public for free.
Watch Football Matches for Free
Some of the cool free things to do in Phoenix include watching football practice matches.
You can watch the open practice of the Arizona Cardinals for free.
Check out the training camp that is open to the public so you can plan games during your Phoenix trip.
Juneteenth Celebrations: Free Street Parties and Gatherings
Juneteenth takes place on June 19th and celebrates the day in 1865 when Union soldiers told the enslaved people in Galveston, Texas that they were free.
This was 2.5 years after the Emancipation Proclamation was signed.
It is also called Freedom Day.
Expect live dance performances, poetry sessions, art classes, games, vendors, and other family-friendly fun at Desert Mountain Park in Phoenix.
Celebrate Latinx Culture and Art
Arizona Latino Art and Cultural Center (147 E Adams St) promotes and celebrates Latin American, Mexican, and Indigenous life.
You can learn more about the city's heritage and traditions through the center's free exhibitions and events such as Day of the Dead (Día de Muertos).
Open Studio Galleries for a Free Self-Guided Tour
Culture fans can also take advantage of the annual open studio event.
Indulge in Phoenix art by meeting the local artists on your walk through the street art, open galleries, and studios spread all over downtown.
Free Things to Do in Phoenix, Arizona in Winter
The maximum temperature during winter in Arizona is 69.8-degree Fahrenheit and the minimum is 50 degrees Fahrenheit.
This section will list things to do in Phoenix for free during winter like self-guided tours, hiking trips, and biking trails.
See the Lighting Events at Downtown Glendale
If you're looking for things to do around Phoenix, Arizona this winter, head to Glendale to see its spectacular lighting event.
The Murphy Park Lights is held at Murphy Park and features beautiful light displays, a 20-foot snowman, and a giant Christmas tree.
Lee & Patricia Sepanek's Holiday Lights
Lee & Patricia Sepanek's Holiday Lights (4415 E Calle Tuberia) is one of the extravagantly decorated houses in Phoenix which you can visit and make a leave donation.
The Sepaneks string up over a quarter of a million lights to put on an epic festive show for bystanders.
Phoenix Christkindlmarkt
Take in the sweet smells of the vendors and get in the spirit at Phoenix's European Christmas Market.
Expect live entertainment, food, and holiday shopping opportunities if you can stretch it!
Venture the Southern Mountains: Hike or Bike
Take advantage of the cooler temps, prepare your hiking gear and head to the South Mountain Park and Preserve which sprawls over 17,000 acres.
You can hike, walk or bike around the area.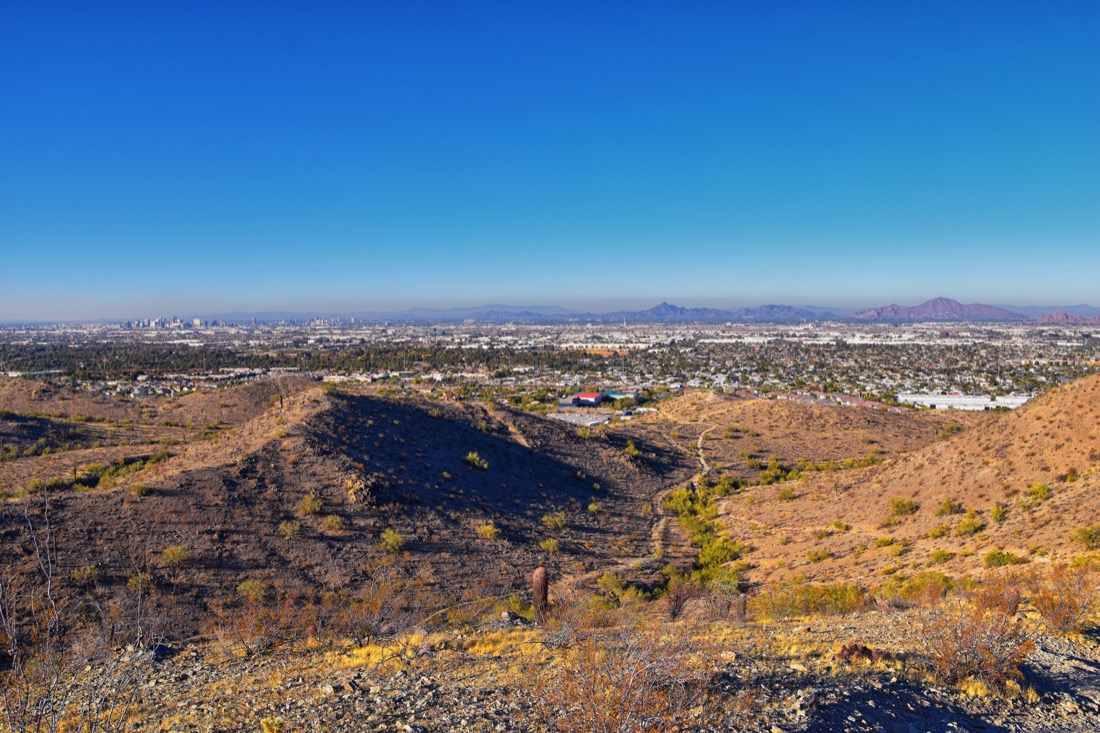 Affordable Accommodation in Phoenix, Arizona
Budget travelers looking for cheap lodgings in Phoenix, Arizona can find affordable accommodations under $100.
Travelodge by Wyndham Phoenix (1424 N 50th Avenue) is an affordable option with great amenities like an outdoor pool, ironing facilities, WiFi, and cable television.
For longer stays in Phoenix, Extended Stay America Suites (5235 N 16th Street Camelback) is a budget-friendly accommodation featuring a fully equipped kitchen inside the rooms.
If you prefer accommodations that are just 5 minutes drive away from Phoenix city center, then you can check out SureStay Hotel (3037 E Van Buren St).
How to Get Around Phoenix, Arizona on a Budget
One great way to get around Phoenix on a budget is by using public transportation.
The Valley Metro light rail system is a good choice for tourists, as it includes stops at the airport and well-known places such as the Phoenix Art Museum and Arizona State University.
You can also navigate the city by biking or walking if you don't want to worry about parking or traffic.
Phoenix has many walkable neighborhoods including the downtown area and over 600 miles of designated bike lanes.
If you want to have freedom and control in exploring more sites, renting a car or using ride-share services such as Uber, Lyft, and Turo is an ideal option.
About the Author
This guide was written by Two Scots Abroad Travel Guides and Catalin Geangos. Catalin is the Founder and Editor of TravelTrained. He was born in Romania and now lives in the UK as a digital nomad.