This article has links to products and services we love, which we may make commission from.
If you're looking for a California destination filled with scenery and activities, head to the beautiful Lake Tahoe.
Lake Tahoe is located on the border of the U.S. states of California and Nevada.
The location is known for its gorgeous clear blue-green waters, snow-covered mountains, and breathtaking scenery.
From hiking and taking in scenic views to enjoying live music, Lake Tahoe has everything for all ages and it'll want you to come back for more.
And if you're on a budget and looking to make the most out of your time, this guide will explore the free things to do in Lake Tahoe.
You'll also discover inexpensive activities in the area as well as affordable accommodations and transportation.
You may also like our guide to Lake Tahoe in the fall.
Lake Tahoe is also considered one of the best places to visit in July in the USA.
Free Outdoor Things to Do in Lake Tahoe
Lake Tahoe is home to a lot of outdoor activities.
Check out some of the best things to do at Lake Tahoe in the outdoors.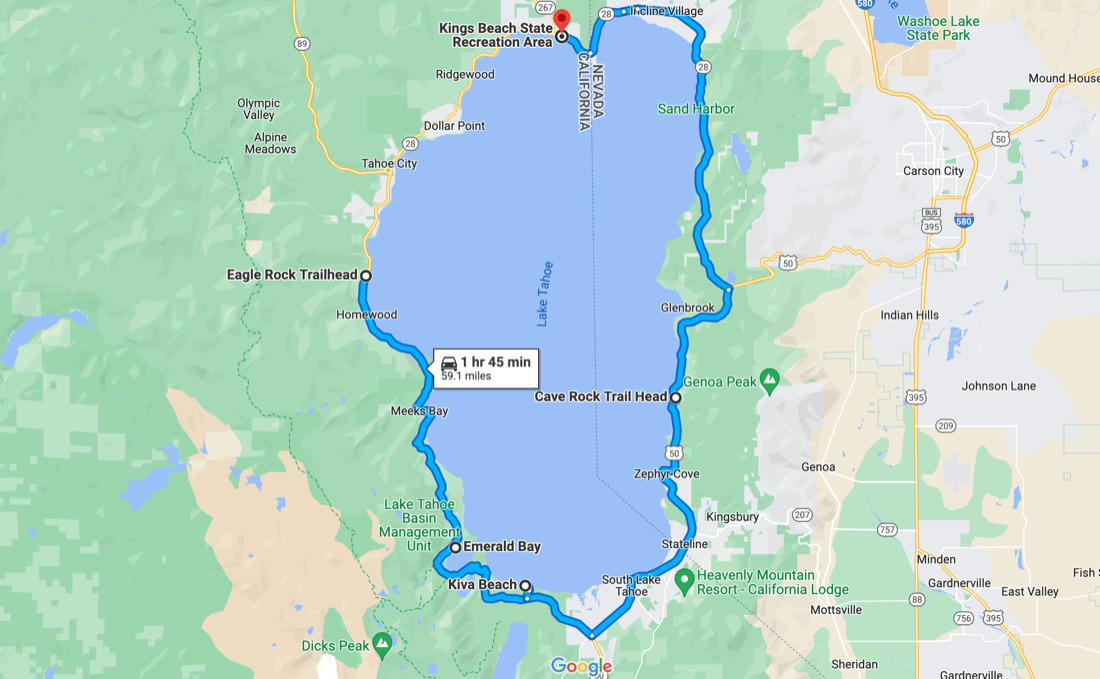 Take in the Scenic Views of Emerald Bay
One of the top things to do in Lake Tahoe is to see Emerald Bay.
Situated on the western shore of Lake Tahoe, Emerald Bay is known for its greenish-blue waters, white-sand shore, and Fannette Island in the center of it.
It's also considered one of the most photographed places in the world.
The three viewpoints to see Emerald Bay are Emerald Bay State Park Lookout, Emerald Bay Overlook, and Inspiration Point.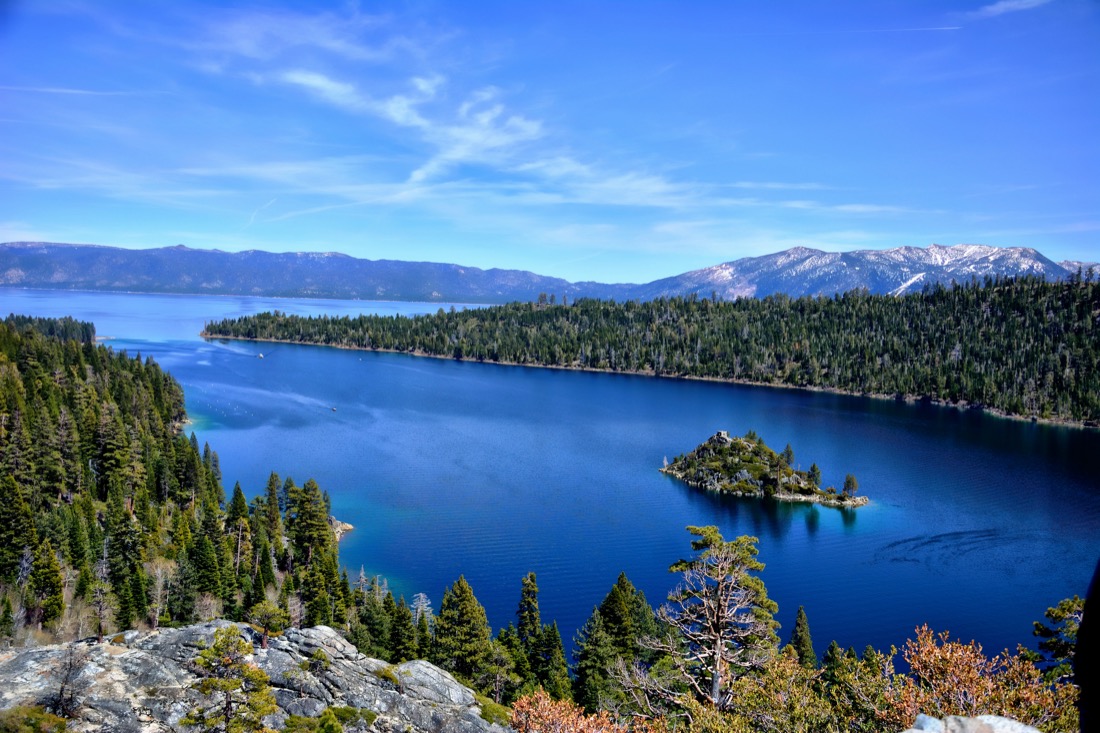 Hike Eagle Falls and Eagle Lake Trails
If you're looking for things to do in Lake Tahoe in summer, then hiking should be on your list.
The Eagle Falls and Eagle Lake Trail, located on the California side of Lake Tahoe, is a popular hiking destination, especially in the summer months.
Although the trail is well-marked and easy to follow, the first part is quite steep and rocky, so be prepared for a challenging start.
About halfway up, you'll get to see the scenic views of Emerald Bay.
Staying in California? You may want to read our California Bucket List.
Birding at Eagle Rock Trail
Eagle Rock (3370 W Lake Blvd) provides stunning sights of Lake Tahoe and the Sierra Nevada mountains.
Only stretching less than one mile, the trail is easy to navigate making it suitable even for young children to trek.
The trail also offers the chance to see wildlife and is visited for other activities like bird-watching.
Relax at Kiva Beach
If you're looking for more things to do at Lake Tahoe in summer, then check out some of its awesome beaches.
A popular beach that's free of charge is Kiva Beach.
It's one of the best beaches in South Lake Tahoe because thanks to its position on the southernmost point of Lake Tahoe, it is a great place to relax while enjoying the picturesque scenery of the surrounding mountains, including Mount Tallac.
Kiva Beach is dog-friendly but dogs must be kept on leashes.
Cave Rock Trail
The Cave Rock Trail is a great option for those looking for an easy hike with fantastic scenery.
Exploring this popular trail is one of the best outdoorsy things to do in Lake Tahoe Nevada, especially during summer.
The trail includes some light bouldering, but once atop, you'll be able to see the unobstructed views of the lake, the surrounding mountains as well as the highway beneath.
Enjoy Free Camping Near Lake Tahoe
There are many camping opportunities near Lake Tahoe with full-service campgrounds that usually require a fee.
Fortunately, if you're looking for free camping in the area, there are dispersed campgrounds you might want to check out.
One popular spot is the Mt. Rose Wilderness, located on the North Shore of Lake Tahoe, which is perfect for those looking to spend time in the wilderness and enjoy the sights of nature.
Note that visitors need to bring their own camping gear and a campfire permit may be required for all open fires.
Kings Beach State Recreation Area
Head out to Kings Beach State Recreation Area (8318 North Lake Blvd) to experience Lake Tahoe even more without getting into the water.
This is one of the places you can visit if you're looking for free things to do in Lake Tahoe in summer.
The beach has spots for picnics and features a boardwalk heading to the sea where you can stroll along.
If you're in North Lake Tahoe in the evening, come here for a gorgeous sunset.
Free Indoor Things to Do in Lake Tahoe
While Lake Tahoe is known for its outdoors, there are also several indoor attractions in the area that you can explore.
The following list will discuss free indoor things to do at Lake Tahoe which you can take advantage of if the sun is too hot, it is raining, or if you want to do more than outdoors activities during your day trip or vacation.
Lake Tahoe Historical Museum
Go back in time to the Lake Tahoe History Museum (3058 Lake Tahoe Blvd) and learn about the history of Lake Tahoe and the Washoe Tribe, a Native American tribe from the Great Basin.
Check out the exhibits on mining, railroad and road construction, and more.
If you're looking for a Lake Tahoe souvenir, head to the museum store.
As part of your family things to do in Lake Tahoe, take your kids to this museum to show them the many historical artifacts.
Taylor Creek Visitor Center
Located in South Lake Tahoe, the Taylor Creek Visitor Center (Visitor Center Road) is a hub that gives you information on the surrounding four trails including Rainbow Trail, Lake of the Sky Trail, and Forest Tree Trail, Smokey's Trail.
The trails take you through various habitats including marsh, beach, creekside, and forest.
The center is open seasonally between June and October.
While in the area, check out the Taylor Creek Boardwalk for salmon fish swimming in the creek.
If you're lucky, you might spot bears that are searching for salmon.
Wander the nearby Tallac Historic Site (1 Heritage Way) for historic buildings and exhibits.
Taylor Creek enjoys gorgeous fall hues thanks to its aspen trees.
Find out more in our fall in Tahoe guide.
Visit Warren Engine Co. No. 1 Museum
Nearby areas around Lake Tahoe have other indoor attractions that are worth visiting.
You can go to the Warren Engine Co. No. 1 Museum (777 S Stewart St) to discover the rich history of fire companies and departments in Carson City and Ormsby County in Nevada.
It's one of the things to do around Lake Tahoe where you can learn about the early days of firefighting, and see equipment, uniforms, and documents dating back to the late 1800s.
Visit Marcus Ashley Gallery
Visiting an art gallery is one of the free things to do in South Lake Tahoe.
The Marcus Ashley Gallery (4000 Lake Tahoe Blvd #23) has artwork from local and international artists.
The gallery features a huge variety of art- from vast landscapes and wildlife to abstract art.
You can also buy paintings if you love them.
Cheap Things to Do in Lake Tahoe
This list will give you ideas on some inexpensive Lake Tahoe activities you can try during your visit.
Vikingsholm
Check out a hidden castle in Lake Tahoe near Emerald Bay.
Built in 1929, Vikingsholm is styled in Scandinavian design.
In the summer, you can tour the insides of the mansion and its 38 rooms.
The tours are $15 for adults, $12 for children/young adults between 7-17 years old, and free for kids under 7 years old.
Sugar Pine Point State Park
Surrounded by thick forests of juniper, fir, pine, and aspen, Sugar Pine Point State Park is another place to go for summer activities in Lake Tahoe.
The area is a popular campground with amenities like restrooms and picnic tables.
If you're visiting during the peak season which is in summer, there's a parking fee of $10; otherwise, it's $5 during the winter- parking is free if you're camping in the area.
You can also visit the 19th-century Hellman-Ehrman Mansion where you can walk around the mansion grounds or go on a guided tour to see the mansion's vintage furniture and decor.
Sand Harbor
Located on the eastern side of Lake Tahoe, Sand Harbor is the perfect place to spend an entire day with your family.
Sand Harbor is a part of the Lake Tahoe Nevada State Park and has an entrance fee of $10 if you're from Nevada or $15 if you're not from Nevada.
The area is known for its clear water and its many rock formations, making it a great sight when you're in the waters.
At Sand Harbor, you can hike, swim, kayak, paddleboard, scuba dive, and go boating.
The place is also filled with Jeffrey pines and cedar trees providing shady spots for picnics.
City bike rentals are also available if you want to explore Sand Harbor along with other places on the North Shore of Lake Tahoe.
Family-Friendly Fun at Harrah's Arcade
You can find several arcades in Lake Tahoe if you want to have some family-friendly fun.
Harrah's Arcade (15 US-50) features a rotating selection of popular arcade games like Jurassic Park and Space Invaders.
It's a great place for those looking for things to do in Tahoe, NV with children.
Self-Guided Driving Tour Around Lake Tahoe
Driving around Lake Tahoe is a great way to see the magnificent views of the area.
With an app as your guide, you can go on a self-guided driving tour and explore the entire lake, including all the best vistas, hikes, and swimming spots.
The tour begins at the southern shore and takes a clockwise loop around the lake.
If you only have a day in Lake Tahoe, it's best to take half the day to drive through this scenic loop.
Free Events in Lake Tahoe
Here are some fun events to see on your next visit to Late Tahoe.
Saturday Maker's Markets
Head to a maker's market in Kings Beach (8428 Trout Ave.) to see local arts and crafts, delicious snacks from the food trucks, games, and more.
It happens between June and September.
SunSets Live Music Series at Palisades Tahoe
For more entertaining things to do in North Lake Tahoe in summer, you can watch the SunSets Live Music Series at Palisades Tahoe.
This live community event showcases all kinds of music and happens every Friday from June through August.
Bluesdays at Palisades Tahoe
For Blues music in the summer, head to The Village at Palisades Tahoe (1750 Village East Rd).
It's a free concert series that happens on Tuesdays from June through August.
You'll see the finest blues artists perform while you can grab drinks or snacks at the bar.
Seating is limited so bring a folding chair to be able to see the artists as they play.
Free Things to Do in Lake Tahoe in Winter
Check out these fun things to do at Lake Tahoe in winter.
You may also like our guide to California in December featuring Lake Tahoe.
Northern Lights Festival
Seeing the Northern Lights Festival is a great free ​​thing to do in North Lake Tahoe in winter.
This festival starts at the end of November and ends in December.
It takes place in the Nevada towns of Crystal Bay and Incline Village.
There are free activities and events including driving along the lighted Tahoe Boulevard.
Noel Nights at Northstar California
Enjoy a free night of holiday fun at The Village at Northstar Ice Skating Rink (100 Northstar Dr) during Noel Nights.
You can take photos with Santa, get a balloon animal, have your face painted and listen to festive music.
If you've got skates, bring them to skate around the rink for free.
This event takes place in December.
Free Gondola Ride in Lake Tahoe
Gondola rides are a popular tourist attraction in Tahoe and offer views of the mountains and other sights below.
If you're in the Village at Northstar, be sure to hop on Highlands Gondola for a scenic ride that takes you to The Ritz Carlton, Lake Tahoe.
Best of all, it's free for pedestrians without ski equipment.
Holiday Tree Lighting at Kings Beach
Another free thing to do in Tahoe in winter is to check out the Holiday Tree Lighting held at the North Tahoe Event Center (8318 North Lake Blvd) in Kings Beach.
Enjoy live entertainment from locals, sip some hot cocoa or soup, take Santa photos and make some crafts.
Sled Down Hills in North Lake Tahoe
As winter arrives, Lake Tahoe is covered with snowy hills.
Grab a sled and dive down these hills.
You can head to Tahoe Meadows, one of the best spots to enjoy free sledding in North Lake Tahoe.
There are no fees needed but just be sure to bring your own sled.
Build a Snowman
With heavy snow comes opportunities to build a snowman!
Go to the Spooner Lake area for layers of snow to make a snowman.
It's one of the enjoyable things to do in Lake Tahoe with kids in winter.
The place is also a popular winter destination for snowshoeing.
Spooner Summit Snow Play Area
Another place to visit for a free snow play in Lake Tahoe is the Spooner Summit Snow Play area.
People come here for sledding and snow tubing.
The sledding hill features steep slopes near the top and gentle slopes at the bottom- making it ideal for people of all skill levels.
Affordable Accommodations in Lake Tahoe
While Lake Tahoe is filled with expensive accommodations, there are also budget-friendly options.
The Cedar House Sport Hotel (10918 Brockway Rd) is one of the best affordable choices.
Located in Truckee, this hotel is a quick 15-minute drive to North Lake Tahoe and features a free parking space as well as storage for your ski equipment.
If you're staying in Lake Tahoe for longer than a week and like to do some cooking, consider Mountain Studio (11591 Snowpeak Way).
You can also check out Tahoe Valley Cabin 1 (1175 Melba Drive), a child-friendly accommodation that has a children's playground and a seasonal outdoor pool.
How to Get Around Lake Tahoe on a Budget
Lake Tahoe is easy to navigate whether you're driving or walking.
You can walk around the entire Lake Tahoe via the Tahoe Rim Trail.
E-bikes and Lime scooters are available for rent around Lake Tahoe as well.
There's a public transport system called the Tahoe Transportation District you can check out.
You can also find numerous taxi services – especially near the casinos in South Lake Tahoe – that you can use to get around.
Uber and Lyft services are available in Lake Tahoe but you're more likely to get one if you're traveling from the airport.
The nearest airport to Lake Tahoe is the Reno–Tahoe International Airport.
You can travel from this airport to Lake Tahoe by taking shuttle services from North Lake Tahoe Express or South Tahoe Airporter.
About the Author
Rasika is a California-based blogger who loves writing about California destinations. She has been planning trips since she was young and enjoys blogging about what California has to offer.
Rasika, Bae Area and Beyond