This article has links to products and services we love, which we may make commission from.
Planning a trip to Cuba and don't know the difference between your CUP or casas? Don't stress, tranquilo! Our Cuba travel guide details the essential planning areas from tourist cards to currency, accommodation and itineraries. So let's dive you so you can start dreaming about those Caribbean beaches and rum cocktails.
---
Ultimate Cuba Travel Guide
Before You Travel to Cuba
Getting to Cuba
Where is Cuba? Cuba is located in the northern Caribbean where the Caribbean Sea, Gulf of Mexico and the Atlantic Ocean meet.
Travel to Cuba is relatively easy for all nationalities with the exception of citizens from the USA.
For non-US citizens, it is as simple as having a passport in date booking a flight with an airline carrier and touching down/sailing into Cuba as long as you did not travel through the States.
If you are planning on a multi-destination trip and the USA is your stop before Cuba the US rules apply, regardless of your nationality.
Travel to Cuba from USA is regulated by the Office of Foreign Assets Control (OFAC) of the U.S. Department of the Treasury.
For US citizens travelling to Cuba and those arriving from the US, previous relaxed regulations created by Obama have been tightened again but it is not impossible. In the past, visitors from the US arrived via a Foreign Gateway City in Canada or Mexico.
For example, they would take two flights, one to Cancun, Mexico or Toronto, Canada and then from Cancun to Havana or one of the other airports in Cuba.
Trump's Cuba travel ban changes have stopped all flights to Cuba bar those flying into Havana's José Martí International Airport.
According to the New York Times, US citizens can still enter Cuba under the "support for Cuban people" permitted/reasons for travel category.
It's assumed this means you vow to support privately-run companies (not Government-run) which you will do naturally anyway because it's Cuba and they've crafty with their economy for decades.
Privately-run accommodation options are called a casas particulares and privately-run restaurants are called Paladares.
This category does not permit you to visit for a vacation. See questions six of the frequently asked questions here.
→ Tip: Print out/screenshot all important information. You won't have 4G when you land.
Playa Ancon
---
Cuba Tourist Card (Visa)
All visitors must have a Cuba Tourist Card to enter the country. Usually, your airline provides one for you and it just takes a quick filling out of the official form at the airport for you to gain access.
Check that your airline carrier does offer this. If it does not you need to speak with the Cuban Embassy in your area.
If like us, the embassy is in another country (London) it is worth shopping around for a flight that includes the tourist card to keep costs down and save time.
There a Cuba Tourist Card form on the UK Government website but the last update is 2017 so we cannot confirm that you can use it to apply for a Tourist Card.
Please tell us in the comments below if you have used it.
For UK citizens, the Cuba Tourist Card covers you for one entry and for 30 days and costs £39.00.
Your passport must have at least two months left on it. We'd always advise applying for a new passport when you are close to the six months mark as many countries don't let you in with less than six months.
Our experience was a bit of a nightmare as we were flying from Colombia and did not know about the Cuba visa and our last day in Bogota was a bank holiday so the embassy was closed.
Craig spent the day trying to find an answer along with picking up currency at every bureau which I'll talk about more below. Don't leave your Cuba planning to last minute like us.
Conclusion, find an airline carrier that includes the Cuba Tourist Visa!
Airports in Cuba
There are 16 airports in Cuba in which visitors can fly into. The most popular, and only airport US flights can land in, is Havana's José Martí International Airport.
Other popular airports are found at Camagüey, Holguín and Santa Clara.
Cuba Airport Tax
There is a mandatory airport tax in Cuba of 25 CUC which is often covered by your flight.
Check before you leave or you'll be sweating at the check in line like us with the ATM not working.
No stress required, it was inclusive of the flight price.
---
Cuba Travel Vaccinations
It is advised to speak to your medical professional before your trip to discuss vaccinations for Cuba.
Leave plenty of time for this. Tetanus is recommended and Hepatitis A, Typhoid Fever, Hepatitis B, Rabies and Cholera could be considered (UK).
The US offers similar advice here. Speak with your doctor before flying.
Medicines may not be available in Cuba so pack a sufficient supply of prescribed drugs. Always carry a copy of the prescription and a letter from your doctor explaining your condition, treatment, medication and dosage.
---
Travel Insurance
You should always travel with insurance. It is unlikely any providers through banking accounts will cover travel in Cuba.
We use True Traveller Insurance for long-distance travel, others prefer World Nomads Travel Insurance. You can read our comparison guide here.
According to the (OFAC), Cuba requires US Citizens to have non-US based medical insurance which may be covered by your flight.
Water in Cuba
Avoid water from the tap unless you are using a purifying and filtering bottle like Water To Go [quote TSA15 at checkout for 15% off].
Taking a bottle with you will not only save you money as you won't have to buy a plastic bottle every day, but it will also help prevent the plastic tide.
Che at Revolution Square in Havana
---
Learn Spanish
I don't think I'd say this about any other country that I've been to, including Japan, but you have to learn some survival Spanish before going to Cuba or travel with someone who can understand and speak the language.
Only tour guides can speak English, your casa owners, taxi drivers and general members of the public don't speak English. You are in their country, they speak Spanish.
Craig and I spent one week learning Spanish in Peru and still struggled.
We were very lucky to have met a Brit who lived in Mexico who spoke for us most of the time. Probably not the best idea if you are trying to improve your language skills but it helped us out massively.
If you are planning to travel around Cuba independently and want to meet friends to travel with I recommend booking a hostel in Havana for a couple of nights as rooms in casas are private and not social. See the accommodation section below for more.
---
» You may like | How to learn Spanish without leaving the house
---
Currency in Cuba
Cuba is currently undergoing currency reform. Our content will be updated as changes are announced.
Read this guide on currency in Cuba.
Debit and Credit Cards in Cuba
Legally, you can use credit and debit cards in Cuba even if you are a US citizen as long as you are there authorised to be there by the OFAC.
Now here's the catch, many US cards don't work and just because you are not from the US doesn't mean your credit card company isn't associated with the States.
We even struggled to buy flights for Cuba in Peru with our UK bank credit cards using what we thought was a non-US website.
However, things seem to have improved since with visitors being able to use a UK Visa with no issues.
Not everywhere takes card though so take cash to exchange or a debit card to take money out from the ATM.
Expect to pay a 3% fee on debit ATM withdrawals in addition to your bank transaction charges.
Is Cuba Expensive?
Cuba was more expensive than we expected. Having just spent three months in Peru, Bolivia and Colombia we were surprised to be burning through our budget so quickly in Cuba.
I don't advise visiting as part of a big travel trip and would like to visit with a bigger budget.
Our Cuba daily budget was 90 USD per day for two people. Less on the day we stayed put, more on the days we moved destinations.
Our plans to travel around the whole island were cut short, deciding to check into an all-inclusive resort to save money instead. I know, hard life!
Here's a full breakdown of our Cuba travel costs: 3 weeks in Cuba.
---
Accommodation in Cuba
You will find hotels in Cuba's bigger cities and towns like Havana and Trinidad but they are more expensive than the local option, casas particulares. For example, the Iberostar Trinidad starts at $400 (U.S) for one night.
Casas pariculares are private homes where Cubans rent out a room. It is common practice to stay with a local and the level of engagement will very much depend on the host and you.
You can tell if a house is a casa because they have the symbol in the image below outside of their home.
The cost of casas depends on where the house is and what the rooms are like. The general rule of thumb is that rooms cost 10-30 USD per person. We mostly spent 10 USD per person and negotiated this price for every room after Vinales.
The price includes a bed for the night in a basic room, an ensuite, a fan or aircon. Some rooms will have fridges. Not all casas have WiFi for you to log on to, others go as far as to offer you a phone!
Breakfast, and sometimes, dinner is offered on top of the room price. Breakfast is usually around 4-5 USD and varies in quantity. We've had banquets to margarine running out and that's what you have to embrace about Cuba.
Casa owners can hook you up with anything! Need a casa at your next stop? No problem! A taxi colectivo share ride? Their uncle does that! You want to hire bikes? Their neighbour can hook you up.
It's a strange way of life for us to get our heads around at first but you have to remember that Cubans have been working in an oppressive economic structure and they've found ways around it.
When your new Cuban friend gets you another casa, a taxi ride or bike hire they receive a small amount of commission for referring you on. Clever eh?!
You can book casas before you go to Cuba if you'd prefer to see what you are getting use Booking.com. You can read reviews at TripAdvisor for example, La Villa Teresa in Havana. Gorgeous.
Paying before you go also means carrying less cash.
Find out everything you need to know about casas in Cuba here: Essential Guide to Casas Particulares in Cuba
Casa symbol in Havana
Although many casas call themselves hostals they aren't hostels like backpacker hostels with social spaces. There is a handful of them in Havana though.
Hostels in Havana
Club 58: Outstanding reviews, friendly staff, very social, super central and safe
Ronaldo's: This is the first hostel in Havana and a bit of an institution. Nice rooftop. Friendly staff
Paradise: This is where we stayed for two nights as Ronaldo's was full. Nice rooftop. Hot rooms
---
Transport in Cuba
Cuba is pretty difficult to get around if you are short on time or tight on budget.
The most popular local bus service for tourists is, Viazul which has a website. It is advised to book buses for the journeys you know you want to take.
Screenshot the bus times too as you won't have 4G/WiFi all the time. Be aware that businesses run on Cuba time which is not always the most efficient. Tranquilo!
Hiring a car is a good idea if you can spare a few days in Havana to wait on one coming in. Don't always believe it when locals tell you roads are closed or gas stations have been shut down. It's a scam an Aussie couple told us about. Oh, that charming Cuban hustle…
Taxi Colectivos are shared taxi cars which can be prearranged on the street, via your casa owner and outside of the bus stations.
These shared rides tend to match the bus prices but it don't always get you there quicker. The cute vintage cars you see in the Havana guidebooks are genuinely the cars than Cubans use and while they are very good at fixing them, breakdowns do happen. Tranquilo!
It is not uncommon to switch cars halfway so don't be alarmed. We did this getting from Playa Larga to Trinidad.
Moving between places starts to add up. Expect to pay around 25 USD per person and up between itinerary stops.
Other modes of transport in Havana include:
Cocotaxi
Car taxi
Classic car
Tuk-tuk
Hop on/off bus
And in Viñales, horse-drawn cart!
Maps.me and Galileo maps both works in Cuba. Download before you touchdown.
Our taxi colectivo
---
Internet, WiFi and 4G in Cuba
Does Cuba have the internet?
Yes it does! Contrary to popular belief there is internet access in Cuba but not as you know it.
To log on you have to purchase a card from an ETECSA telecommunications centre, hotel, casa owner, or Cuban on the street (not official).
Use the card to log on and use the internet at any of the WiFi points around the country. Remember to log off again to save your credit.
You'll know the points as you'll see lots of locals looking at their phones. Read the full guide to WiFi and 4G in Cuba here.
Hotel Sevilla Pool in Havana
---
Best Time to go to Cuba?
The best time to visit Cuba is in the dry season.
The dry season is between November and April but there are nice temperatures all year round. We visited in April and it felt really hot in Havana even then. Consider this when creating your itinerary and making plans.
June to August sees highs of 32 degrees Celcius/89F. This is the hottest
Is It Safe to Travel Cuba?
Crime rates are very low in Cuba and you will have no issues walking around the cities at night.
However, I've mentioned above that Cubans have been crafty in their retaliation to a communist regime so there are a few Cuba scams you should be aware of such as a baby milk scam and cigar scam. Read the full details in our guide to scams. Independent travel to Cuba is totally doable and encouraged.
→Note: None of those scams are made up. It is not a sensationalist post. All ten either happened to us or the people we met in Cuba. Check the comments for others that fellow visitors experienced too.
Cocktails at La Bodeguita del Medio
---
Food in Cuba
Food in Cuba varies in quality and availability.
Paladar restaurants are privately-owned and tend to offer better meals.
Government-run service can be slow. We were advised of this by our tour guide in Havana and definitely knew were in a government-run restaurant in Trinidad after waiting an hour for a rice dish!
Many Cubans live of rations, please be considerate of this.
Cuba food to try includes:
Ropa vieja
Tostones
Tamales
Arroz con pollo
Mojitos cocktail which you can learn how to make in this cocktails around the world guide!
Daiquiri cocktail
Canchanchara cocktail
---
Cuba Packing List
Filter/purifying bottle like Water To Go [quote TSA15 at checkout for 15% off]
Sunscreen
Comfortable walking shoes
---
Cuba Itinerary: 1-10 Days in Cuba
Whether you have one or ten days in Cuba there is something for everyone in our Cuba travel itinerary. It is a relatively small island so if you have the budget and time you can easily tour the whole country in three weeks.
For what to do in Cuba, my best advice is to pick up a copy of Lonely Planet Cuba before you leave, make a plan, research the bus times online and print them out once you know which places to visit in Cuba. I don't usually suggest that you need guide books but for Cuba, you do because WiFi is not readily available.
Let's take a look at where to do in Cuba with 1-10 days.
Havana: 1-6 Days
Four days in ample time to see everything the city of Havana has to offer. Here is a sample of the highlights:
Havana's Three Main Areas
Centro Habana
La Habana Vieja (Old Havana)
Vedado's Central Business District and urban residencies
Havana's Points of Interest
Ride in a classic car
Walk the malecón waterfront
Capitolio government building
Sculptures such as Roberto Fabelo's girl at Plaza Vieja/Old Square
Camera Obscura
Hotel Ambos Mundos, a Hemmingway haunt
Plaza de la Revolución with Che Guevara sculpture
Hotel Nacional for a mojito
Almendares Park, the lungs of the city
Read next:
---
Viñales: 2 Days or Day Trip from Havana
Escape the heat of Havana as part of day tour or for a 2-day stay in Viñales.
Viñales is part of Cuba that looks like Jurrasic Park with its lush green mogotes and plantations.
Hire a bike
Hike a cave
Visit the botanical
Lunch at a farm
See the tobacco plantation
Buy cigars
Chill by the pool
Party in a mogote
Read the full guide
Playa Larga: 2 Days
Cuba is one of the cheapest countries in the world to dive and you can do it at Playa Larga.
Not a fan of the depth, why not try snorkelling in Cuba?
The historically imporant Bay of Pigs is also in this region.
Read the full guide
You may also wish to visit Cienfuegos which is in between Playa Larga and Trinidad or can be done as a day trip from Trinidad.
Trinidad: 4 Days
Trinidad is the town with the pastel colonial buildings and hot nightlife.
Salsa the night away at Casa de la Musica
Drink an original Canchanchara cocktail
Climb the bell tower
Take a day trip to paradise aka Playa Ancon
Hike to a waterfall.
Read the full guide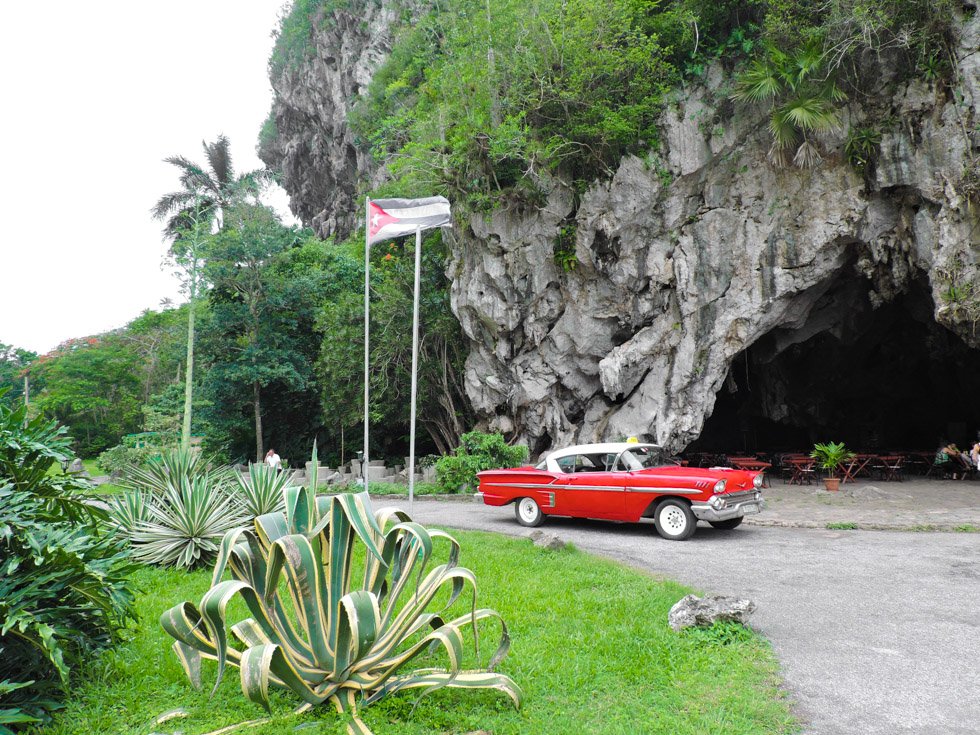 Viñales mogote and sexy classic car
---
Cuba Travel Map
---
---
Personal Experience
We visited Cuba as part of a long-term travel trip so limited by our budget.
Here's what I would do differently:
Download the bus times between locations. Locals do not know the times and are quick to offer their family taxi colectivo service which starts to add up at 25 USD per ride, per person
Take note of recommended restaurants for each stop. Some restaurants are pretty bad and even Cubans will tell you this
Create a loose itinerary. We are so quick to connect to 4G, you will soon see how much you rely on it since you can't have it
Consider activities. I thought I'd use the time in Cuba to switch off so didn't bother planning anything which is unlike me!
Renting a car? You may have to wait a few days in Havana for one to come in but having that flexibility to move around will be liberating
Don't visit Cuba as part of a big multi-destination trip. Not having a kitchen starts to take its toll
Accept that the Cuban hustle isn't going anywhere! Sure, it's tiring constantly having people trying to sell to you but this two-tier economic system has allowed Cubans to survive and thrive
Final Words
Planning on going to Cuba in the near future? Whether it's for a Cuban beach resort vacation with day trips or a backpacking tour of Cuba, you won't experience anywhere in the world quite like Cuba.
---
Did you find this article useful?
Why not pin it to your Cuba Pinterest board?
Over to you, any questions?
Leave them in the comments below.