This article has links to products and services we love, which we may make commission from.
Just wait until you experience the sweeping beauty of the Colca Canyon, Peru which sits on the Colca River. The Colca Canyon trek is often viewed secondary to the famous hikes to Mach Picchu but once you have trekked with condors swooping above, you will agree that this hike is incredible in its own right. We (Gemma and Craig) opted for the 3 day guided hike but others complete it in 2 days, with the aid of a guide, or unguided, with ease. Colca Canyon tours also leave from Arequipa for those who don't want to miss out but can't trek due to ability or time constraints.
Colca Canyon Trek, Peru
Mirador Cruz del Condor
Like many great trips, it's not just about the destination. Arequipa to the Colca Canyon takes around 3 hours to travel via tour bus and the start is early, 3 am to be precise. Luckily, our hiking guide, Juanito (which means little John he informs us), lays off the chat and lets us rest our heads for a few hours before we fill up on breakfast at Chivay (3,650 meters above sea level ) then on to the touristy Cruz del Condor. The viewing point, Mirador Cruz del Condor, is one of the popular stops for tours so you do need to elbow your way through crowds while staying away from the edge. The drop is 1200m deep but don't just look down – check out the sky for the condors circling.
Note: The is an entry fee of 70 Peruvian soles each paid at the start of the canyon.
Colca Canyon hike day 1
The trek for the first half of day 1 is mostly descent into the Canyon which starts at 3287 metres above sea level. To put this into perspective, the peak of the highest mountain in Great Britain (Ben Nevis) is only 1345. The landscape swallows you up and the blue, green and orange tones of the canyon are striking. The terrain is rocky, it can get tiresome of the knees but the pace is steady and the chat is electric. Juanito is honestly the best hiking guide I've trekked with. He shares stories of life growing up in Peru, trying to get his parents to recycle and the bad side of tourism in South America.
The Peruvian national drink, Inca Kola is consumed at the bridge before we make our ascent. Did you know that only two countries in the world where Colca Cola does not dominate supposedly – Peru (Inca Kola) and Scotland (Irn Bru, of course!) In the afternoon, going downhill niggles the knees and going arriba (up) steals my breath. If you really struggle, a taxi is on hand… as in a furry taxi donkey (which a member of our team did use on day two). Day one concludes with lunch, an unofficial walk with Juanito, dinner and a disturbed sleep in a cute cement house (damn cricket on the roof!)
Swimming in a Canyon

Day two of the Colca Canyon trek starts at 7am with an ascent along the water, passing interesting smelling plants (smell like weed, we're told that it's not marijuana). There are many 'makeshift' shops on the road for snacks. We spot caged guinea pigs but Juanito reassures us that they are not lunch. Cuy is not served on this Colca Canyon hike! Did you try it on your trip to Peru? Tell me in the comments below.
An easy afternoon walk takes us to our abode for the night – Paraiso Las Palmeras Lodge at Oasis Sangalle, sounds like paradise eh?
This lodge has a swimming pool and happy hour with mojitos.
Warning: Happy hour is not the best idea since you have a 5am start the next day to tackle the massive climb out and up the Canyon before the sun takes to the sky.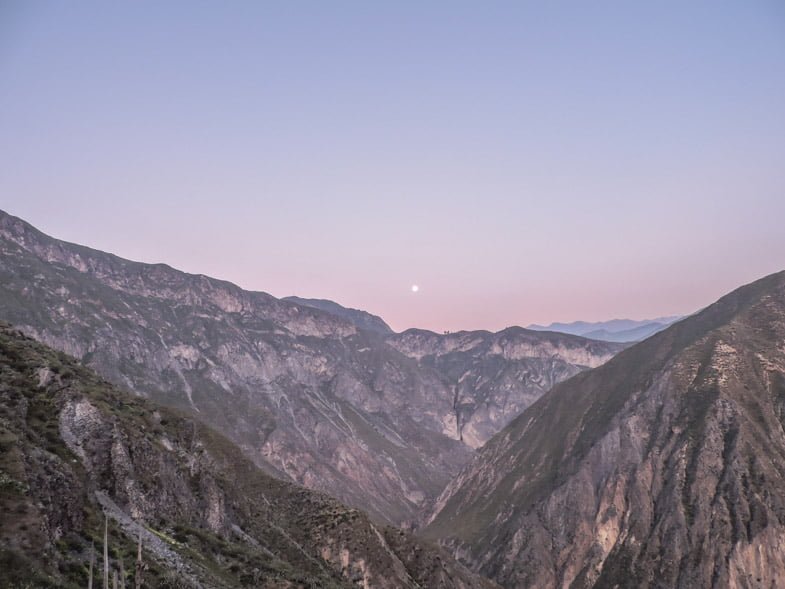 Trekking Out of the Colca Canyon
Day three is quite tough. It's pretty much all up hill (you are climbing out of the Canyon) and I think Craig unofficially made this a competition as we completed it in 2 hours and 15 minutes, the second/third (debatable) couple to reach the summit. The last leg of the trek was pleasurable; food and hot baths! You've never seen a group of people so happy to see eggs for breakfast.
Colca Canyon Tours
You 100% can trek in/down/out/up of the Colca Canyon without a tour, however, I was thankful of joining one as our group (on the whole) was made up of funny, intelligent and inspiring travellers. 3 day/2 night hiking tours start at around £170 for 3 days hiking. This includes experienced bilingual guide, accommodation, meals and accommodation collection/drop off.
You can mostly rely on treks to meet like-minded 'chévere' (cool) people. We stole lots of ideas for Bolivia (next!) from Stefan, Sandy, Rose and Julien. We were also ashamed of how terrible our Spanish was so promised to sign up for Spanish school in Cusco. But what really makes a tour is (the weather) and your guide. Juanito – I've honestly never met anyone like him. Craig still wakes up with 'vámonos chicos' (let's go boys!) ringing in his ears. He is an asset to the company and Peru's tourism.
Colca Canyon 2 Day Trek
We opted for the 3-day tour as we were a tad concerned about the state of our fitness after quite a heavy party session which kicked off our trip! However, there is a 2 day Colca Canyon trek which follows the same route, at a faster pace. We met lots of able backpackers who completed this with no stress, and one who was pretty sick after it!
Colca Canyon Altitude
This trek around the Colca Canyon is highly recommended for those on their way to trek to Machu Picchu. Colca Canyon elevation can reach 4800 meters (15,800 ft) so it is excellent training to help avoid altitude sickness during your next trek to the seventh modern wonder of the world as the Lares Trek reaches highs of 4650m /15,255.
The Colca Canyon trek has taught me not to create preconceptions about trips. It is up there (literally) with the Lares Trek to Machu Picchu!
Colca Canyon Weather
Visitors have more chance of sun from May-August but average temperatures stay around 15 degrees for most of the year. There is more chance of rainfall at the start from January to April. We visited in April and experienced one downfall which was during our relaxing afternoon by the swimming pool at the Colca Canyon Oasis annoyingly.
Have you been to Peru?

Would you like to go?