The festive market phenomena has taken Europe by (snow) storm! Every November to January, stalls, huts, rides and smells blend together to create markets which take over popular cities. Some of these European Xmas markets are older than the USA as we know it! This guide details the best cities for Christmas markets from the traditional twenty in Vienna to Edinburgh's cosy bothie bars.
---
» You may also like: The top Christmas destinations in Europe
---
Note: A decision about Europe's Christmas markets and events will be made by each country individually. Please keep us updated if you hear of any decisions. Thank you.
---
Best Christmas Markets in Europe By City
Austria
Vienna Christmas Markets
Plural! There are twenty Christmas markets in Vienna, Austria's capital.
The biggest, and most touristy, is Vienna Christmas World on Rathausplatz which is usually the first stop for tourists.
Under the curved sign which exclaims 'Frohe Weihnachten,' you'll find hundreds of huts decorated in lights. These stalls sell typical Christmas gifts, some made by locals, others mass-produced. After Christmas, this market becomes a New Year one so you can visit after the 25th.
For more authentic gifts, check out the market at Karlsplatz which has a strict application process so it is guaranteed that all sellers are producing and selling local and genuine products.
Each of the Austrian markets in Vienna sells Glühwein and Punsch. You'll be familiar with glühwein (mulled wine) as it is is sold at all of the Christmas markets in Europe but punsch is different as it is made with rum!
The markets operate a Christmas mug exchange process where you pay a deposit for a jazzy Christmas cup, drink until feeling warm and fuzzy then return the mug for your deposit back. Alternatively, keep the mug as a Xmas souvenir.
If you are feeling very indulgent you should try the Bailey's with cream punsch at Schönbrunn Palace. You can also enjoy live music and eat Maroni (roasted chestnuts) or thinly sliced potatoes on a stick here.
Dates: Varies by market. Around about the middle of November until Christmas or New Year's Day
Read about the markets and other things to do in winter in Vienna.
---
Salzburg Christmas Market
Just before you turn the corner to Salzburg's Old Town into Residenzplatz, the smell of candied apples, hot Glühwein, and sizzling sausages will fill the air.
Add that to the explosion of color and beauty in the form of Christmas market stalls selling everything from advent wreaths to tree ornaments, it's obvious that visiting the Salzburg Christmas market is bound to be a festive time.
At nearly 500 years old, Salzburg hosts one of the oldest European Christmas markets, and it has definitely learned something in all that time!
The market is cheerful and stunning, and near-nightly carolers and events make the market a unique and fun place.
While tourists do love the market, locals do as well, and you'll almost always find a great mix out and about as the sun sets in Salzburg during winter.
The market is the best mix of food and shopping you could ask for, with plenty of food, drink, craft, and decor stalls to keep you busy regardless of what kind of Christmas market you're looking for.
While it does get busy, you won't end up in line for hours here as there are enough stalls that there's room for everyone to explore.
Insider tip: Hoping to stay on a budget in pricey Salzburg?
Consider eating dinner at the Christmas market. A kasekrainer (cheese-stuffed sausage) and a pretzel chased down with gluhwein is a tasty yet affordable dinner.
Once you finish up stuffing your face and shopping your heart out at the market, be sure to leave time for more of Salzburg's Christmas festivities such as the birthplace of Mozart, concerts of his music are always popular, for example.
The famous Christmas Carol "Silent Night" was also invented nearby. Consider taking a tour to learn more about the history of the carol when visiting Salzburg!
Salzburg's Christmas market runs from 22nd November to 26th December, and lodging does tend to get booked up during this time of year, so if you're planning an epic European Christmas market getaway and want to include Salzburg, be sure to plan ahead!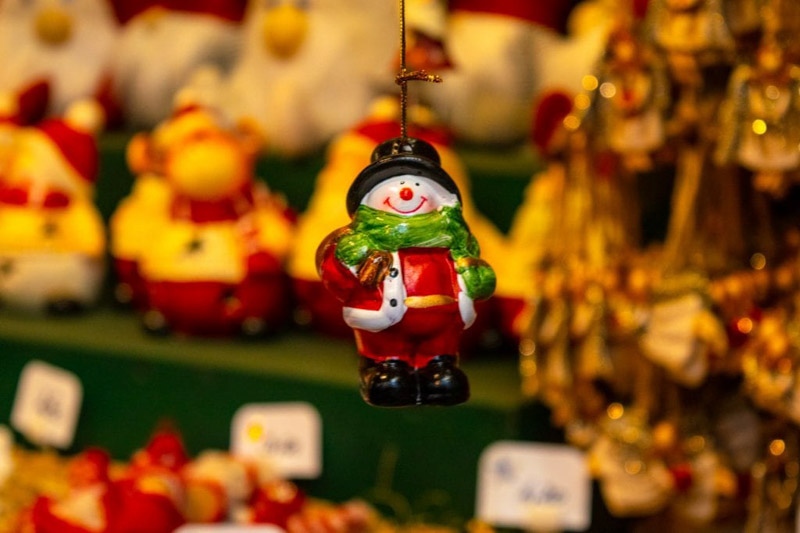 ---
Rattenberg Christmas Market, Tyrol
The Christmas market of Rattenberg is one of a kind in Europe and a local insider tip.
The medieval city of Rattenberg is known as the smallest city in Austria with its 400 inhabitants situated by the river Inn in the breathtakingly beautiful Alpbachtal in the alps.
The city hosts a medieval-themed Christmas market without the conventional stalls and settings as we are used to in Christmas markets across Europe.
This year, the market will be held again in the fortress city center on all four advent weekends (Fridays included), from the 29th November onward up to the 22nd December.
No Christmas lights are used in Rattenberg but instead, candles, torches and open fires will light up the setting and get you into a more quiet and relaxed Christmas mood.
Fire has traditional importance in the region of Tyrol, which makes its appearance in various ways during the Christmas celebrations. Rattenberg is known for its glass art and for hand worked items from the region such as wood items and gourmet delicacies.
You will be able to watch glassblowers create delicate and unique glass pieces in the hot fires at the Christmas market. Chorals, Christmas story reenactments will enthral you while enjoying a hot Glühwein (mulled wine) or a Punch and you won't be able to resist local food delicacies such as cured meats.
The Rattenberg Christkindlmarkt is your choice if you want a more romantic and authentic Christmas market setting.
Dates: 23rd November to 22nd December
By Helene, Masala Herb
---
Belgium
Antwerp's Kerstmarkt, Flanders, Belgium
Antwerp's Kerstmarkt covering the area between Groenplaats to Handschoenmarkt and Grote Markt to Steenplein) has a feel-good vibe unlike any other I've experienced, and it has to be said I've done my fair share of research.
Whether it's the beautiful setting on the Scheldt river or the vast range of live music and funfairs, you'd struggle not to have a good time.
I love the castle Het Steen lit up as though Disney took inspiration from its perfection.
There's plenty of opportunities to grab a feast of bitterballen, hot chocolate and some of the local Antwerp hands which is the city's symbol based on a legendary giant encounter, available in biscuit or chocolate.
Wander around this stunning city among the happy crowd.
Don't forget that this is a city of diamonds, fashion, chocolate and Belgian beer when it comes to your gift shopping.
There are two best times to visit; during the day for epic river and skyline views from the top of the Ferris wheel, and then in the evening, when the spectacular lights will induce a warm fuzziness and a feeling of goodwill.
As the Kerstmarkt covers most of central Antwerp it manages to retain a buzz without ever seeming uncomfortably busy.
Don't forget to make like a local and wish while kissing under the mistletoe sculpture.
A whirl around the ice rink afterwards will put even more pink into your cheeks.
→ Top tip: If you're someone who feels a bit let down when the Christmas and New Year festivities are done, Antwerp is your city.
There's a traditional burning of the Christmas tree at the end of the Kerstmarkt, making a celebration all of its own.
Dates: Saturday 5 December 2019 – Sunday 5 January 2020.
By Bernadette Jackson, A Packed Life
---
Bruges Christmas Market
Against a stunning medieval backdrop, visitors are treated to two separate Christmas markets in Bruges. The first one can be found at the Markt, Bruges' main square.
A collection of chalet-style stalls with mouth-watering treats and Christmas gifts attract visitors from all over the world. Climb the steps to the top of the Belfry of Bruges for a mesmerizing view over the Christmas village.
The second Christmas market takes place at the Simon Stevinplein and consists of two rows of Christmas stalls back to back in a more intimate and very inviting setting.
The strings of Christmas lights in the trees create a fairytale-like vibe and light up the surrounding historic buildings.
The Christmas markets in Bruges are collectively referred to as Wintermarket (Wintermarkt in Flemish).
The city's medieval architecture creates a wonderful setting for the Christmas festivities with the twinkling lights adding even more charm to the gorgeous gingerbread houses.
Waffles covered in Belgian chocolate sauce, bûche de Noël, Belgian fries with mayonnaise and bratwurst are the most popular treats.
Wash that down with hot chocolate, glühwein (mulled wine), jenever and Christmas beers such as Bush De Noël and Glühkriek.
The best time to visit is during the week before Christmas, you can watch a folkloric re-enactment of the Christmas story, called the "Christmas Star procession".
The Bruges Christmas markets are usually pleasantly busy but it never gets too packed.
→ Top tip: Should you be there on Christmas day, then make sure to attend the Christmas singing event at the Basilica of the Holy Blood, one of Bruges' most renowned monuments.
Or, head to one of the many chocolate shops and admire the sparkling Christmas packaging. Can you resist buying one of these beautifully designed boxes for your friends and family?
Minnewater is the new location for the artificial ice-skating rink this year. It's one of the most picturesque and romantic places in Bruges and I'm very excited that it'll be included in this year's festivities.
Belgium is a tiny country so why not visit another Christmas market while you're there, such as the one in Brussels?
---
Brussels Christmas Market
If you're wondering what to do in Brussels, you're in luck, because Belgium's capital boasts a number of quirky attractions and a Christmas market that gives centuries-old German Christmas markets a run for their money.
In the 17th century Grand Place, locals and visitors surround the Winter Wanders event where you can see huge Christmas tree on display.
You'll find hundreds of stalls selling anything from Christmas ornaments, jewelry, accessories and warm clothes to toys, crafts, and scrumptious food.
But perhaps the most unique feature is the incredibly cool steampunk themed carousel.
Unfortunately, the carousel is only for the little ones, though I can't say I didn't see an adult or two (including myself) looking at it with envy.
While most Christmas markets are organized around the main town square, the one in Brussels is 2km long, going all the way from the Grand Place to Marché aux Poissons.
You'll find an amazing variety of local products, from cheese, waffles, and chocolate to fries, mulled wine, and fondue. Arrive on an empty stomach because there's a lot of delicious food to try.
→ Top tip: Make sure you don't miss the amazing light show organized in the Grand Place every night, the 3D video mapping on the facade of Sainte Catherine Church and the Christmas carol concerts organized inside churches around the city.
---
Czech Republic/Czechia
Prague Christmas Market
Prague Christmas Markets have some of the most enchanted settings in Europe.
There are six different markets held across the city between November and January.
The most popular of these is in the magical Old Town Square. The Christmas tree and stalls are surrounded by the fairytale Gothic spires of Our Lady before Tyn Church, medieval houses and the Old Town Hall.
The other main Christmas market in the centre of Prague is a five-minute walk away, in the less inspiring, modern setting of Wenceslas Square.
The most attractive of the other Prague Christmas markets are in St George's Square on Castle Hill (Hradcany).
The Old Town Square and Wenceslas Square markets run from 30th November 2019 to 6th January 2020. The St George's Square market runs from 23rd November to 6th January.
What's different about them? The Prague Christmas Markets bear some similarities with others around Europe but come with a Czech twist.
The biggest difference you see is in the food and drink at the stalls, which include popular Czech food, snacks and, of course, beer.
Food and drink? The most common food stalls are the trdelnik ones, selling fresh spit-roast cake common in the Czech Republic and throughout Central Europe.
Best time to visit? The markets get busiest in the evenings, but this is the most atmospheric time when the stalls and surrounding buildings are lit up. It's quieter earlier in the day, or towards the end of the evening.
→ Local tip: The busiest spot is the belfry of the Old Townhall, where crowds come for the bird's eye view of the Market and Square. It's not somewhere to venture if you struggle with claustrophobia, vertigo or a combination of both.
Wait for the crowds to thin out before venturing up.
---
Brno Christmas Market
There is little doubt that one of the best things to do in the Czech Republic in the winter is visiting Christmas markets.
While most people just visit the many markets of Prague, Brno, the second-largest city in the country, is a great destination that is significantly less touristy and where the Christmas markets will give you much more of a local feel.
The markets in Brno officially start on 29th November until 1st January. They are a fantastic place to look for souvenirs, buy Christmas presents and to enjoy Christmas decorations.
It's the best way to get an idea of what Christmas culture is all about in the Czech Republic.
The atmosphere at Brno Christmas markets is very festive: there are Christmas carols, street performances, musicians, nativity scenes and beautifully decorated trees.
The nicest market is the one close to the City Council, that's where you are bound to find the biggest selection of food stalls to try all the local Christmas specialities and drinks.
For drinks, make sure to try mulled wine, which in fact will be a great way to keep warm in the cold winter weather, mead, a drink made of honey and water.
For food, enjoy trdelnik which is a sweet pastry topped with sugar, cinnamon and almonds. It is occasionally filled with cream and other sweet goodness. This is a popular Czech snack found throughout the year but tourists love it at Xmas.*
→ Insider tip: For a fantastic view of the market, make sure to walk up the tower of the City Hall.
---
Denmark
Copenhagen Christmas Market
Copenhagen's Tivoli Christmas market has to be one of the most Christmassy places on earth. Thousands of fairy lights twinkle around the theme park, which inspired Walt Disney to create Disneyland.
Pick up a gift at one of the high-quality stalls and pop-up shops, sip on some Gløgg, enjoy the traditional funfair games and ride the rollercoasters.
There's no other Christmas market like Tivoli. Set in the Tivoli theme park in the centre of Copenhagen, the Tivoli Christmas market lets you eat, drink and shop – and then scream your head off on one of the many rides.
The theme park restaurants are all open for the Christmas period, so there are plenty of options, from fast food to a sit-down meal. Traditional Danish gløgg (mulled wine) is sold at stands around the park.
Visit after dark to make the most of the thousands of fairy lights and beautiful illuminated displays. If you can, try to catch one of the parades.
The Christmas market lasts into early January and is even open on New Year's Eve, for a particularly magical experience.
I went on a weeknight and didn't find it to be too busy, I can imagine that weekends close to Christmas do get busy though.
→ Top tip: Tivoli is Copenhagen's main Christmas market but there are smaller ones held across the city centre. You can even get a taste of a Swedish Christmas on your trip to Copenhagen by crossing the Øresund Bridge to Malmö
---
England
York Christmas Market
Away from the cute cobbled streets and Gothic architecture, York, a city with vast Viking history and Roman roots sure knows how to compete in the competition for Europe's best Christmas market!
Home to Kathe Wohlfahrt, the UK's only year-round Christmas shop, York's Christmas Market is a festive highlight and a firm favourite with tourists in the UK and beyond.
The award-winning St Nicholas Fair boasts over 100 alpine chalets, which is the place to head to purchase a unique range of Christmas gifts and if you're feeling adventurous, brave the funfair rides.
Celebrating the best of local retailers and independents, The Made in Yorkshire Food Market is a festive foodie phenomenon with an array of Christmas favourites such as cheese, spiced mulled wine and roasted chestnuts.
Not to mention, locally made arts and crafts showcasing and supporting York's local businesses.
The York Christmas Market not only includes a visit from Father Christmas, festive attractions such as an ice skating rink, carol singers and a pantomime; it also enables visitors to appreciate this medieval city under the glow of the twinkling Christmas fairy lights.
A must visit, The York Christmas Market will be held between the 14th November – 22nd December 2019 and is within walking distance of York Train Station.
---
Birmingham Christmas German Market
The Birmingham Christmas German Market is one of the main highlights of the city during the festive season.
Hailed as the biggest German Christmas Market outside Germany! People from around the world enjoy the festive cheer in town.
The market is filled with the festive log cabins shops that serve German beer, Bratwurst, German Gingerbread cookies, crepe (with fruits and Nutella), Mulled wine, hot chocolate, Nutcracker, sweets and up to various bric-a-brac. They also have some festive fairground rides for the kids.
The Birmingham Christmas German Market will be open from 7th November to 23rd December 2019. The market is open from 10 am until 9 pm every day.
Guaranteed to have plenty of time to have fun and be merry with friends and family. The Christmas market is typically busy on the weekends and every happy hour around 5 pm onwards.
You can enjoy your visit to the Birmingham Christmas market by starting your stroll from the Bullring shopping centre and make your way down to the Birmingham City Hall.
→ Top tip: During this festive season, Birmingham also arranges various lantern display in front of the Birmingham Library!
The German Market is one of the great things to do in Birmingham during the Christmas season.
---
Lincoln Christmas Market
Set against the stunning backdrop of the city's Gothic cathedral and Norman castle, the Christmas market in Lincoln is one of the oldest and most popular in the UK.
It first took place in 1982 and now attracts around 250,000 visitors a year.
There are over 250 outside stalls selling everything Christmassy, from traditional snow globes to personalised Santa sacks.
A German food market dominates Castle Square, whilst the castle grounds are filled with prettily-lit wooden huts offering endless gift ideas.
More than fifty local artisans also sell their handmade creations inside the hall of the Westgate Academy behind the castle.
Due to the size of the market, a pedestrianised circular route has been put in place which funnels visitors from the cathedral, across the square, through the castle to the funfair behind and back again.
Families drink steaming cups of spicy mulled wine and eat hotdogs and toffee apples as they meander through the stalls.
Aromas of roasting chestnuts and candy floss fill the air. Oompah bands, carol-singing choirs, rock groups and folk singers entertain the crowds.
The festive atmosphere is all-embracing; I defy anyone not to be infected with the Christmas spirit by a visit to the market!
In recent years, Lincoln Christmas market has spread from the cathedral quarter at the top of the city, down Steep Hill, to the High Street at the bottom.
Every business in the town gets involved and mini street markets have popped up all over the place.
For fewest crowds, the best day to visit is Thursday when the market is open from 12 noon to 9.30 pm. Friday (open 10 am to 9.30 pm) is 'coach day' when busloads of visitors arrive from all over the country! The busiest days are Saturday (open 10 am to 9.30 pm) and Sunday (open 10 am to 7 pm) when you'll experience the longest queues for the food stalls and fairground rides.
If you're after a bargain, you should go on Sunday, though – stallholders tend to reduce their prices a couple of hours before the market closes!
Whenever you visit Lincoln Christmas market (and I hope you will!), don't attempt to drive into the city. Police close the roads all around the centre and make all of the residential streets no parking for anyone except those with a resident's permit.
→ Top tip: Lincoln City Council runs a very well-organised 'park and ride' scheme for visitors.
You park on the Lincolnshire Showground (well signposted from all routes into Lincoln) and then transfer to the market by bus.
Whilst you are in the city, don't miss the opportunity to visit Lincoln Cathedral.
It is always beautifully decorated and illuminated for Christmas and carol concerts take place every day.
---
Bury St Edmunds, Suffolk Christmas Market
For three and a half days at the end of November, the small town of Bury St Edmunds in Suffolk is overtaken by one of the biggest Christmas markets in the UK.
The Bury St Edmunds Christmas Fayre attracts vendors from far and wide.
Two indoor venues, The Apex and The Atheneum, house small craft stalls. Here you can buy beautiful handcrafted pottery, textiles, works of art, jewellery and so much more.
The town centre is pedestrianised for the weekend to fit more stalls in the market place down some smaller streets.
The main event takes place in the historical centre of the town. Angel Hill and the Abbey Gardens are transformed into a World Market with crafts and food from around the globe. Meanwhile, the Cathedral gardens host a food market with plenty of free samples to keep you going.
Food is central to all the best markets, and this one is no different.
I always make sure to carefully choose the Christmas cheese from the locally produced selection on offer. Many of the local cafes set up tables outside to take advantage of the passing trade. This makes it easy to pick up mince pies and hot chocolate.
However, I prefer to head for the stall that specialises in mulled cider, selling it by the bottle as gifts or by the cup to help warm your fingers.
For children, there is a whole host of entertainment including a funfair, Santa's Grotto, reindeer and more.
There's even a nativity scene with real farm animals and alpacas dressed up as the three wise men. The charity stalls are also keen to put on a show, especially the ever-popular Doctor Who themed tent.
The Christmas Fayre does get busy, and because it's only for a limited time, it pays to plan your visit.
The Fayre opens Thursday afternoon, and this is the best time to go as the crowds have not built up. If you can only go on Saturday then be prepared to get your elbows out.
The indoor venues, in particular, become so busy that it can be challenging to browse.
It is almost impossible to park in the town during this weekend unless you know a local willing to lend you their driveway then head to the park and ride.
---
Estonia
Tallinn Christmas Market
By far the cosiest Christmas market we have ever visited was the one in the Old Town Square in Tallinn, Estonia.
It was the highlight of our winter trip to Tallinn. We visited the market every night throughout our stay because the ambience was so welcoming and relaxed.
It is a small Christmas market which makes it super cosy but not over-crowded, perfect for families, couples or anyone wanting to enjoy the Christmas spirit.
The location of the market is just amazing.
Not only it is central but the charming Town Hall Square, surrounded by century-old buildings, makes you feel like you are in a fairy tale story.
You can enjoy the market for several weeks, even after the Christmas season has passed. This year the market will be opened from 17th November 2019 to 6th January 2020.
In the market, you will see many local artists displaying their beautifully handcrafted products and there is a variety of food and drink stalls offering local Christmas delicacies and the local Glogg (or Glühwein), with a variable amount of alcohol, from zero to 21%.
There is also entertainment for the little ones with a few fair stalls with games, a small carrousel and the Christmas road train which will take you around the town.
Tallinn is a lovely place to visit around the holidays.
---
Finland
Helsinki Christmas Markets
Helsinki, Senate Square
Tuomaan Markkinat, in English known simply as Helsinki Christmas Market, is the largest and oldest holiday market in the Finnish capital.
In 2018, Tuomaan Markkinat was listed among the best Christmas markets in Europe by Condé Nast Traveller and The Guardian.
With Scandinavian design items, traditional crafts, regional Christmas delicacies, glögi (Finnish version of mulled wine), and its own pop-in sauna, Tuomaan Markkinat is a distinctively Finnish holiday market.
Grab a seat in the heated café and taste Finnish Christmas brews while gazing at the cheerfully lit, old-fashioned carousel and the white cathedral overlooking the market. There are more than 100 booths selling food, gifts, and crafts.
Helsinki Christmas Market is open from the 6th December until the 22nd and although open from Tuesday to Sunday 11am until 8pm, the magical setting is best enjoyed after dark.
The market rarely feels too busy, except during special events, such as Finnish Independence Day on the 6th of December, and the last weekend before Christmas.
If you come with kids, make sure to arrive during the daily visits of Santa Claus. Did you know that Santa is originally from Finnish Lapland?
Helsinki Christmas Market is located in Senate Square, in the middle of the historic area of Helsinki. Be sure to stroll there through Aleksanterinkatu, the official Christmas Street of Helsinki, to admire the festive lights. Get to know all Christmas markets in Helsinki.
Dates: 6th December to 22nd December
By Niina Lehikoinen, Bizarre Globe Hopper
Photographer: Jussi Hellsten/Helsinki Christmas Market (Lehikoinen's credit)
---
France
Paris Christmas Market
If the smell of French cheese or hot roasted chestnuts doesn't get you in the Christmas mood, not much else will.
Christmas is a real festive time in Paris with the city's squares and streets all lit up and adorned with Christmas trees, lights, and garlands.
There's no better way to join in the festivities than a visit to one of the Christmas markets scattered across the city.
The biggest, Jardin Des Tuileries Christmas Market, can be found at The Tuileries Garden.
Here you will find festive gifts, souvenirs, and decorations by artisans from across France. There's an ice rink for kids too.
In addition to the French cheese and roasted chestnuts, keep an eye out for other delicious treats the likes of Nutella-filled crepes, macarons, and spice bread. Find out more at Two Scots Abroad's guide to Paris in December.
→ Top tip: The market does tend to get busy immediately after dinner, so it's best to visit during the day or early evening by taking the Metro to Trocadero to avoid the crowds.
Rai Suliman blogs at A Rai of Light Travels
---
Colmar
The historic town of Colmar in France becomes a total winter wonderland each November, with six Christmas markets popping up around the city squares.
Names of Markets
Place de la Cathédrale – Gourmet Market
Place des Dominicains
Place de l'Ancienne Douane
Place Jeanne d'Arc
The Petite Venise – Children's Christmas Market
The Koïfhus – Indoor Craft Market
Each of the festive mini-villages has its architectural style, magical winter charm and a range of individual vendors selling their unique Christmas wares.
This sprawling market complex makes Colmar one of the best European destinations for a winter city break, allowing you to enjoy the colours, lights, cuisine and crafts on sale throughout the Christmas market.
The Christmas markets are even open on Christmas Day (2pm-7pm) allowing you to enjoy some festival family cheer after you've eaten your delicious Christmas Day lunch!
They differ to other European Christmas markets in that there are six different sections each offering their unique charm and creativity.
Rather than one line of market stalls, Colmar Christmas Market is split into six sections allowing you to roam for hours on end. The picture-perfect buildings in between the market stalls are also part of the attraction with advent images and lights creating an all-encompassing Christmas atmosphere.
Place de la Cathédrale is the place to go to try some local Christmas food and drink specialities.
This gourmet section of the market is bursting with festive food, divine drinks and some traditional Alsatian treats that will make you glad you came!
This foodie haven serves up starters, mains, desserts, drinks and snacks so there is always something to tickle your tastebuds.
Crepes, oysters, foie gras and cheese are, of course, French favourites, and local Christmas classics here include mannele (man-shaped brioche), vin chaud, pain d'epices (spiced bread) and bredele cookies.
As part of the winter festivities, the town also runs Christmas Cellar events which allow you to try the local wine, join in workshops and enjoy gastronomic food and wine pairings by local connoisseurs.
It's a good idea to try and see the market both during the day and at night so you can get a glimpse of the different lights and events on offer. The first week of the event is probably the quietest, with more and more people visiting the market in the lead up to Christmas Day. The week before Christmas is likely to be the most popular.
Even though the Colmar Christmas market is consistently voted one of the best Christmas markets in Europe is it not as busy as the nearby Strasbourg Christmas Market, probably due to the six different
→ Top tip: Unless you want to stay in the hustle and bustle of Colmar during the Christmas markets, it might be a good idea to base yourself in the nearby town of Obernai.
This allows you to enjoy a quieter stay while being within reaching distance. Obernai also has a festive market throughout late November and December.
Visitors to Colmar may also want to explore the Unterlinden Museum, see a Christmas concert at Saint Matthieu's Church or go wine tasting in the Alsatian vineyards surrounding Colmar.
Nearby Kaysersberg, Riquewihr and Turckheim are all picturesque towns that look like they've jumped out of Beauty and the Beast and each offers Christmas charm during the festive season.
---
Germany
Cologne Christmas Market
For more than a decade, we've traveled extensively in Europe in winter. One of the reasons we love traveling during the colder season is Christmas Markets.
We love everything about them; the hot Glühwein, the spectacular displays, and mostly the overall feeling of joy and merriment that abound. Over the years, we've tried valiantly to become Christmas Market experts.
And after visiting many markets in different cities and countries, we can confidently say that the best city to visit for Christmas Markets in Europe is Cologne, Germany.
There are not one or two but seven major Christmas Markets in Cologne.
They each have a different theme so they look and feel very distinctive. The most eye-catching market is the one directly under the Cologne Dom, one of the tallest cathedrals in the world.
The cathedral makes for a most majestic backdrop. It's worth going inside to see the beautiful vaulted ceilings and stained glass, and if you're fit enough, climbing up to the top of the tower to see the gorgeous views of the city.
Our favorite is the Christmas Market at Alter Markt. It's the largest in the city, and is nestled among the atmospheric Old Town buildings.
It has a super fun ice skating rink and alpine huts where you can sip your Glühwein if it gets too cold outside. We found one of our favorite treats at this particular market.
At most Christmas Markets you can get Schupfnudeln (flour or potato dumplings) with sauerkraut and speck.
But here, they serve some more gourmet options, including a truly delicious and decadent version with spinach, sun-dried tomatoes and crème fraîche.
Another fun and unique market is the one at the harbor. It's appropriately nautical-themed, with huts shaped like ships and a good deal of seafood on offer.
It's also near the Chocolate Museum, which is great fun for pretty much everyone. You can also see some nice views of the city and the Rhine River from its roof (which is free). Read more about the seven Cologne Christmas Markets.
With so many markets in one city, you don't have to worry about one particular market getting too busy or waiting in lines. If there are too many people, you can just move onto the next one.
Cologne's center is relatively compact and easy to get around on foot or by public transport. You can definitely hit all the markets during one visit.
There's also a special trolley bus called the Christmas Market Express that takes visitors to see the four biggest markets (the above three plus the Angel's Market).
This is especially great for people with mobility issues and kids.
Top tip: a can't-miss thing to do in Cologne is walking across the Hohenzollern Bridge. It's great any time of year but is especially scenic during Christmas Market season with all the lights.
The view of the Dom and the Old Town from the other side of the Rhine River can't be beaten.
---
Weihnachtsmarkt Karlsruhe
In the city of Karlsruhe, you will find three Christmas markets with different options.
The market at Friedrichsplatz is the best for all the family as it puts on a daily show with a flying Santa Claus!
Karlsruhe Schloss Market is popular because it has one of the biggest ice-skating rinks in southern Germany at 1200 m².
There are two areas, one for beginners and one for more experienced skaters.
Durlach Market is my favorite as it is a Middle Age Christmas market featuring campfires, candlelight, jugglers, traditional games, sword fighting, handcrafts and musicians.
As in most of the Christmas markets in Germany, you can find a wide variety of drinks and food.
From sausages, barbequed meat and the much loved Langos; deep-fried dough with sour cream.
You can also get Flammkuchen, a thin-crusted style of pizza, lots of candies and chocolates and roasted nuts and almonds.
For drinks, the star is the Glühwein or mulled wine in English, which you'll find in every restaurant during the festive season and, of course in the Christmas markets.
Trust me, you will need it to survive the cold temperatures out there.
You can also buy sparkling wines and non-alcoholic beverages at the markets.
The beautiful pottery mugs will have a deposit, usually of 2€, so remember to keep the chip or think about them as a very special souvenir.
The Christmas markets in Karlsruhe are usually quiet until people finish work, then everyone goes to meet up with family and friends.
After 6pm, you can expect to find crowded areas and lines making you wait around 5 to 10 minutes to get drinks or food.
→ Insider tip: If you want to take pictures with light, consider the winter days are short and sunset is around 5pm during December.
If you go during the day, the markets will be almost empty them but they will have less charm as the lights are an important part of the decoration.
---
Nuremberg Christmas Market
With records dating back to 1530, Nuremberg's Christkindlesmarkt is one of Germany's oldest holiday festivals.
The 2019 Nuremberg Christmas Market opens on 29th November and runs continuously until 24 December, featuring more than 150 vendors offering gifts, souvenirs and local food specialities.
Must-tries include the famous Nuremberg sausages (served as a set of three in a bun, Drei im Weggla, best topped with plenty of mustard!), and Lebkuchen, Nuremberg's traditional gingerbread.
Be sure to try Elisenlebkuchen, which is made with almonds and spices for a flourless version of the baked treat and is considered the most premium of gingerbread.
And, of course, don't miss the Glühwein, or hot mulled wine, perfect for warming up on a chilly winter evening.
A highlight of the Nuremberg Christmas Market is a special area for Sister Cities.
After World War II, Nuremberg wanted to boost international relations and help drive human rights activities, and the Markt der Partnerstädtequickly became a beloved element of the season's festivities.
Enjoy browsing the booths from cities like Atlanta (USA), Nice (France), San Carlos (Nicaragua), and Shenzhen (China), among many more.
Given its long history, the Nuremberg Christmas Market draws visitors from all around the world and can be quite crowded. Saturdays tend to be especially packed with tourists and locals alike, sipping Glühwein and wandering among the many vendors.
Weekday afternoons are often much quieter and still very cozy. Do be sure to have cash on hand as very few booths will accept credit cards, though prices for food and drink are quite reasonable.
Expect to pay 3-4€ for mulled wine, with an additional 3€ deposit (Pfand) on the mug itself, and about the same cost for sausages and other snacks. As the wares on offer around the market are usually handmade or specially sourced for the event, prices will, of course, vary.
→ Top tip: Local oddities like Zwetschgenmännle, or Prune Men, small figurines made of dried prunes and walnuts, can be had for just a few euros and make excellent souvenirs or fun gifts.
While in town for Christmas festivities, do make the trek uphill to visit Nuremberg's imperial castle, where you can overlook the city from its historic heart.
---
Celle Christmas Market
If you're looking for a low-key Christmas Market with traditional charm, the display in the small town of Celle in northern Germany will check all your boxes.
Celle's historic town square is known for its iconic half-timber houses, and paired with twinkling lights and smells of gingerbread and glühwein, this is a fairytale setting for a Christmas Market.
Each of the 80 huts clustered in the center must be of the traditional wooden design, making market-goers feel as if they've stepped back in time.
This Christmas market is intimate and charming, especially if you're lucky enough to visit after a fresh dusting of snow.
Unlike the more commercialized Christmas Markets in Germany's big cities like Berlin and Munich, the small town of Celle puts together a market that retains a traditional atmosphere.
There are a variety of traditional foods for sale like sausages and kraut, creamy mushrooms, and pretzels.
Try sweets like glazed almonds or the traditional treat schmalzgeback, which are fried pastry puffs served in a cone and topped with powdered sugar. Oh, and don't forget to get a hot mug (or two!) of glühwein!
Weekday evenings will be the least crowded, but if you want a truly festive feel, the weekends can be quite fun as well.
Since Celle is a small town, you'll find this Christmas lacks the crowds of the big cities. Weekends tend to be busier, as with all Christmas Markets, but it is still quite manageable.
→ Top tip: Don't miss the traditional crafts section of the market. Located near the Stadtkirche church, this area has a makeshift forest of thoughtfully-arranged Christmas trees, between which wooden booths house artists making items like blown glass, candles, and silver. Some of the artisans even allow visitors to join in.
Pop into cute boutiques for some Christmas shopping and to view the living Advent Calendar inside some of the town's shops. During the holiday season, you can attend Christmas concerts and tour the Baroque-style Celle Castle, which is decked out in holiday spirit.
---
Konstanz Christmas Market
The market's official name, Weihnachsmarkt am See, translates to "Christmas market on the lake".
As the name suggests, the unique feature of this market is that it takes place right on Lake Constance. In addition to the 170 stalls that line the streets of the city center all the way down to the shore, the festivities continue onboard the "Christmas Ship" that are moored in the harbor.
On the ship, you'll find even more craft and food stalls, along with a 360° panoramic ice bar.
One of the most common dishes served at the market is Käsespätzle, a southern German dish made with a special type of fresh pasta mixed with cheese.
Vegans should also be able to find plant-based options at some of the stalls, particularly the ones serving international cuisines like Moroccan or Indian.
The market is open every day of the week, but it's best to go on a weekday if possible to avoid the crowds. People do come from neighboring countries Switzerland and Austria as well as from other parts of Germany to visit the Konstanz market.
That being said, I visited on a weekend, and the lines weren't overly long.
→ Local tip: If you happen to be coming from Switzerland, keep an eye out for special deals from SBB, the Swiss railway company. Every year, they offer discounted train tickets to cities in and around Switzerland with great Christmas markets. I managed to score a half-price ticket to Konstanz from Geneva and a free bottle of gluhwein!
Lake Constance is primarily thought of as a summer destination, but nearby villages like Arbon and Stein am Rhein are also beautiful in the winter.
And while you're in Konstanz, be sure to check out the Imperia Statue, a controversial work of art that features a naked Pope Martin V and Emperor Sigismund.
---
Goslar Christmas Market
The South of Germany is famous worldwide for its cute little towns, snowy mountains, and stunning Christmas markets.
Little do many travelers know that the North of Germany is full of gorgeous fairytale-like Christmas markets. The best example might be the Goslar Christmas Market.
Goslar is a little town, near the Harz mountains full of narrow streets and old half-timbered houses.
Its Christmas Market perfectly fits the medieval charm of this little sleepy town. It is located right in the city centre on the market square surrounded by historic and impressive buildings.
In its center, you can find the arguably most popular sight of the city: a beautiful fountain with a golden eagle on top of it.
The Christmas market is full of little stables offering all kinds of food, handicrafts, souvenirs and more. What makes this market so special is not its size (it's much smaller than other popular Christmas markets in the area) but its medieval small-town vibe.
After enjoying some freshly baked hot bread prepared in the small medieval bakery stable, you can sip some mulled-wine in the so-called Goslar Christmas Forest.
This is an artificial forest built out of real pines that you can find every year on the little square right next to the market as an extension to the annual Christmas market.
But my favorite treat on the market is definitely still the boozy hot chocolates.
Since this little Christmas market usually is voted as one of the most beautiful in Germany, it can get pretty crowded on the little market square.
So, you might want to avoid visiting on the weekends if possible. Also, if you come in the morning or early afternoon, you will find much fewer people. On the other hand, the market looks even more beautiful with all of its Christmas lights illuminating the little stables.
Dates: 27th November and 30th December
---
Dresden Striezelmarkt Christmas Market
Dresden's Christmas market is the oldest in Germany, starting in 1434, which means it has been an ongoing tradition for 585
years in 2019.
There are actually several smaller Christmas markets in Dresden, but the main one is known as The Dresden Striezelmarkt.
It's open every year from 27th November to 24th December, from 10am to 9pm.
It's located at the Dresden Altmarkt square (old town center).
At the market you can find all the traditional things in a German christmas market, such as freshly grilled sausages and other types of local food as well as Glühwein, artisan shops and of course an endless amount of Christmas decorations.
The Striezelmarkt is definitely one of the best places to go in Europe if you like Christmas. What's even better is that not only tourists from all over the world come here, but also the locals themselves, which means it still holds that genuine Christmas market feeling.
If you want to avoid the most crowded times I suggest to come on weekdays at the beginning of December. Every shop seller will also be enthusiastic because the market hasn't been open for long.
→ Top tip: Don't forget to get your own Striezelmarkt mug for hot beverages. When you order a hot beverage you will get a ceramic mug and pay a small deposit. If you don't want the mug, you will get the money back when you return it. Otherwise, the mug is yours, which makes a great souvenir, and the Striezelmarkt mugs are quite famous.
The other Christmas markets in Dresden are also nice, but has a more local neighboorhod feeling to them.
---
Stuttgart Christmas Market
The Stuttgart Christmas Market is a renowned and well-known market in Baden-Wurttemberg.
Known as the Stuttgarter Weighnachtsmarkt, it is over 300 years old and is still going strong. Here you can shop at nearly 300 stalls from soap makers, ornament makers, toys, household goods to many food and beverage stalls and a lot more.
As one of the largest Christmas markets in the region, Stuttgarter Weighnachtsmarkt has a lot to offer visitors.
It stretches across several squares in downtown Stuttgart and has an ice rink, a train display, kids rides and a host of decorative stalls.
Many of Germany's typical foods are available at the market, but due to its size, you will also find Italian, Greek and American food within the many food stalls.
The market is very large and attracts many visitors, and it is best to visit the market during the daytime. The market can get very crowded late into the evening and particularly on the weekends. The closer to the holiday, the busier it gets.
→ Local tip: Pop into the City Hall building for a few minutes to warm up on cold days.
If staying in the Stuttgart area, be sure to visit places including Hohenzollern Castle or Ludwigsburg Palace, both great day trips from Stuttgart.
There are also plenty of other Christmas markets nearby to enjoy including the Esslingen Christmas market as well as the Nuremberg Christmas Market.
---
Rothenburg ob der Tauber, Germany
Located at the crossroads of both the Romantic Road and Castle Road, Rothenburg ob der Tauber is one of Germany's prettiest towns and its annual Christmas market attracts visitors from all over the world.
Held around the Old Town's market place, the market, known as the Reiterlesmarkt, has been running since the 15th century.
Wooden chalets are erected in front of the town's fairytale-like Medieval buildings, a giant Christmas tree is installed and with snowflakes dusting the rooftops, it's a real-life Christmas card scene.
Traditional German Christmas specialities like mulled wine, roasted chestnuts, gingerbread, sausages and pastries are just some of the delights to tempt your tastebuds, whilst other stalls sell handcrafts and Christmas decorations which make perfect souvenirs of your visit.
A unique feature of the Reiterlesmarkt is the appearance of the Rothenburger Reiterle (horseman), for whom the market is named.
Legend has it that he was a messenger from another world who carried the souls of the dead across the skies in winter, but these days he's not a feared mythical character but someone whose arrival is eagerly awaited. The Rothenburg Christmas Market is officially opened each year by the Reiterle.
To add to the festive atmosphere, there are daily concerts and Santa Claus makes an appearance each afternoon.
As well as attracting visitors from near and far, the market is also popular with locals who come to shop and catch up with friends after work over a glass of mulled wine.
Whilst you are in Rothenburg, be sure to visit the magical Kathe Wohlfahrt Christmas Village on Herrngasse.
Filled to the brim with Christmas decorations and ornaments, the shop is open year-round but with the festive spirit in the air, there's no better time to visit than in the lead up to Christmas.
Adjoining the Christmas Village is the German Christmas Museum where you can learn about the history of Christmas in Germany across the centuries.
---
Hungary
Budapest Christmas Market
Budapest has two notable markets, Vörösmarty Square Christmas Market and Basilica Christmas Market.
While the oldest and most popular is at Vörösmarty, the biggest sits in front of the famous St. Stephen's Basilica.
Both markets sell typical Christmas gifts and souvenirs which you will be accustomed to elsewhere but what makes these markets stand out is the local food.
Try the Instagram-worthy Chimney cakes or poppy strudel, washed down with Gluhwein or Hungarian palinka, if you are feeling brave.
After hours at the busy markets, what better way to relax than in one of Budapest's baths? Culturally the baths mean a lot to Hungarians as they not only provide medicinal benefits but also play a big part in their social lives.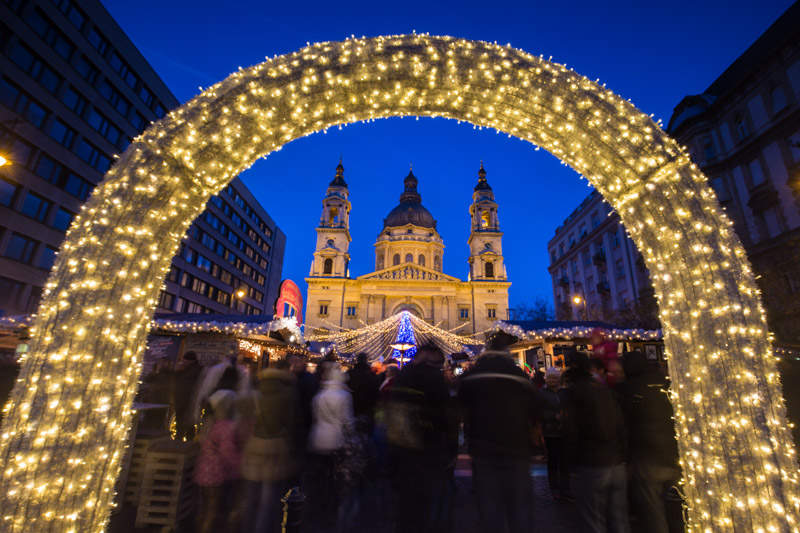 ---
Italy
Christmas Markets in Italy are just as popular with both locals and visitors from around the world.
The markets, known in Italian as Mercatino di Natale, are not as numerous or on the same grand scale as the Christmas markets in Germany but they are quaint and festive nevertheless.
Verona Christmas Market
Verona, which is the backdrop to the story of Romeo and Juliet, will be dressed in lights and colors of Christmas during November and December.
The Christmas Market in Verona is held at Piazza dei Signori, a UNESCO World Heritage Site and has been a meeting point for culture and traditions over centuries.
The entrance to the city is illuminated by hundreds of lights, all over the streets of the historic center and onto beautiful Piazza Bra. They also run along the Roman Arena which is decorated with a huge Christmas tree on the square.
The Italian stallholders at the Christmas Market will have mouth-watering displays of local food and drinks plus the usual array of locally manufactured seasonal gift items including truffles.
Yes, you read that right – it is truffle season in November around these parts. We loved stopping at the different stalls tasting the freshly baked potato pizzas, truffle laced bites, homemade chocolates and mulled wine.
The markets run from 16 November to 26 December.
---
Netherlands
Valkenburg Christmas Markets
This unique Christmas market in the Netherlands takes place within "caves."
Although these are called caves, the Netherlands doesn't have any caves that naturally exist and these are old quarries that have been mined since Roman times.
Within two of the many "caves" in Valkenburg, you'll find two Christmas markets.
The largest and the most famous market in Valkenburg is the Gemeentegrot Kerstmarkt while the smaller market is the Kerstmarkt Flueweelengrot, which takes place in the historic Velvet cave near the Valkenburg castle.
Within the quarries, you can admire carvings from medieval times, see an old chapel within the caves, and see where people lived during World War II.
Within the markets, you'll find standard Christmas market fare, but it's more about the location that truly makes this Dutch Christmas market stand out from the rest.
Within the market, you'll find typical Dutch snacks along with gluhwein, a warm mulled wine made with spices.
The best time to visit is first thing in the morning although you're best off visiting on a rainy day.
The Valkenburg market is well-known in the Netherlands, so expect significant lines.
The is a limit on how many people are allowed in the caves, however, it's possible to skip the line by buying tickets in advance.
If you're considering visiting Valkenburg during the Christmas season, book your hotel early as Valkenburg and Maastricht are popular December weekend trip favorites with Dutchies, Germans, and Belgians.
It's much easier to visit by train to avoid pricey parking although those on a budget might prefer one of the cozy accommodation options, which include castles, in the beautiful Limburg countryside.
The entire city of Valkenburg turns into the Christmas City of Valkenburg during this period, so if you check the schedule, you can enjoy parades, fresh food stands, and other cute Christmas themed attractions.
The most famous attraction of Valkenburg is the Valkenburg castle ruins, which can be toured during this time on a combination ticket with the Christmas markets. Maastricht is also nearby.
---
Poland
Krakow Christmas Market
The Krakow Christmas Market runs from November 29th 2019 until 26th December and then reappears as the New Year Market on 27th December until 7th January 2020. The market is open from 10:00-20:00.
Held in the Rynek, Krakow's main market square this marketing has been running since the 1930s.
It did stop for a while during the countries communist regime, but is well and truly up and running now.
Enclosed by the glorious St Mary's Basilica and the stunning Cloth Hall, while encircled by beautiful horse-drawn carriage rides, and usually blanketed with at least a photogenic cover of snow, this is a feast for all the senses, but wrap up warm it can get bitterly cold here!
There are wooden stalls with wooden children's toys, sweets, knitwear and jewellery as well as art and pottery.
The food here is what you'll come for though. Grzaniec or hot mulled wine is served from massive wooden barrels, or a cold beer is also available.
The absolute must-have food is Smalec, a traditional Polish spread of spices and lard, topping thick slices of fresh bread and itself topped with sausage and fried onions. It is surprisingly delicious.
The best time to visit depends on the weather, try and come when it's not bitterly cold, otherwise, you'll be cutting your visit short!
Late afternoon and early evening make for the most atmosphere time to visit.
→Top tip: You'll be able to warm up in one of the Pijalnia Wódki I Piwa bars – a hangover from communist Poland, where the beer is cheap, the vodka is cheaper and the budget snacks will fill you up for pennies. They're usually open until 06:00.
---
Romania Christmas Markets
Bucharest Christmas Market
The Bucharest Christmas Market has a more recent tradition – as it was launched just a few years ago. But, since it launch, it became a huge success, both among locals and tourists. Hosted in front of the heaviest building in the world – the Palace of Parliament in Bucharest, the capital of Romania – in Constitution Square, this Christmas market is open from December 1st (Romania's National Day) until December 26th.
While there are a few more Christmas fairs in Bucharest – at University Square, in big parks and malls – this is the biggest one and one to visit on your Bucharest trip. There are many things to do in Bucharest in December.
There are almost 130 small cottages where you can find numerous Christmas-related and traditional products. From Christmas food from all over the country to traditional costumes, Christmas decorations (including hand-made ones), to jewelry, paintings, pottery and more, everything is here. There's also a food court.
Another great thing: concerts! Each weekend, from Friday to Sunday, in the evening (starting at 6 PM) you have concerts. Each evening has a theme and you'll be able to listen to Romanian singers of all ages. During the concerts, there are bigger crowds, so consider that when visiting.
Children have Santa's House – and they can meet Santa from December 17th to December 24th. There are also train rides for them and a carousel. You'll also find here an ice skating ring for people of all ages. All the activities are free.
I visit the Bucharest Christmas Market each year – it's a family tradition. We go and admire the city lights as well – Bucharest is decorated each year with new wonderful holiday lights and it's a pleasure to see them all. I hope you'll enjoy this market too!
---
Scotland
Edinburgh's Christmas Market
Edinburgh plays host to the world's biggest Hogmanay party, which means New Year's Eve to non-Scots, and although this event brings in the 1st with a bang, the month run-up is filled with festivities in Scotland's capital.
The Christmas market at Princes Stree Gardens is similar to other markets in Europe in that it sells Gluhwein in rented mugs, bratwurst in rolls and there is an ice rink but what makes it differ, slightly, is the Scottish twist.
You can expect haggis dogs sold alongside German sausage and a bothie bar selling whisky cocktails!
A bothie is a small hut or very small cottage which is used by hikers in Scotlands. Edinburgh's Christmas has put a festive spin on the bothie and here you can get the best views on the market from this pub.
Warning: the market is super busy during the weekend so much so we gave up trying to enter one Saturday in December.
→ Top tip: If you are a fan of heights, ride the Star Flyer which soars at 60 metres above the market!
Edinburgh's Market doesn't just stop at Princes Street Gardens. George Street and St Andrews Square also play host to festive events.
---
Glasgow
Glasgow's Christmas Market is tamer than its Edinburgh counterpart.
You can find huts selling food and crafts at both George Square and St Enoch Centre (Argyle Street).
For the kids, the George Square market has a Helter Skelter and carousel and for the big kids, a beer hut which also sells Glühwein.
→ Local tip: If you are visiting with an Autistic child, there is a quiet room at George Square.
---
Spain
Barcelona
If you like tapas with your tinsel then consider a warm Christmas trip to Barcelona. Nights are balmy but dark does fall on and the Catalan city makes a huge effort with Christmas lights in every area and shopping street.
Passeig de Gràcia is the most popular with its hanging lights.
There a handful of Christmas dotted around the city with the most notable being Fira de Santa Llúcia Christmas Market which sits underneath Barcelona Cathedral.
Stalls sell Catalan traditional toys (?) such as the Christmas poo, Caga Tió and The Caganer pooing ornament.
I know, so much poo! Find out more about Barcelona in winter at our festive guide.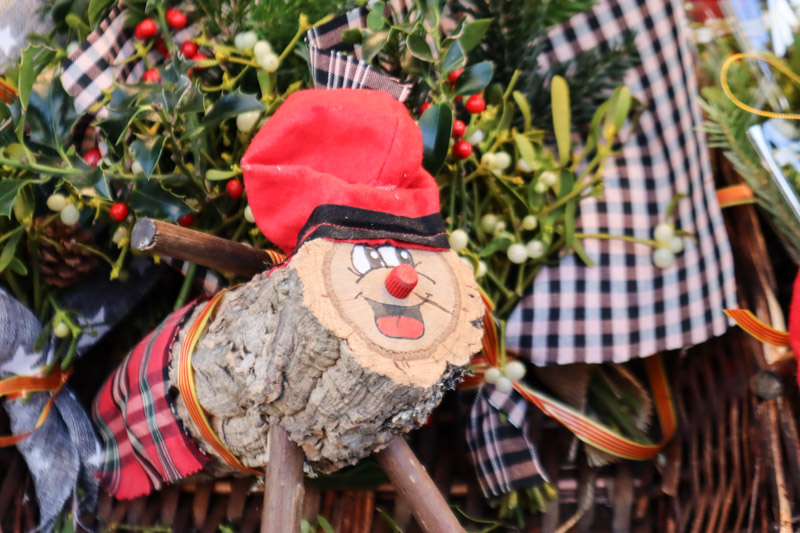 Switzerland
Montreux Christmas Market, Montreux
With an average of 550,000 visitors each year, the Montreux Christmas Market – locally known as Montreux Noel – is one of the most popular Christmas markets in all of Switzerland.
Located on the shores of Lake Geneva, this waterfront Christmas market definitely has a unique location – and it makes use of it.
The 160 artisans and merchants, who sell everything from Christmas ornaments to wood carvings to nativity scene snow globes, are all steps away from the shoreline.
In the lake, there are even star-shaped lights floating around, giving the space a magical glow.
We certainly can't forget about the food at the Montreux Christmas Market!
In addition to the Christmas market staples of roasted chestnuts, freshly-made churros, and mulled wine, the Montreux Christmas Market also has over half a dozen restaurants.
The vast majority of these restaurants serve Swiss or Vaud (the canton or state) specialities, such as raclette and rosti.
→ Top tip: Before heading to the market, check the website to see the opening hours for the individual vendors or sections. Certain sections open at different times of day than others.
In my opinion, the best time to go is around 5 p.m., just after the sun has set. You'll be able to see the market and its view of Lake Geneva and the French Alps with the beautiful orange sunset glow.
Besides, the vast majority of the vendors will just be opening up, so the lines won't be as long, the market won't be as packed, and you'll be able to enjoy the Swiss Christmas spirit.
If you're looking for other festive activities to do in Montreux, head over to Chateau de Chillon – the castle that The Little Mermaid castle was based on – for some Christmas-themed workshops, stories, and shows!
---
Frequently Asked Questions
When do Christmas Markets in Europe start?
Most markets open around the mid to end November and close for Christmas or New Year's Eve.
---
Pin for future planning
---
Final Words
The best cities for Christmas markets have to be found in Europe since this is where the concept originated from! Sip Glühwein like locals, dine on cuisine unique to specific markets and support local makers while you Christmas shop to get you in the Christmas spirit.
---
» Read next: Where to spend Christmas in the Americas (USA, Canada, South and Central)
---