This article has links to products and services we love, which we may make commission from.
Celebrating your marriage and researching the best honeymoon destinations in December? This guide reveals the most popular beach post-wedding vacations, vineyard escapes, cozy snow trips, and cities for couples.
We detail the most romantic things to do at each honeymoon destination, where to dine, and accommodation options.
To help make the decision easier, this guide also states the temperatures so you can choose the best place for a honeymoon in December to kick start your sizzling marriage.
You may also find our guides to warm winter destinations in the US, best US locations to visit in December, top beaches in December, and lovely winter island trips useful.
Best Honeymoon Destinations in California
Napa Valley For Wine Tasting & Romantic Picnics
The incredible views, warm weather year-round, and world-famous wine makes Napa Valley one of the best winter honeymoon destinations.
There are so many restaurants to pick from during your stay, like the Acacia House (1915 Main St, St. Helena), which is located in a restored Georgian farmhouse and boasts a local and totally unique seasonal menu.
It will be almost impossible to pick your favorite wine from a list crafted by their own master sommelier, but you're sure to find one you love.
The most romantic thing to do on your honeymoon is probably a Napa Valley Gondola ride (700 Main St, Napa) in an authentic Venetian gondola.
Make sure you also check out this Napa Valley guided wine tour with picnic lunch, which features three hand-picked boutique wineries well-loved by a local tour guide.
Stay at the SENZA Hotel for suites with vineyard views and an outdoor hot tub!
December temperatures range from 54°F to 59°F.
Napa Valley also features in our fun bachelorette destinations in the US.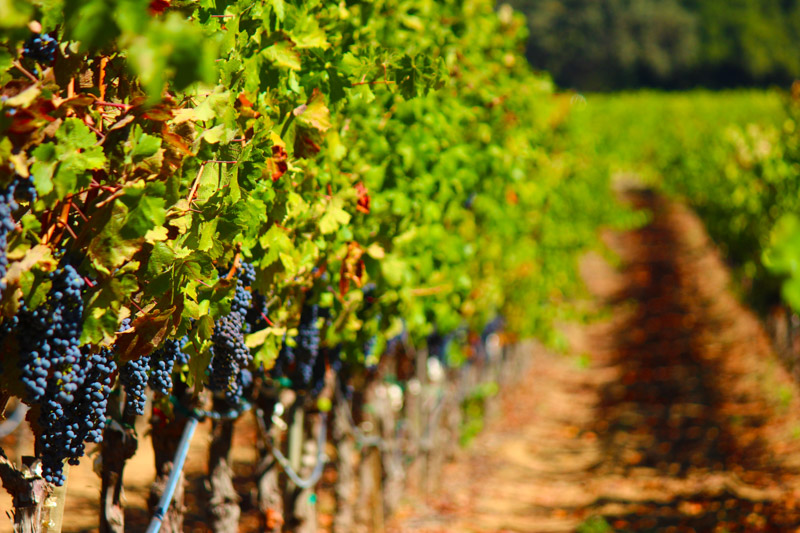 Santa Monica For a Beach Honeymoon & Restaurants
For an iconic California honeymoon on the beach in December, you have to go to Santa Monica.
From the sprawling Third Street Promenade to the Santa Monica Pier, there is no shortage of oceanside shopping, restaurants, and people watching.
Lay in the sand, swim in the ocean, or just take in the incredible sunsets at Santa Monica Beach.
With more than 3.5 miles of soft, sandy beach and big waves, Santa Monica Beach is the place to go on a honeymoon.
For a romantic dinner after a day at the beach, make sure you head to Capo Restaurant for a delicious modern Italian-style meal.
Your honeymoon deserves the best luxury lifestyle hotel; stay at the Santa Monica Proper Hotel (700 Wilshire Blvd) with the absolute best service and totally unique charm.
The best feature is the massive rooftop pool with an amazing view of the ocean.
Santa Monica temperatures range from 65°F to 67°F.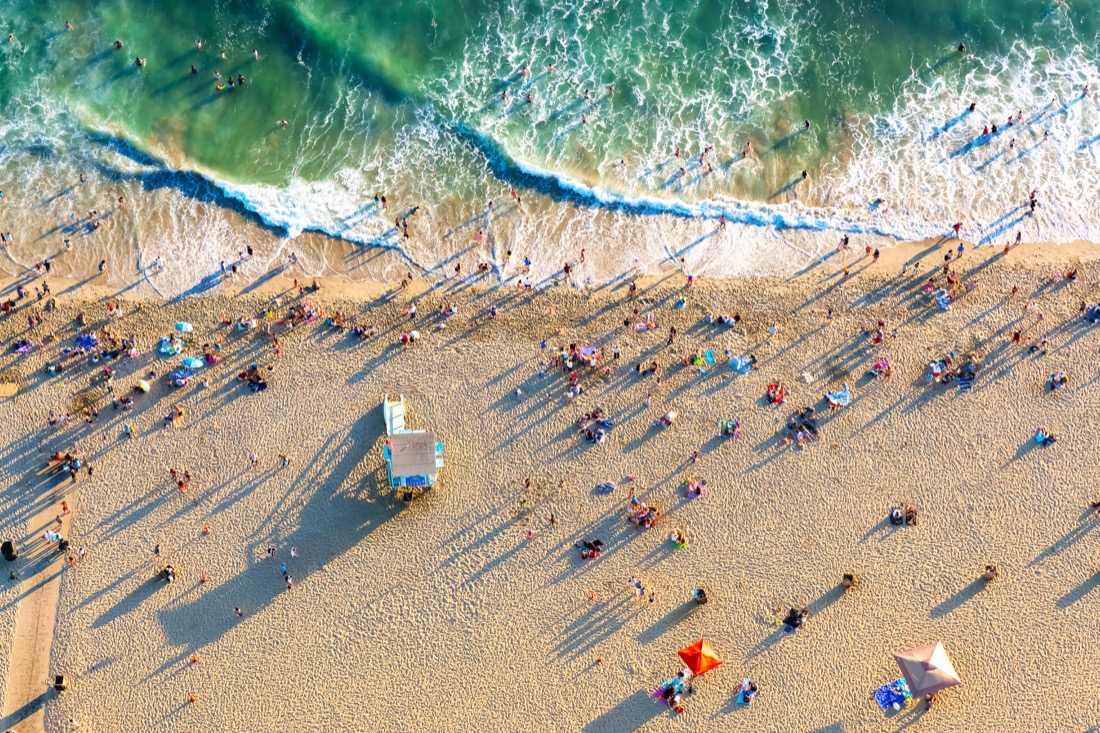 San Francisco For Culture & Cruises
A honeymoon can simply be about spending romantic time with one another, but a more adventurous couple might want to go on an adventure to one of America's most iconic cities.
The famous Golden Gate Bridge, steep hills, and European vibes with sprawling Victorian-style houses make taking in the San Francisco sights an amazing honeymoon in December.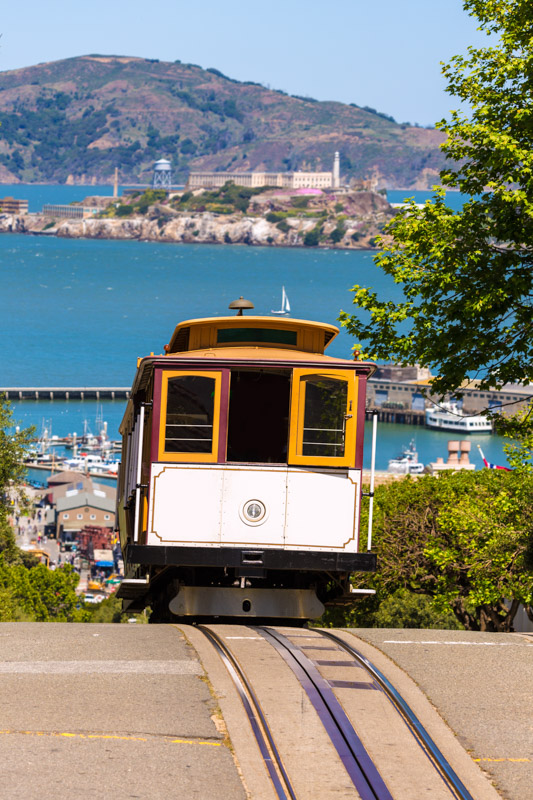 Lots of walking is involved in exploring this city, but you have to stroll through the gardens in Golden Gate Park and the Conservatory of Flowers.
You'll never forget the magic of Chinatown, especially if you make a dinner reservation at Mister Jiu's (28 Waverly Pl).
A short and highly seasonal food menu and a masterfully curated wine list at this Michelin-star restaurant will be your favorite part of the whole trip.
One more opportunity to mention: you will love the California sunset boat cruise (Pier 43 1/2) with views of Alcatraz, Angel Island, and a trip underneath the Golden Gate Bridge.
Stay at the Ritz Carlton for rooms with ornate furnishings and a roll top bath to soak in after a tough day of sightseeing!
San Francisco is definitely one of the best honeymoon spots in December for couples who like to be on the move, ticking off itinerary items, while dining and drinking!
Temperatures range from 56°F to 60°F.
Check out our San Francisco itinerary and bucket list for more.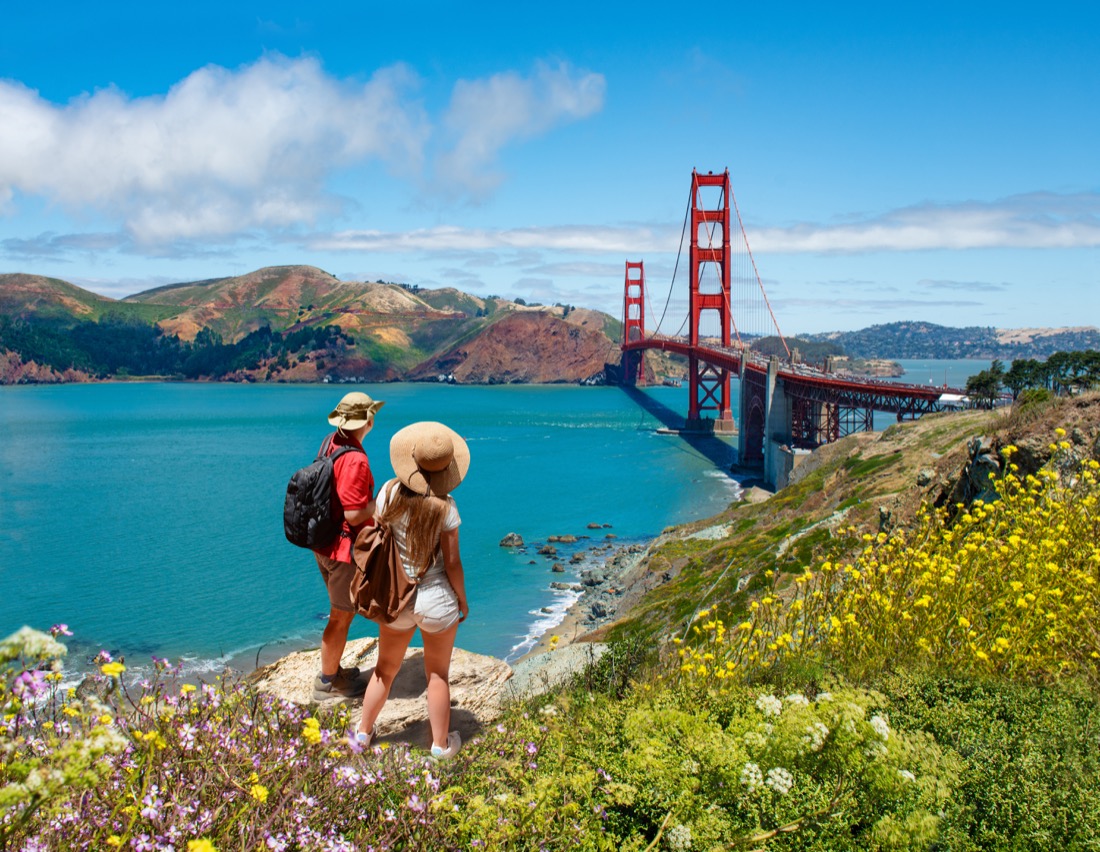 Best Honeymoon Destinations in Hawaii
Hana For Black Beaches and Warm Temperatures
Hana is the perfect honeymoon town for anyone who wants to escape the crowds in Hawaii.
This town is one of the best December honeymoon ideas because the island is warm all year round with temperatures ranging from 77°F-84°F.
Located on East Maui, you'll love the lush green views, ancient historical sites, and amazing beaches.
Make sure you head to Hawaii's only natural black sand beach, Paiola in Wai'anapanapa State Park.
For a delicious meal, try the Hana Ranch Restaurant, a farm-to-table community restaurant part of the Hana-Maui Resort.
For a chance to fully experience the Road to Hana, you'll love this guided tour with lunch, complete with tropical rainforests, huge waterfalls, and incredible views.
Stay at the Hana-Maui Resort by Hyatt Residence for bungalows with breathtaking views.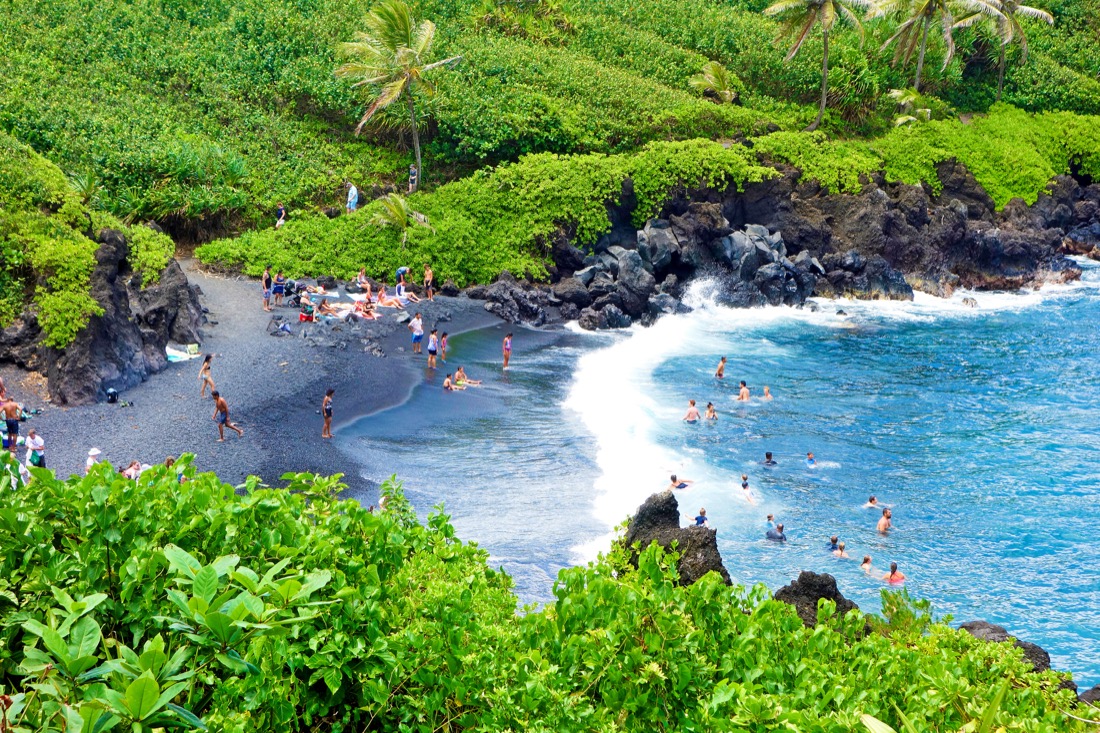 Maui For Water Sports & Lux Dining
If you're ready to explore more of Maui beyond Hana, there's so much to do for the best winter honeymoon.
Whether you snorkel on Honolua Bay or at Black Rock, you can't miss the opportunity to take part in one of the most classic Hawaii experiences.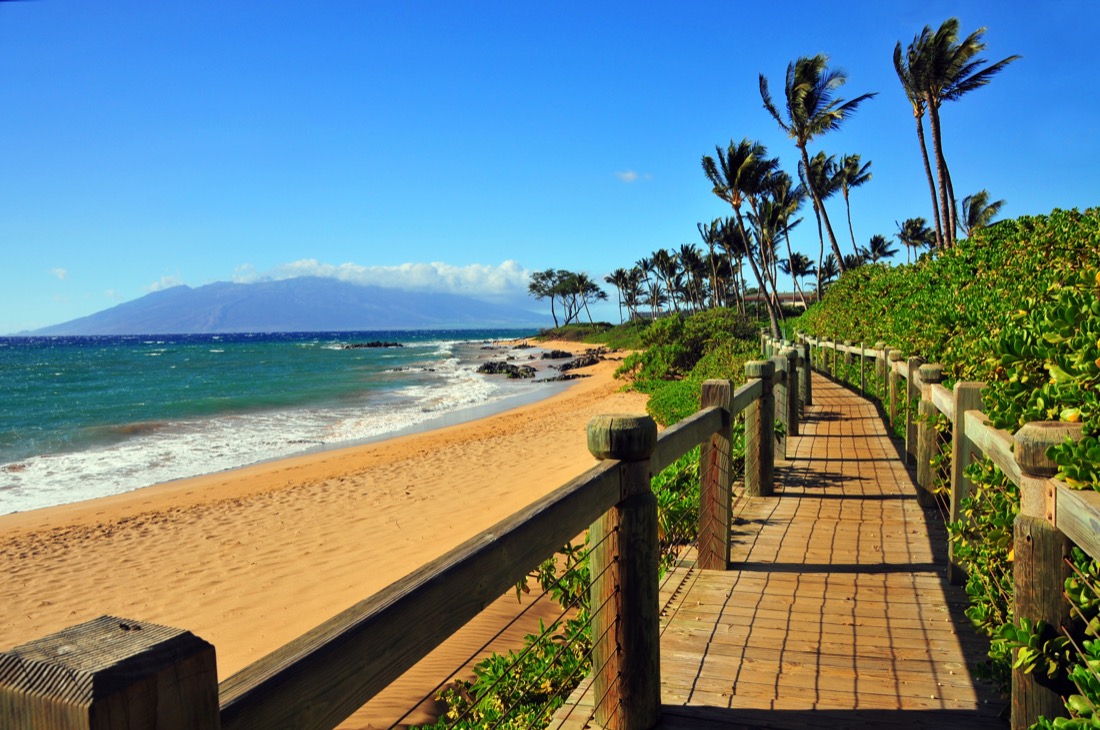 For a luxurious meal, make sure you reserve a spot at Mama's Fish House (799 Poho Pl) in Paia.
The restaurant was a James Beard semi-finalist in 2018, so you'll be sure to have a memorable meal; just make sure you book a few months in advance!
For a vintage-style hotel in the heart of Lahaina, just minutes from the beach, book your stay at the Old Lahaina House (407 Ilikahi St).
You'll love the island decor and amazing views, and staying here might just be your favorite part of the trip.
Maui temperatures range from 78°F-86°F.
Kauai For Hiking Trails & Golf
Kauai is a lovely December honeymoon idea, especially if massive resorts and crowds don't excite you as much as a trip full of nature and adventure does.
One of the best beaches on Kauai is Kiahuna Beach, a soft yellow sand beach in Koloa.
Perfect for snorkeling, body surfing, and watching gorgeous sunsets, you'll love spending the entire day soaking up the sun, especially if you are coming from a place that is in the midst of the cold winter season.
You'll also love the north shore of the island, where you can explore Haena State Park in Kapa'a.
The park is at the very end of the Kuhio Highway and features a beautiful beach, lush greenery, and famous hiking trails.
Make sure you make a reservation at Red Salt Restaurant at Poipu Beach.
Locally sourced seafood, fruits and veggies, and award-winning dishes make this famous restaurant a must-visit.
One more adventure for your stay on the island: the Wailua River kayak & hiking tour to Secret Falls is a 6-hour trip through tropical gardens, waterfalls, and more.
Stay at the Royal Sonesta Kaua'i Resort Lihue for an 18-hole golf course, outdoor pool, and five jacuzzis.
Kauai temperatures range from 76°F to 82°F.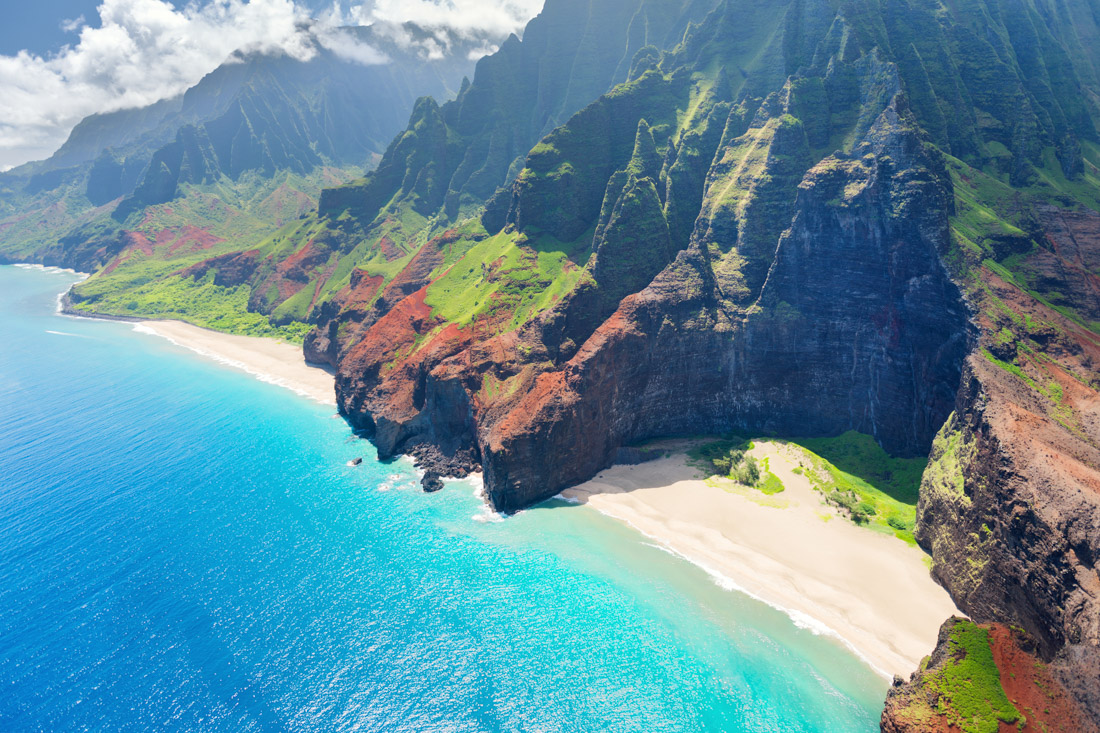 Best Honeymoon Destinations in the East Coast
NYC For Festive Honeymoon Activities
If you don't mind the cold, New York is a fun honeymoon destination in December because the city is lit up and there are a variety of Christmas-related attractions!
Skate at the famous The Rink at Rockefeller, shop 'til you drop at Macy's, and catch the century-old performance by the Radio City Rockettes.
Enjoy a cozy drink at the 230 Fifth Rooftop Igloo Bar or a festive cocktail at Miracle on 9th Street.
Take a trip to see the crazy lights display at Dyker Heights in Brooklyn.
Stay at The St. Regis for opulent decor and butler service.
NYC temperatures range from 42°F to 49°F so bundle up.
You may also like our NYC itinerary and if NYC is a tad too cold for you, check out these other cities with Christmas lights.
Orlando For Rollercoasters
Are you guys really big kids at heart?
Consider Orlando for a honeymoon if so.
Visit the Walt Disney World Parks; there's four of them!
Meet Disney characters at Magic Kingdom Park and stay for the fireworks over Cinderella's Castle.
Ride the hilariously fun yet hair-raising Twilight Zone Tower of Terror at Disney's Hollywood Studios.
Tour the world at Epcot, eating your way through French crepes, Mexican tacos, and Southern BBQ!
After you've done Disney, head to Universal Studios for The Wizarding World of Harry Potter at Universal Studios, live music, and cocktails.
Stay at one of the Disney Resort hotels or the Universal's Loews Sapphire Falls Resort for on-site water parks!
Orlando temperatures ranges from 71°F to 75°F.
You may also like our Florida bucket list.
Best Caribbean Islands for a Honeymoon in December
Cayman Islands For Scuba Diving & Rum
If you're ready to escape the cold winter climate for your honeymoon, you've got to travel to the Cayman Islands.
In the western region of the Caribbean, you can find soft sands, sprawling coral reefs, glass-clear water, and rich flora and fauna.
It's an easy trip for anyone on the East Coast, especially those traveling from the southeast.
The months from June to November are hurricane season, so you might get caught in the tail end of hurricane season on your honeymoon in December.
The Grand Cayman Island island boasts free public beaches, while the rest of the Cayman beaches are private and reserved mainly for resorts.
Stroll through Queen Elizabeth II Royal Botanic Park (8R8J+9RQ, North Side) for a romantic experience in the midst of flowers in bloom.
Plus, you can see the iconic blue iguanas and tropical birds all year round in the park.
Make sure you check out the rum and beer tour with lunch in George Town for a wild tour of the island's only rum distillery.
Take shots and try free samples of all the different varieties of rum made on site.
For the adventurous couple, scuba diving!
Dive underwater to explore the famous USS Kittiwake submarine wreck.
Stay at Palm Heights for 5 star accommodation and service, on the beach.
Grand Cayman daily temperature is around 83°F in December.
Grand Cayman also features in our guide to islands to visit in October.
Barbados For Popular Honeymoon Locations in December
Barbados in the Caribbean Islands is perfect for any couple ready to spend their honeymoon in a luxurious resort.
Book your December honeymoon at the Sea Symphony Villa in Saint Lucy.
Or stay at the Coral Reef Club for a suite with private pool access.
Of course the Caribbean is known for its rum, but no other distillery is as historic and quaint as St. Nicholas Abbey (Cherry Tree Hill St).
Built in 1658, the abbey is one of the only three authentic Jacobean mansions in the Western hemisphere, making this a must-see destination.
Taste some of the best small-batch rum in the Caribbean and wander through beautiful gardens and orchards on the property.
You'll have a private beach all to yourself, gorgeous sprawling gardens, and an on-site masseuse, available at your request.
To get a full experience of the island, make sure you go on the amazing 5-hour island tour which includes lunch.
You'll love the natural scenery, amazing local cuisine, incredible culture of Barbados on the tour, and you'll get to drink all along the route!
Barbados daily temperature is around 84°F in December.
Best Snowy Honeymoon Destinations in the U.S.
Stowe, Vermont For Ski & Cozy Inn Accommodation
This guide had to include a few honorable mentions from the colder climes; December honeymoons can still be snowy!
The towering Mount Mansfield is less than 10 miles away; explore the natural landscape on skis, snowshoes, or even on sled.
Book your stay at the dreamy Green Mountain Inn (18 Main St) and take advantage of the the luxurious sauna, massage therapy, and daily afternoon tea.
You'll love the restaurants at the inn featuring local cuisine, New England microbrews on draft, and more.
Stowe's temperatures range from 27°F-37°F.
Does Stowe make it on your honeymoon places in December destination list?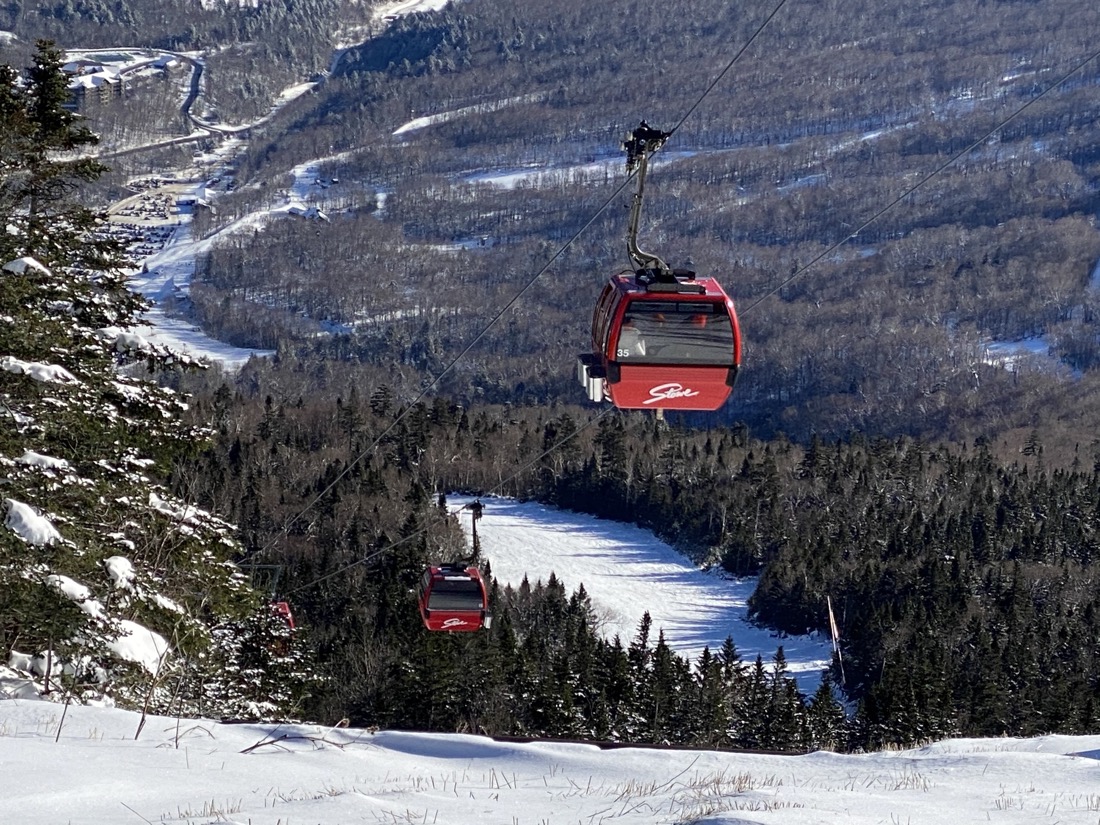 Crested Butte, Colorado For Winter Sports & Slopeside Condos
Crested Butte is a luxurious honeymoon for the couple that loves skiing and the deepest snow.
Stroll down Elk Ave, the hub for shopping and eating in Crested Butte.
For a hearty winter meal, make sure you make a reservation at Elk Ave Prime (226 Elk Ave).
Awarded Crested Butte's best steakhouse, you'll love the best quality hand-cut prime steaks and the largest wine selection in the valley.
Rent out a cozy slopeside condo for a few days or a few weeks, step out the door and hop on the ski trails.
Book your stay at the Emmons Escape & Cozy Slopeside Condo and enjoy a beautiful balcony, fully equipped kitchen, and more.
Stowe's temperatures range from 25°F-31°F.
Which of these best romantic honeymoon destinations in December did you choose? Tell us in the comments!