This article has links to products and services we love, which we may make commission from.
Nicaragua, the land of lakes and volcanoes, is the seventh country of our (Gemma and Craig) 17-month career break to the travel the Americas and Europe. This is our first time in Central America and what a treat the 'new Costa Rica' has been. We've made a home in the beach town of Las Peñitas, hiked up an active volcano and boarded down in the León, swam in Somoto Canyon, scootered around the lush island of Ometepe, and hit the gym in the European feeling city of Granada. Here's our backpacking in Nicaragua budget (which is month twelve of our backpacking trip). This guide will include a breakdown of the daily essentials – accommodation in Nicaragua, transport, food, trips, socialising, as well as what we spent on luxuries (NOI – USD – GBP).
---
»»» Going to Nicaragua? Check out our massive travel guide here
---
Accommodation in Nicaragua
Accommodation in Nicaragua is very varied and manageable for travellers on different types of budgets. Every city and most towns have high end to budget hotels, backpacking hostels, and guesthouses.
We spent most of our time in local run guesthouses as they are quiet and offer private rooms with fans and bathrooms for cheap ($15). The island of Ometepe is awash with accommodation which is slightly more pricey than other areas of the country. July's Restaurant and Maria (Moyogalpa side of the island) was $15 walk-in fee.
Bizarrely many hostels and guesthouses advertise via Airbnb as well as the usual Hostelworld and Booking.com. We reviewed two hostels during our time in Nicaragua (Hostal Monte Cristi in Managua and La Gordita in León). Before we backpacked around Nicaragua, we lived and volunteered at the beach hotel in the photograph below. This was organised through Workaway.info. Your Nicaragua backpacking budget can be kept under control or there is luxury for those who want to splurge.
Ahhh, Las Peñitas!
Accommodation in Nicaragua Total: 4710 Cordobas / $162.32 / £132.50 for 2
Food
I never want to see tacos again, oh wait, we're in Texas now, more tacos! Street food is also very popular in Nicaragua. This may consist of meat (pork or chicken mostly) on the grill, rice, and a cabbage based salad. I ate three 'papas' in one day in Estelí (North Nicaragua), which are deep fat fried potatoes with meat and vegetables in the middle!
Two of the guesthouses we stayed in had kitchens, one of which was very well equipped. The other was pretty basic and busy but I did manage to cook in a couple of nights in Granada as well as going to gym. It was refreshing to do 'real life' activities like cooking (which I normally despise) and fitness (which I miss).
The sweet demon in my life in Nicaragua was Churros. Churros are sweet deep fat fried pastry often filled with something sugary like chocolate spread. Really not helpful considering we were about to get married in Austin the next month! I avoided bread and chose (really decent) salads in Granada, which was our last week in Nicaragua before South By Southwest music festival and then the elopement.
So many tacos!
Food in Nicaragua Total: 18,300 cordobas / $630.65 / £514.79 for 2
Socialising in Nicaragua
Local beer in cheap in Nicaragua, Craig continued to drink a beer a day at £1.50 for a litre bottle of Toña until he fell sick in Granada (bacterial infection).
I had a couple of glasses of red throughout the month, not the cheapest option! We were not won over by the party scene in any of Nicaragua's cities but I'm interested to hear from any other backpackers who did fiesta! Most of the socialising went on in guesthouses and hostels from what we could see or was reserved for San Juan Del Sur in the south (surfing and Sunday Funday), which isn't our scene.
Socialising Total: 4950 cordobas / $170.59/ £139.25
Nicaragua's Top Trips
Although the party scene was pretty poor for us in Nicaragua, the adventure activities are plentiful! This is the land of lakes and volcanoes remember so if you are into hiking, kayaking, swimming, surfing, canyoning, and you have a need for speed then this Central American city is for you.
Most of our outdoors activities took place on Ometepe. We hired a scooter to move between the different areas of the deceivingly large island, hiked the volcano, Maderas ($25 each), tried to kayak Rio Istián ($20 each, waste of money – see here), and swam in a natural watering hole. Bliss!
We walked through Somoto Canyon and swam in the water, I didn't do many dives as we attempted (a fail!) to do a self – guided tour to offset the money wasted attempting to kayak over a dried up swamp!
---
» Fancy hiking in Nicaragua? Check out our hiking packing list
---
In León, we took a Revolutionary Tour which was interesting, and of course, hiked up Cerro Negro and boarded down it at 55 MPH. Boom! It was thrilling.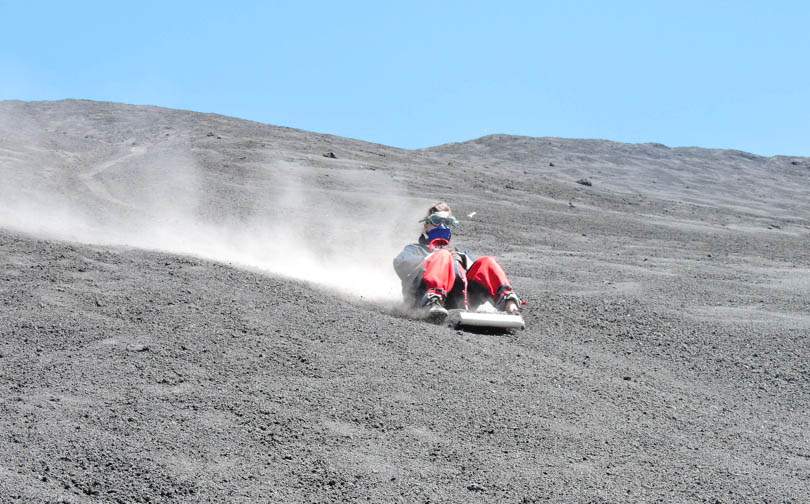 Eat my dust! Yup, that's me (Gemma)!
Trips in Nicaragua Total: 4050 cordobas / $139.57 / £113.93 for 2
Transport in Nicaragua
Favourite mode of transport over the past month? Motorbike ($20 per day on)! Craig drove us around the gringo bricked road as well as the bumpy local 'roads' of Ometepe. The freedom was liberating, I imagine it's tough being confined to the infrequent bus timetables on the island.
The cheapest way to get between the cities and towns of Nicaragua is by chicken bus. Annoyingly, we got ripped off on the bus from Managua to Rivas, which should have been $2.50 but they charged us $15.
We were on a moving bus so had little way to get out of it, always agree a price before you get on the bus! The microbuses are a set price so there is little room for victimisation.
A ferry was required to get to Ometepe, we took the local lancha on the way back to San Jorge Port which instantly made everyone look sick!
This is a ferry, not a lancha!
Nicaragua Transport Total: 2040 cordobas / $70.30 / £57.38 for 2
Luxuries
The only luxuries we've splurged on this month was our tattoos in León which came to $120 for the both of us. It took around eight hours so excellent value for money.
I had also been attending yoga on a Wednesday at 200 cordobas / $6.89 and bought a weekly gym pass in Granada ($15).
The most permanent souvenir – White Devil tattoos, Leòn
Total: 4517 cordoboas / $155.67 / £127.07 for 2
Overall total
$1329| $332 per week | $47 per day (for 2)
If you are heading to Nicaragua don't forget to check out our extensive backpacking guide which will help you plan out a route, duration of stay, and provide more details on food, where to stay in Nicaragua, transport, and culture. Just click the image.
Pin for later
Over to you, how much does it cost to backpack in Nicaragua?
Any questions – fire away in the comments below.