If you're looking for a fun and exciting getaway, consider visiting one of California's coastal cities.
From surfing and sunbathing to picnics and sightseeing, these places offer plenty of activities to keep you entertained.
Plus, many of these places have charming downtowns and fun nightlife that is sure to please any adventurous traveler.
To help you plan your trip, this guide will explore some of the best California coastal cities offering lots of great things to do.
For easier navigation, the destinations are sectioned starting from the north down to the southern region of the state.
If you want to visit more places in California, check out this guide.
Northern California Coastal Cities
Northern California is famous for its awe-inspiring redwood forests, but the region's coastline is just as spectacular.
From rugged cliffs and rocky coves to wide, sandy beaches, there are plenty of coastal cities and communities to explore in this corner of the Golden State.
You may also like our guide to spring break in California featuring places in the northern region of the state.
Crescent City
Crescent City boasts stunning coastal views featuring rocky beaches and sandy shores.
Viewing the entire city from the top of Battery Point Lighthouse (235 Lighthouse Way) is one of the coolest things to do here.
The lighthouse is an offshore island that is also a museum open to the public when the tide is low (April through September) and one of the most visited sites.
Explore some of Crescent City beaches including Crescent Beach for a chance to spot seals and dolphins.
You can also head to Pebble Beach for surfing opportunities, bird watching or to simply enjoy the ocean views.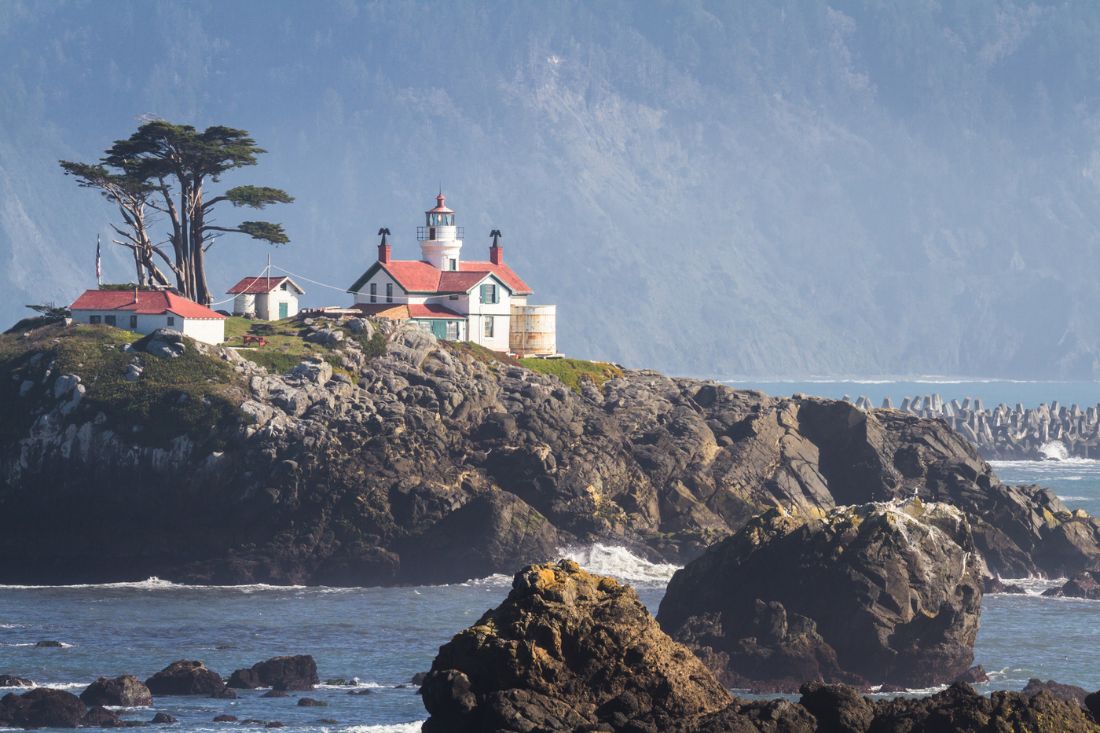 Bolinas
A small coastal community with a giant waterfall and panoramic views puts Bolinas on the list of California coastal areas worth mentioning.
Alamere Falls is a popular attraction that entices people here because it is one of only two waterfalls in California that flow onto a beach.
The 13 miles hiking trail isn't for amateurs but is worth experiencing a remote wilderness and a 39-foot-tall waterfall flowing off a cliff onto Wildcat Beach.
Caution is advised as the trail isn't maintained and can be dangerous if you get too close to the cliff's edge.
Other recommended trails to take that are maintained and safe are Five Brooks Trailhead, Bear Valley Trailhead, and Wildcat Beach.
Gualala
Gualala, Spanish for 'where the water goes down,' is a coastal community part of Mendocino county and has popular attractions such as the Arts Center, Studio 391 Fine Art Gallery, and Bower Park.
The Gualala Arts Center (46501 Old Stage Rd) is overflowing with the works of incredible artists, sculptures, and writers who come here to ignite their creative juices.
Also, for outdoor lovers, Gualala offers plenty of opportunities for wildlife watching, beach camping, and hiking.
The Pygmy Forest is a must-visit for seeing century-old miniature redwood pine and cypress trees.
The trail loop of the Pygmy Forest is 3.8 miles and allows you to explore at your own pace.
Also known for the Dunes and Coastal bluffs, collect driftwood, sea glass, and shells as you walk the white sands of Gualala Point Regional Park.
Whale Watch Point, along Bluff Top Coastal Access Trail (40101 Highway 1), is a fun place to explore and spy on the gray whales as they pass.
Carmel
Free-thinking, woke, creative types who march to a different beat will find Carmel, one of the best beach cities in California to explore.
With fairytale cottages and cobblestone streets, you will feel like you've stepped back in time.
Local sources of food and tasting rooms to sip on local wines are an added treat if you are not a fan of fast food because you won't find any in Carmel.
Along Ocean Ave, you are greeted by caramel sandy shores of the Beach.
With Bohemian shops, no street addresses or street lights, Carmel by the sea is a free-spirited coastal city in California that you must visit for history and peace.
Don't leave before visiting Carmel Mission Basilica Museum (3080 Rio Rd), a historical landmark, to learn of its authentic rich history.
You can light a candle for a loved one who's passed, as an active church is open to the public.
Sit in the Mission Gardens and take a moment to contemplate or embrace the quiet.
Note the Mission is not open Monday and Tuesday and reinforces a strict closing time of 4:45 pm, so plan accordingly.
Cambria Village
Don't let the size of this coastal village fool you; Cambria is where history meets adventure.
Latin for Whales, Cambria is a coastal village midway between Los Angeles and San Francisco.
With Monterey pines and beautiful Moonstone Beach, Cambria is worth visiting if you want to chew on some history, hike trails, explore charming shops or relax and unwind.
Take a scenic stroll on the boardwalk or the sands of Moonstone beach and get lost in the ocean views.
Potential sightings of white dolphins and gray whales draw people to Whale Trail (5455 Windsor Blvd).
Fine art galleries, antique shops and boutiques, historic architecture, and fine dining make Cambria another hidden gem worth visiting for a day or weekend.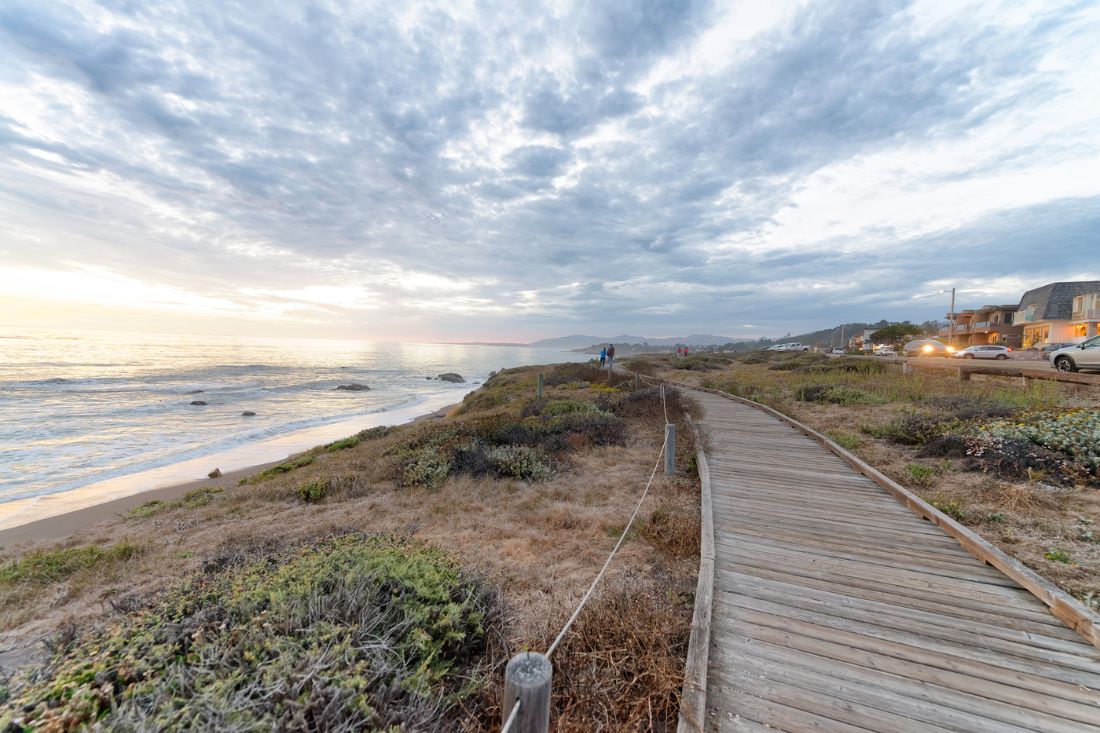 Oxnard
Considered the new Malibu, Oxnard is for lovers of stunning beaches, good food, spectacular architecture, and funky-spirited nightlife, making it glide on the list of coastal cities in California worth visiting.
Here you won't find overpriced boutiques and restaurants; instead, you will experience an authentic experience without the unattainable price tag.
Considered one of the most affordable beach towns to live in, Oxnard is a hidden paradise, slowly getting noticed as a great place to raise a family and start a business.
The surfing community comes here for the intimate ways, and nearby Deer Creek Beach caters to inquisitive minds for its submerged treasures.
Central California Coastal Cities
If you're looking for a fun and entertaining vacation spot, be sure to check out central California's coastal cities!
Whether you're looking for a place to soak up the sun or enjoy some beach-worthy activities, the following destinations listed below are sure to have something for you.
You may also like our guide to beach towns in California.
Pismo Beach
If you're looking for a place that has all the charm of a small town with all the excitement of a big city, look no further than Pismo Beach, California.
Come here for surfing, fishing, camping, bird-watching, and Dinosaur Caves Park (2701 Price St).
If you're coming with the kids, they'll surely enjoy the sizable grassy area and playground, which features slides, ropes, and bars to climb as well as dinosaur eggs to hide in.
Ventura
Explore the coastal city of Ventura Beach for some awesome activities and stunning views to take in.
You can find two major beach areas in this location which include City Beach Area 1, stretching from Ventura Pier- the city's main central beach, to Surfer's Point- one of California's premier surfing spots.
The City Beach Area 2 includes Marina Park to Camden Lane.
Marina Park offers facilities for picnics, barbecues, and a children's play area.
Ventura Beach also made it to our list of stunning US beaches to visit in December.
Redondo Beach
The city of Redondo Beach features a unique vibe and is known for its Pier with cute shops, oceanfront restaurants, and great views.
Walk out to the end of the Pier and watch the boats set out to sail or watch the sunset.
There's also the Seaside Lagoon (200 Portofino Way), a saltwater facility where you can swim, and comes with a large sand area for sunbathing.
Redondo Beach also has plenty of parks for you to explore with picnic areas and recreational facilities like the Hopkins Wilderness Park (1102 Camino Real) and Czuleger Park (Plaza Park).
Southern California Coastal Cities
Southern California is home to some of the most picturesque and famous coastal cities in the country.
Visitors have the chance to enjoy all that these places have to offer- from swimming and sunbathing on the beach to experiencing the local art and culture.
You may also like our guide to California in fall featuring destinations and activities in southern California.
Malibu
West of Los Angeles, where A-List celebs come for the summer, Malibu is 30 miles of gorgeous beaches and one of the best coastal cities in California.
The Malibu sunsets are exceptional, and secret waterfall hikes put it higher on the list of California's favorite places.
Escondido Canyon Park (27200 Winding Way) is one of many that has waterfall hikes for every level.
Wine tasting, art galleries, and great weather make Malibu a highly favored destination.
Santa Monica
Santa Monica is one of the best California coast cities to visit when you come here.
With over three miles of shoreline, Santa Monica has a laid-back, artsy, upscale vibe.
Everyone takes an active role in their appearance by biking, walking, and skating.
You can head to Santa Monica Pier (200 Santa Monica Pier), a popular spot for games, rides, good food, and the beach.
The Third Street Promenade (1351 3rd Street Promenade) is a great people-watching place with many cool cafes, shops, and eateries.
Santa Monica also features in our list of warm places to visit in the USA in December.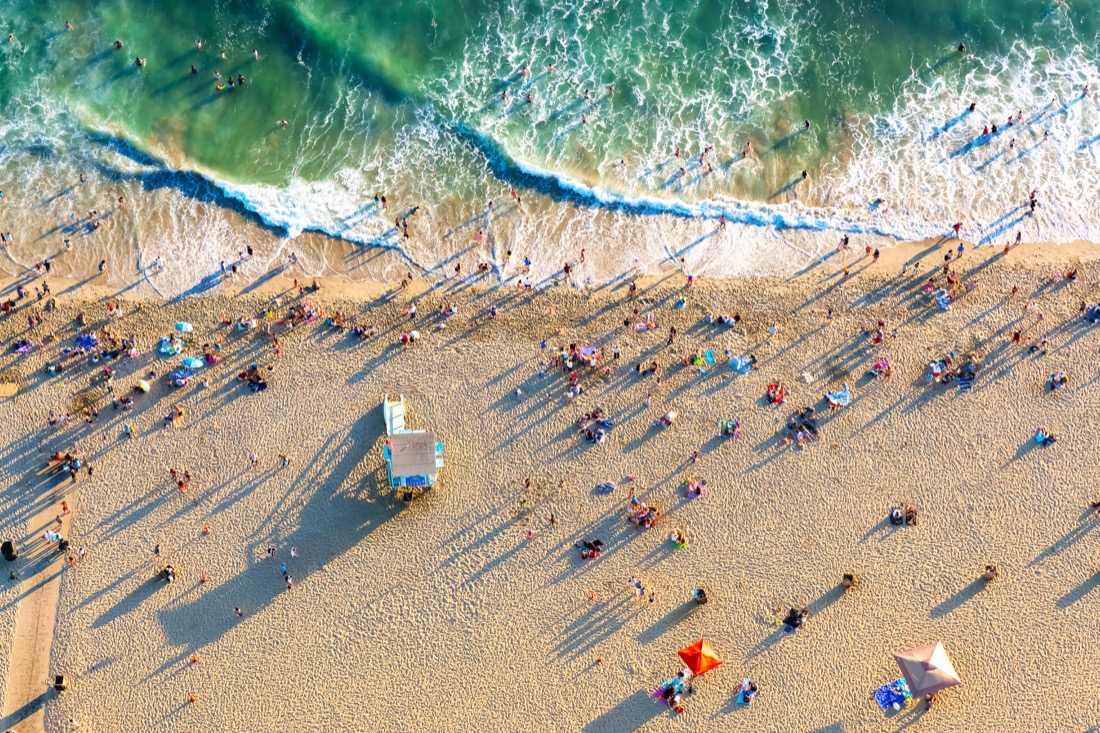 Venice Beach
California's Venice Beach (1800 Ocean Front Walk) and Santa Monica are like Peanut butter and Jelly; they just work together, and you can't have one without the other.
Although these two coastal cities are within walking distance from each other, Venice Beach's vibe is more of a free spirit.
People come here from around the world to experience the street performers, local artists, eccentric shops, and Muscle Beach (1817 Ocean Front Walk), where muscle heads work out in real-time.
Be sure to visit Venice Canal Historic District and feel the inspiration of Venice, Italy, in California.
Venice Beach also features in our guide to California in December.
Hermosa Beach
The city of Hermosa Beach, part of a trio (Manhattan Beach and Redondo Beach), has a laid-back surfer thing going on.
Here you are more likely to see people on a skateboard cruising the small populated area and relaxing and lounging on the beach enjoying the perfect weather.
Still, Hermosa makes the list of beach cities in California worth visiting and is almost a nice secret and an excellent staycation location.
Stroll, skate, or bike The Strand (1500-1598 The Strand), which runs parallel to the beach and stretches to Manhattan and Redondo Beach.
Hermosa Beach has a Pier (1 Pier Ave) where you will find people hanging out, walking, rollerbladers, and fishing, and it presents impressive sunsets.
La Jolla
If you have the opportunity, you must visit one of California's coastal cities and San Diego's gems by the sea, La Jolla.
Known for its stunning beaches, magnificent cliffs, and caves, La Jolla is a popular destination during the weekend.
Black Beach is one beach that takes you away from the crowds as it is more challenging to get to, but the dramatic cliffs and calmer waters are worth the effort.
Some areas of the beach are so remote that clothing is optional.
Take a sea tour to one of La Jolla's seven caves (Little Sister, Clam Cave, Arch, Sea Surprize, Shopping Cart, White Lady, and Sunny Jim)
Sunny Jim is the only cave accessible by land and water.
Each cave is unique and boasts fantastic formations, and on the way, seeing sea lions, seals, sea birds, and other aquatic creatures is an additional bonus.
Serious hikers come here to explore the tight and narrow grips of the Ho Chi Minh Trail (2800 Torrey Pines Scenic Dr.) as they know that the reward at the end is fantastic views, sunsets, and unique photo opportunities.
If you're on a budget, you can explore La Jolla for free along with other places around San Diego by checking this guide.
Carlsbad
Be prepared to wear your wetsuit most of the time, as watersports make Carlsbad one of the best coastal cities in California.
Although Legoland (One Legoland Dr.) is here with rides and a water park for the entire family, many people come to bask in the great weather and seek out all the fun adventures after the kids are grown.
Take a 3-hour local food tour and stroll around Carlsbad Village, learning about the history while you experience the best food and wine tasting ever.
Carlsbad offers a cozy and safe atmosphere that pre- and post-retirees flock to for the welcoming community.
You may also like our guide to the best places to visit in the USA in January featuring Carlsbad.
Del Mar City Beach
Established in 1885 as a coastal resort, the city of Del Mar in San Diego once attracted Hollywood A-Liners and continues to make the list of best beach cities.
One of the most favorable things is how you can explore Del Mar's rich collection of shops and boutiques on foot.
Everything is accessible and worth visiting, and a vehicle isn't necessary.
The local events hosted in Del Mar make this city a favorite for residents and visitors alike, as they have a Farmers Market, Racetrack, and themed events throughout the year.
Del Mar Beach is a natural beauty with a playground for the kids and is dog-friendly.
Final Thoughts
No matter what your interests are, we hope you find a coastal city in California that suits your taste through this guide.
Let us know which one you liked best in the comments below.