This article has links to products and services we love, which we may make commission from.
Cowboys! BBQ! Live music! Our Austin elopement was easy, sunny, and awesome! On the 22nd of March 2016, my partner, Craig, and I tied the knot in one of our favourite cities, the only city that we visited twice during our year travelling around the Americas!
The Setting
Craig and I have been together for three and a half years. We've been travelling for just over one year on an 18-month career break, backpacking around the Americas and Europe. When we met back in 2012, we both made it clear that we wanted to get out of Scotland and see more of this crazy world.
In the past year, we've hiked to Machu Picchu in Peru, cycled the world's most dangerous road in Bolivia, stayed in an ex-cartel mansion in Colombia, dived in the Bay of Pigs in Cuba, skied at Whistler in Canada, ate our way around Portland and Seattle, and danced with the stars at Disney, Orlando!
It's been an incredibly fun-packed year which started in Austin (after a two-day trip to New Orleans) at the music festival South By Southwest (SXSW), and that's where we returned this March to see free music and then tie the knot!
Craig popped the question in Vancouver, under the fake stars of the HR MacMillan Space Center with a ring fashioned out of a plastic straw cover from Cuba.
All-Star Cast
Our Austin elopement would not have been possible without the support of two kick-ass people: our wedding officiant, Sarah Reed from Let's Do It Vows and our photographer, Corey Mendez Photography.
Let's Do It Vows
Google 'wedding officiants in Austin' and there are heaps of them. So how do you choose? I looked for one that performed same-sex marriages because let's face it, this is Texas.
I figured that if they were happy to wed the LGBQT+ community then they'd be liberal and cool, like us!
I emailed Sarah to enquire about the rules for Brits marrying in Texas, using her own initiative, she made all the relevant enquires for us, I knew she was a keeper! Sarah also sent me a picture of herself and family dressed up at Hallowe'en and that sealed the deal for me! Sarah offered some ideas for free venues…
Our Austin Wedding Venue
Lou Neff Point at Ladybird Lake was a natural choice.
During SXSW, we walked downtown along the riverfront each day, watching the kayakers on the water, ogling at the turtles, admiring the skyline. We're not the most emotional people (Craig would suggest that I am slightly on the spectrum) but this spot felt right.
The sun shone, the ducks quacked, and we had a small audience who clapped politely as Craig kissed his bride!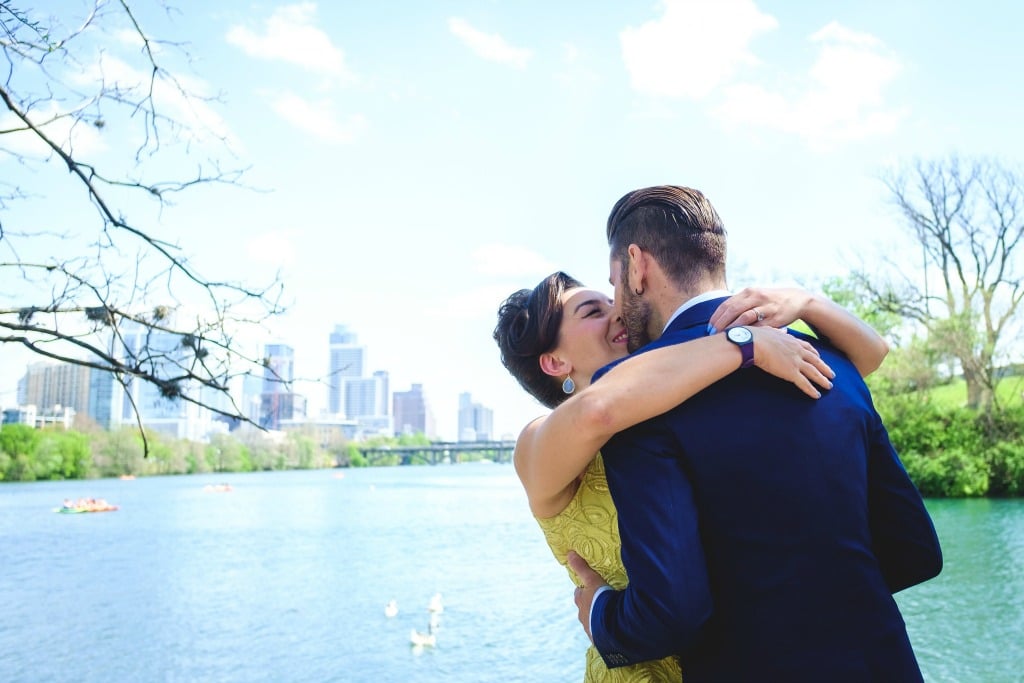 An Austin Elopement
After a trip to the hairdressers for me, a full Irish breakfast (the closest thing to a Scottish he could find) for Craig, Champagne (thank you to Esteban and his partner, our apartment hosts) while getting ready, we took a Lyft taxi (like Uber) to Lou Neff Point at 2pm.
Nothing classy, just practical! We laughed as I had to totter down a muddy hill to get to the spot. No diva in me!
We met with Sarah and Corey, Sarah moved people on (she's a bouncer too) and set up our camera (she also had a tripod, ex filmmaker!) for filming (this was unsuccessful, sorry! I'm actually pretty happy with that, I cringe at having to watch myself; we do have a voice recording though).
Corey worked his magic on his two swanky cameras. Lots of natural shots, which is our thing!
Craig offered us all a swig of 'Vitamin R' (Nicaraguan Rum) from his new flat-pack hip flask (my gift), it's a Scottish tradition to have a nip.
The ceremony was quick, Sarah told our story, read a quote from Good Will Hunting, we said our vows. I only had three lines, I forgot the second! There was me slagging Craig for using notes in his phone! We exchanged rings to
'I'm awesome, you're awesome, let's be awesome together!'
Something we used to say back in the day! The ceremony closed on an Apache Blessing and a quick smooch. The new Mr and Mrs Armit!
An Unforgettable Surprise
I didn't cry, until this point! My friends, The Roxanne Appreciation Society (Helen, Gemma T, Laura, Mhairi), had arranged for Sarah to bring pink Champagne, glasses, and they had sent a card with this hilarious poem:
The bottle made for a great prop during the photoshoot! I am blessed!
Corey Mendez Photography
Post ceremony, Corey drove us around Austin playing paparazzi for the afternoon!
We took advantage of Austin's street art at Castle Hill, this area will leave you speechless.
Frida Kahlo was selected as our backdrop, I dressed up as her on Hallowe'en (the day Craig proposed) and there is a running joke about my monobrow (thanks for that gift, Dad), so it seemed apt.
Next stop was Congress, Texas State Capitol Building to be exact. This is the image we used to announce getting hitched via social media.
You can see how talented Corey is, we certainly lucked out! We headed to South Congress (SoCo) when I realised I had left my camera at Congress and Corey drove us back.
Craig managed to retrieve it from lost and found, oops!

Finding 'Thee' Photographer
A few months back, I did a call-out on Craigslist for a 'non-traditional' wedding photographer and the response was overwhelming.
We chose a chick who was super into it, well, until she was employed by SXSW then started giving us the impression that she thought she was 'too big' for the project.
Craig made the decision to dump her when she didn't reply to our contract three weeks before the wedding. Cue mild panic during Craig's sick week in Granada, Nicaragua. I did another Craigslist call out, again with an outstanding response. I pulled in my expert photography friends, my family and friends to vet six photographers.
Corey felt right; he has wedding photography experience, loves taking photos of bands, and has exciting examples of event photography. His website is a work of art, which was is obviously an appeal being a blogger. It was no wonder he was employed by SXSW this year too!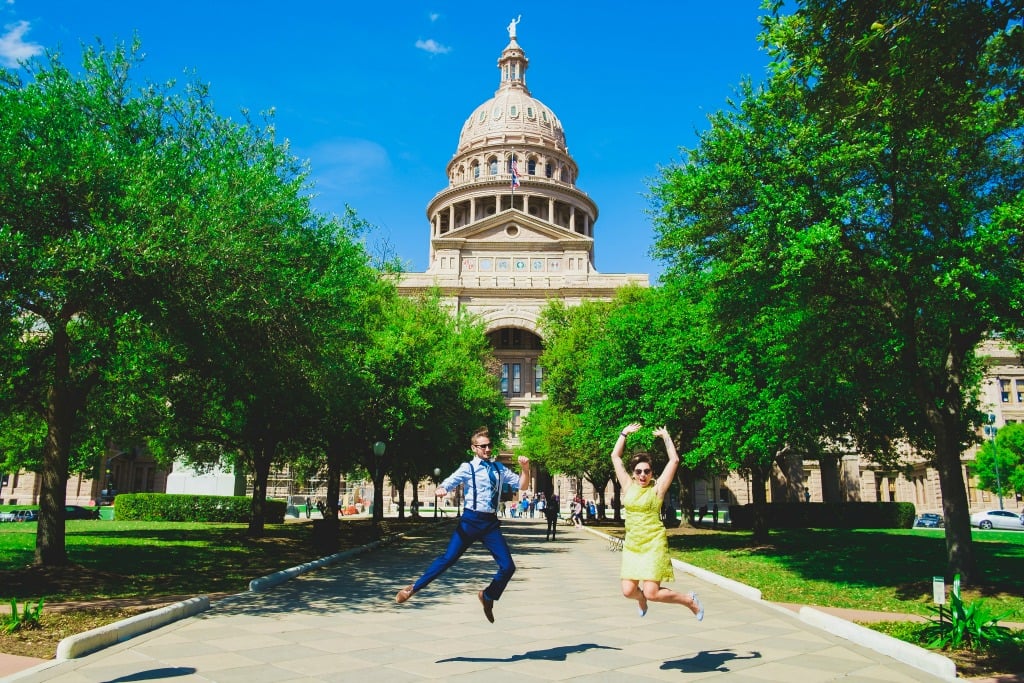 I created a Pinterest board of wedding photography I liked the vibe of, Corey was enthusiastic, he liked the direction so that was it, we had found our photographer two weeks before touching down in Austin!
Junior Boys at Mohawk
We love music! Much of our travel is based around attending gigs or festivals. We've just booked the end of our career break in Lisbon, Portugal to see Arcade Fire in July! Craig discovered that Junior Boys were playing Mohawk the night of the wedding so we decided to attend.
I changed outfits, we had dinner and drinks then danced our socks off! Corey met with us to take some incriminating snaps of us and creative shots of the band.
The Gear
I wore a yellow 60's vintage dress by day and a blue and white Western number by night.
The yellow shift was purchased in Vancouver. My friend Maddie and I were out browsing one day, I tried it on, she got teary so we knew it was 'the one'.
Burcu's Angel knocked off money on the dress so it set me back… $50 CAD / £25!
My cornflower blue (my something blue!) shoes were a cheap number from an Austin shopping mall; the bag was picked up two days before the elopement along with the earrings.
Craig looked dashing in his navy suit. He's so last minute, the brown shoes were bought from Urban Outfitters the day before, along with his SoCo sunglasses and wedding ring.
I loved the braces!
I bought him a yellow handkerchief to compliment my dress.
The skinny tartan tie was a 30th birthday present from me a few years ago, he's been carrying it in his backpack 'just in case'.
Craig bought me a new Swatch watch after one year of complaining about never knowing the time. Hello to the girls at Swatch who helped him out!
My 60s beehive was sculptured, and it was a real work of art, by Paul Van Dyck (his real name, not the DJ!) at Topaz Salon. Mel did a cut for me when I arrived in Austin and pointed me in the direction of Paul for the updo. It was a stunner!
I splurged and got my lashes done Lashes de Bella, they really made my eyes pop.
No fake tan required after eight weeks in Nicaragua!
What About Your Families?
I know an elopement is not for everyone. Craig and I attended eight of our friends' weddings the year before we left, they were lovely, but just didn't feel like us. We saved up £20K to do this trip; the average UK wedding costs £25K so you can see where we'd rather spend our money!
As my Gran said 'I knew it Gemma, you're just too cheap to spend that kind of money on one day!' And she knows her first-born granddaughter well! We are hosting a big part-ay on our return with a buffet, disco, and Ceilidh. There will be lots of booze and dancing, the part of weddings that everyone actually enjoys!
Craig's brother found out two weeks ago that we're headed to Budapest next month (I'm going to teach English). Impressively at short notice, he managed to round up a few of the boys so he's having a delayed mini-stag (bachelor) party in the cheapest country to drink alcohol in Europe (Hungarians, get out while you can!)
He'll have a proper one on his return!
My pals, Helen and Shelley will surely create some kind of mayhem for the girls on my return. I hope it's 90s themed (*everyone groans* I LOVE FANCY DRESS!)
Special Thanks
A massive thank you to our families and friends for respecting our wishes, paying for our wedding meal (which actually paid for my hair too!), my folks for the Budapest trip, as well as all of the vetting via photos!
To everyone we met in Austin (thanks for brunch and the beer, John!), our apartment host, Art, who received packages on our behalf before we arrived, Estaban for the Champagne and chocolate.
Emily and Andrew (Along Dusty Roads), Carolann and Macrae (One Modern Couple), Tracie Travels, Darren (Poetic Mouse), Craig and Karen (Whiteside of Life) for helping us find Corey.
COREY! You are kick-ass, we want you to come to Scotland in April where it rains, you'll love it!
And Sarah, get you and your husband over for the party, more pink champagne and whisky to be consumed!
Finally, you guys, the ones who have been on this trip with us since March 2015, and the newbies who are about to go with us to Europe. We wouldn't be Two Scots Abroad without you.
Love Craig & Gemma aka Mr & Mrs Armit!
Give us some love in the comments below,
anyone crying?!
You May Also Like Our Other Austin Guides
Photographs by Corey Mendez Photography